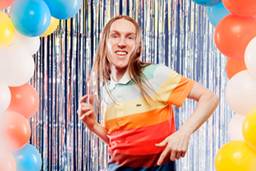 A Windmill Theatre production
School Dance
By Matthew Whittet
Coming to us direct from its 2013 Sydney Festival season, School Dance is a hilarious rite-of-passage comedy for anyone aged 14 to 114.
Directly Following its season at the Sydney Festival
Thursday 7 – Saturday 9 February
Illawarra Performing Arts Centre, Wollongong
A sell-out when it premiered at the Adelaide Festival in 2012, and heading to Wollongong straight from its 2013 Sydney Festival season, School Dance is a wonderfully original mash-up of `80s kitsch and kooky, tongue-in-cheek humour – perfect for anyone who is, or has ever been, a teenager.
Set in the midst of that terrifying rite of passage known as the school dance, the play follows three loveably awkward teenage boys on a hormone- and mee goreng-fuelled quest for social acceptability.
Written by and starring Matthew Whittet (The Book of Everything), School Dance draws inspiration from the 1980s teen angst films of John Hughes (The Breakfast Club, Ferris Bueller's Day Off) to create a nostalgic, boisterous and achingly real theatrical gem that you won't want to miss.
"Windmill has all bases covered. School Dance is a hit" – The Australian
Recommended for ages 14+. Contains some strong language and violence.
Sneak peak
http://www.youtube.com/watch?feature=player_embedded&v=RhYfyc527XQ
SCHOOL DANCE
Illawarra Performing Arts Centre, 32 Burelli St, Wollongong NSW 2500
Dates & Times Thurs 7 Feb 6.30pm, Fri 8 Feb 11am & 8pm, Sat 9 Feb 2pm & 8pm. Post-show Q&A: Thurs 7 Feb 6.30pm & Fri 8 Feb 11am
Tickets: Adult: $61; Adult early week (Mon-Thurs)/Conc/Group 8+: $56; Conc/Group 8+ early week: $51; Under 30s: $36; School groups 8+: $20 (Under 30s tickets are only available in person or over the phone. A $5.10 transaction fee applies to phone and internet bookings)
Bookings: Call the box office on (02) 4224 5999 or visit www.merrigong.com.au