The Rocky Horror Show – QPAC, Brisbane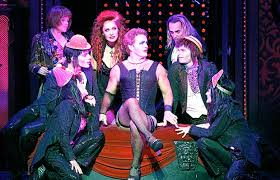 40 and Fabulous! Richard O'Brien's beloved Rocky Horror Show has returned to Australia to delight us all over again after its original opening in 1974.  In a creative and masterful set that draws you in to the wacky world of Dr Frank-N-Furter and friends, the audience is invited on a fantastic journey, if you may!  Craig McLachlan has once again slapped on his fishnets & pearls to reprise the role of Frank-N-Furter.  Cheeky and devilish as ever, with the perfect mix of glam, camp and comedy.  Oh and he still looks HOTT!  Just a flash of a cheeky grin to the audience & you're hooked, you're in his web and part of the show.  You're half racing down memory lane and half anticipating what might come next as if it's all new again.  But that's the treat of seeing a dear friend after so long.   You can expect the audience to be in character, dozens of Franks, Riff Raffs, Magentas and Columbias in the foyer before the show, all very well done and going all the way!
The stylized quirky sets capture all the moodiness of the sweet tranny's lair, and are cleverly used to best effect along with a rockin' musical score that is never once felt like it was too '70s, just great loud rock 'n' roll.  Of course you'll love the classic hits of Time Warp and Sweet Transvestite, executed to perfection, just sing along if you want, nobody minds at all.  The odd bit of unexpected audience participation is met with a wicked and rapid tongue lashing from McLachlan who has you in stitches from start to finish.
Brad and Janet (Tim Maddren and Christie Whelan Browne) are decidedly schmaltzy, just the way they ought to be, and the bedroom scenes are … well, they're one for the books!   Riff Raff (Kristian Lavercombe) is perfect in the role, a potent cocktail of evil & comedic timing.  Erika Heynatz as Magenta/The Usherette falls just short of over-singing, but her crisp, clean voice manages to hit the mark and carry you away.  Columbia (played by Ashlea Pyke) is a refreshing and exciting in hotpants and heels, carrying off Columbia's elaborate dance routines with effortless perfection!   Rocky is played by the impossibly handsome and perfectly cut Brendan Irving, playing Fran-N-Furter's latest boy-toy creation with the right touch of innocence and confidence, ladies look out!   Nicholas Christo plays Eddie/Dr Scott and the show is skilfully narrated by Tony Farrell, bringing a touch of respectability to the show.
In all, the Howard Panter/John Frost production, ticks all the boxes, leaving audiences thrilled and breathless with this energetic treat, and although I might create some backlash from die-hard fans, in my opinion the modern stage show of Rocky Horror is better, funnier and way more entertaining live than the cult movie could ever produce.
Finally, we were treated to the creator and original Riff Raff, Richard O'Brien, leading the encore rendition of Time Warp for the final curtain, what a treat, what a hoot! The entire audience was up in a standing ovation and doing the time warp with him, everyone!
Its Rocky Horror after all, so (cross) dress up and get along to the best musical theatre show there is.  …. It's just a jump to the left…..