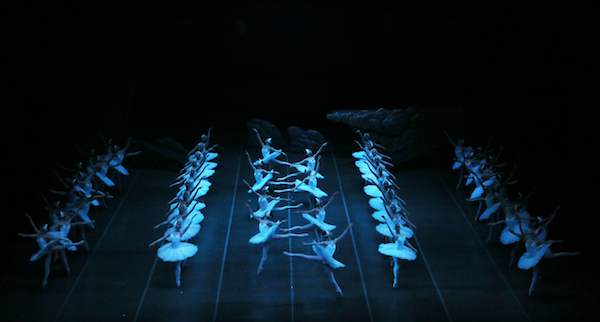 Swan Lake by the Shanghai Ballet
21 April, Regent Theatre, Melbourne
Reviewed by Samantha Webb 
I have seen a number of ballet companies perform Swan Lake over the years but never the Shanghai Ballet before tonight and the performance, in collaboration with British choreographer Derek Deane, certainly didn't disappoint.
The venue, Melbourne's Regent Theatre, was exquisite. It has survived both fire and flood and spent 20 years in darkness but now fully restored and meticulously refurbished it was the perfect stage for this beautiful classic ballet.
Derek Deane brings a unique 'grand scale' version of Swan Lake to the stage with 48 (normally 24) beautiful swans dancing with precision and grace. From beginning to end the performance felt immense and sumptuous with stunning, often simple yet beautiful, costumes and a set design that -although perhaps a little top heavy at times  – provided a moody and often ethereal backdrop, particularly in Acts 2 and 4.
The ballet opens with the classic prelude where Odette is transformed by the wicked Rothbart into a swan. A slightly shaky opening curtain and a very interesting heavy, winged costume for Rothbart left me a little anxious, however Act 1 did not disappoint.
Odette/Odile danced by the simply perfect Ako Kondo – not only danced with absolute precision – I have never seen 32 fouettes performed quite so brilliantly!! It roused the audience to much applause, but also provided incredible emotional depth. So much so that you got lost watching her. Kondo was almost matched by her wonderful prince, performed by Wu Husheng, on the night. Husheng's tremendous strength, grace and princely character were evident throughout.  His height was visually delightful on stage – such long lines – such length! He provided tremendous support and notable chemistry on stage with Kondo. This duo did not disappoint in these iconic roles. 
The huge corps de ballet making up the flock of swans were choreographed beautifully. The lines were perfect, providing an overwhelming vision with constantly, captivating patterns. The stage did sometimes feel a little crowded as it had depth but perhaps not quite enough width to accommodate, however the depth of the corps was absolutely evident – every swan perfectly positioned – almost breathing before your eyes as one in Act 4.
In Act 2 – the dance of the four Cygnets was again perfection – beautifully performed and again demonstrative of the tremendous talent that must run throughout the company. 
Act 3 was truly sumptuous. Warm light was a welcome change from the blue lighting used
in Act 2 and 4 – sometimes a little hard on the eye.  Costumes ranged from bright red to emerald green – a wonderful contrast to the multitude of swans that come before and afterward.  My only moment of wonder was why the Queen would let Rothbart sit next to her throughout? – an interesting take on the story.  Having said that, Rothbart's character was tremendous throughout and he managed a large, and I'm sure difficult, costume with aplomb – using it well to provide menace and mystery.  In fact, the wonderful use of character and storytelling through characters including the Queen, the Prince's tutor and Rothbart – provided much joy and drama.
Overall, from beginning to end, this performance of Swan Lake is one not to be missed if you get the chance again.  I'm unsure I will ever see such a sumptuous expression of this classic ballet again, and a standing ovation to all who brought this spectacle to the stage in Melbourne.
***