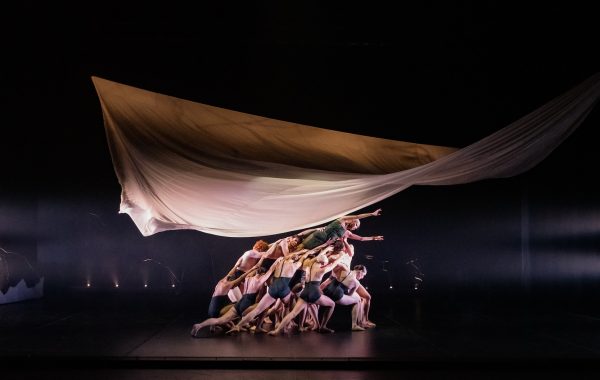 West Australian Ballet Premieres its New Contemporary Season
State Theatre Centre, Perth, Thursday June 24
reviewed by Courtney Allen
[N.B. WEST AUSTRALIAN BALLET ARE CURRENTLY REVIEWING AND RESPONDING TO THE COVID-19 OUTBREAK IN WA. WEST AUSTRALIAN BALLET WILL BE IN CONTACT WITH TICKET HOLDERS ON TUESDAY 29 JUNE. SHOWS WILL BE RE-SCHEDULED.]
From the smoke-filled stage of the Heath Ledger Theatre at the State Theatre Centre of WA, twelve dancers are seated at small tables, in conversation. The scene unfolds and we're immediately transported to a moody Parisian bar: the 'TGIF' after-work drinks of young professionals, legs crossed and playfully costumed in teal and burgundy playsuits, with crisp white collars resembling a barrister's jabot.
This begins STATE – a triple bill marking West Australian Ballet's new annual contemporary season.
The music of Serge Gainsbourg fills the air and the sozzled twelve begin to mingle, as hilarious vignettes emerge. A young male dancer on all fours, hurtling towards the front of stage like a panting puppy. A visibly heartbroken young woman, who the voice sample refers to as "Betty", cradling a wine bottle in her arms and having an adult tantrum on the floor. A strikingly tall male dancer (the exceptional Soloist Juan Carlos Osma) smoking a cigarette and moving with graceful nonchalance and a certain je ne sais quoi to Gainsbourg's Black Trombone.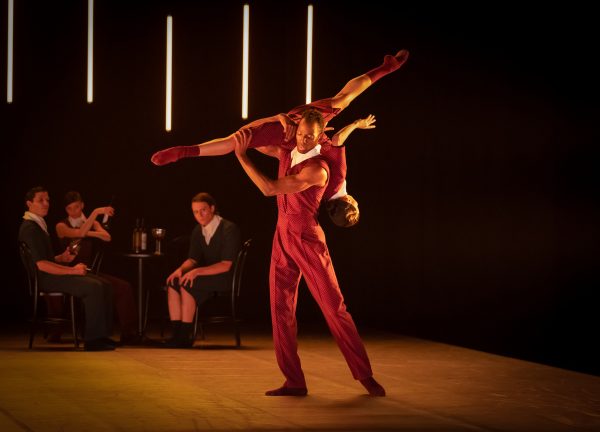 Adam Alzaim's choreography in his work aptly titled Gainsbourg is as deliciously eccentric as Gainsbourg himself. As a WA Ballet dancer himself, Alzaim's close proximity to his dancers allows him the opportunity to delight in their individual personalities, their quirks and mannerisms, and bring these to the stage with warm-hearted generosity. The passionate pas de deux between Principal Artist Dayana Hardy Acuna and Soloist Juan Carlos Osma is a highlight. As is the sequence of all six male dancers, tossing fists in the air and launching off the ground in a dynamic bar fight. Gainsbourg reaches its crescendo – a frozen tableau, a single chair raised in rage.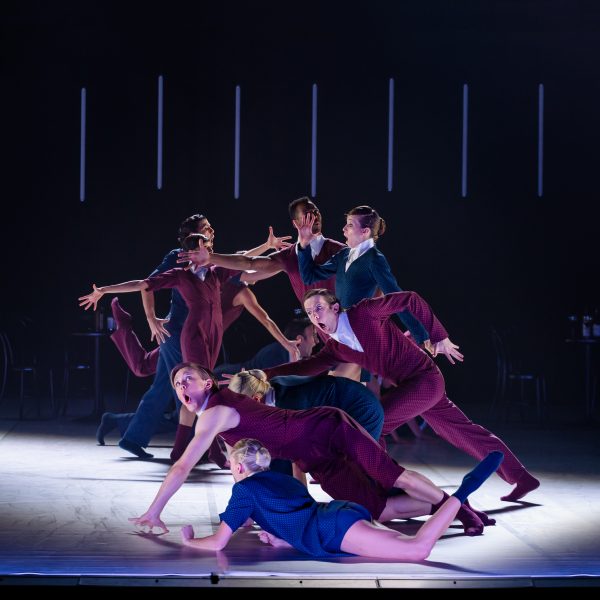 At one point, the red lights dip and a crisp, purple light floods the stage. Perhaps a little nod to the neon-fizz of Shibuya's small bars. The piece concludes with Gainsbourg's Mambo Miam Miam, as the choreography comfortably settles into the tea-sipping and public transport-hopping gestures of ordinary life. For every Friday night of Dionysian imbibing, follows a Monday of pulsing conventionality and Alzaim is interested in that world too. In the words of Serge Gainsbourg himself, "everything has beauty but not everyone sees it."
Helpmann Award nominee Melanie Lane's Slow Haunt is an intriguing change of pace in the contemporary triple bill of STATE. Eight women cloaked in black dance slowly across the stage, like grieving widows or the darker side of Giselle's wilis of the cemetery. This introduction builds slowly and commands the audience's attention. Dancers re-enter the stage in skeleton suits forming geometric patterns on stage, some with the additional accoutrements of chest plates, neck pieces and hardwear jutting out of their hips like pelvis bones. Akira Isogawa's costuming brings to mind the sci-fi robotics of Alex Garland's film Ex Machina. The intensity of digital music creator Chris Clark's score is disarming, and my eyes are glued to the dynamic precision of the dancers onstage.
Elements of Lane's Javanese-Australian background are incorporated, with traditional Javanese hand movements and exquisite leg work. The dancers begin to seamlessly lift one another and tumble across the stage, climbing on top of each other into statuesque pyramids of bodies. There is an emotional intensity and resonance to Lane's work. As an audience, we're almost holding our breath in anticipation of what's next. The dancers are often framed by the lights, in silhouette, and the clever use of shadow on their faces and bodies.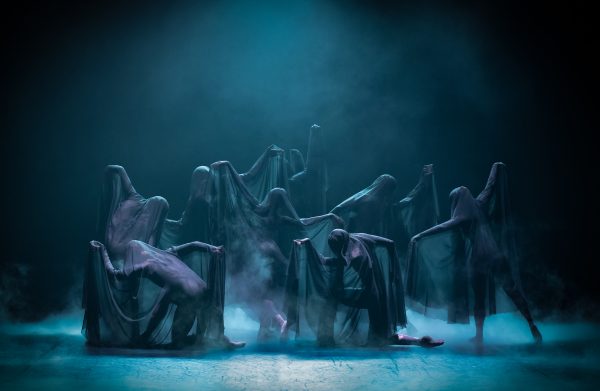 The music continues to shift and rise and fall in intensity, like a waterfall over a running stream. Lane's attention to a sense of place is clear, as is the inspiration she gathers from nature and the surrounding environment. As the dancers form a grand plié in a single straight line, they make guttural vocal sounds, like animals panting or huffing.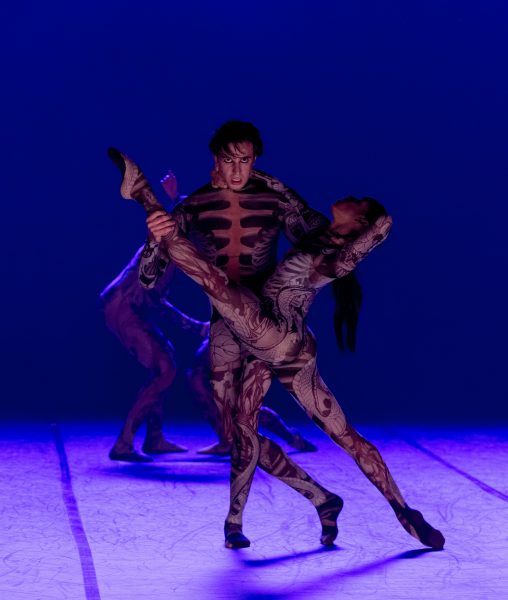 Lane's Slow Haunt is a methodological and deeply important work that spans the breadth of classical and contemporary technique as it disrupts and unites its dancers and audience, in equal measure. In her own words, she "began to dream of an army of supernatural, love-sick bodies that have the power to seduce and destroy, a romantic, fantasy thriller." As an audience member, it is a mesmerising journey through the athleticism and artistic elements of contemporary dance. An emotionally expressive rumination on the tension between humanity's past, present and future. Interestingly, both Slow Haunt and Gainsbourg include a repetitive motif, of dancers' hands covering their faces. Perhaps a visual signal of these unprecedented times.
Internationally renowned Australian Choreographer Graeme Murphy's Air and Other Invisible Forces is the final work of the evening, boldly announcing itself with an enormous white fabric sail suspended above the stage. The dancers are huddled, downstage right in a single group. The sail begins to billow with the force of fans directed onto it, like a yacht on tumultuous seas. The dancers begin to dance underneath the sail and later, on top of it as though walking on water.
One of the most striking aspects of Murphy's works (Firebird springs to mind) is his sophisticated use of timing. In Air and Other Invisible Forces, the movements follow and in some cases anticipate Giya Kancheli's music, at differently spaced intervals. Dancers perform breathtaking lifts as though they are lifting nothing weightier than a silk scarf, each couple in quick succession like a chain of dominoes. At one point, the dancers are being dragged across the floor by each other in an almost religious fervour, the green organza of their costumes trailing behind them.
Gold, coat-hanger like structures surround the perimeter of the stage. Under the dim lights, these figures look human. Like dancers waiting for their cue to return to the stage. Principal Artist Chihiro Nomura's solo is accompanied by an enormous glossy black marble rolling atop of the sail. Once again, as with the other two works of this evening, the play of light and use of silhouette is superb.
The sequence between six male dancers towards the conclusion of this work is an athletic tour de force – both spellbinding and cinematic. In contrast, the sequence between seven female dancers which follows is framed with a romantic softness matched by a gentler passage of Giya Kancheli's music. One of the dancers jumps through a looped tunnel of the arms of several others, like a ribbon through a hoop. These stunning displays leave the audience with an elegant and spiritual meditation on the elemental forces within and surrounding us.
WA Ballet's STATE has only one week of performances – it is not to be missed.
STATE by West Australian Ballet
June 24 – July 3
Heath Ledger Theatre, State Theatre Centre
Bookings: waballet.com.au/state-2021