Lucy Guerin Inc's Acclaimed SPLIT
Sydney Opera House, Wednesday August 8
Review by Amy Campbell
A refreshing take on duality is what awaits you in Lucy Guerin's work SPLIT now playing at the Sydney Opera House Studio Theatre as apart of the curated Unwrapped season playing August 8-12.
Smart, inventive and intimate SPLIT is essentially a duet performed with great maturity and mastery by Helpmann Award nominees and winners Lillian Steiner and Melanie Lane. SPLIT originally premiered at Dancehouse's Dance Massive event in March 2017.
Guerin's work moves effortlessly from gestural to visceral in this explorative piece of two energies. Presented on nothing more than a white square frame amongst a black box stage, this is contemporary dance in its purest form – no bells and whistles.  Supported by a pulsating rhythmic soundscape from composer Scanner, Guerin allows the audience to immerse themselves between two clear narratives through the piece.
The opening section is a lesson in true unity and breath as her dancers deliver a dynamically challenging and technically demanding vocabulary. It is exciting and mesmerising with moments of intrigue supported perfectly by Paul Lim's lighting design.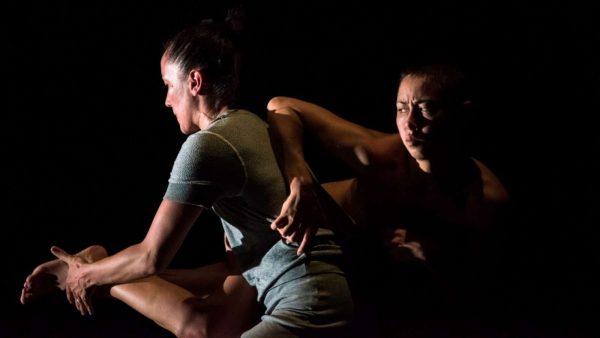 It is the intrinsic detail and admiration Guerin has for the female form that really adds to the success of the piece. The dancers commit to Guerin's gestural dynamic prowess with ease as they navigate increasing constraints of 'time and space' in the fifty-minute piece.  The openness and respect for which Guerin has for the audience's interpretation of her work is refreshing; leaving you to resolve your experience individually-interpreted and definitely satisfied.
SPLIT is completely accessible for all lovers of dance, however it does contain nudity so may not suit all ages.
SPLIT | Lucy Guerin Inc
Unwrapped
Sydney Opera House
August 8 – 12
Bookings: sydneyoperahouse.com