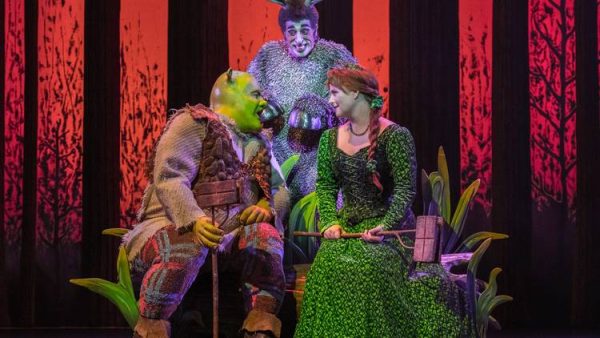 SHREK The Musical Delivers on Family Laughs at Sydney Opening
Lyric Theatre, Sydney, Sunday 5th January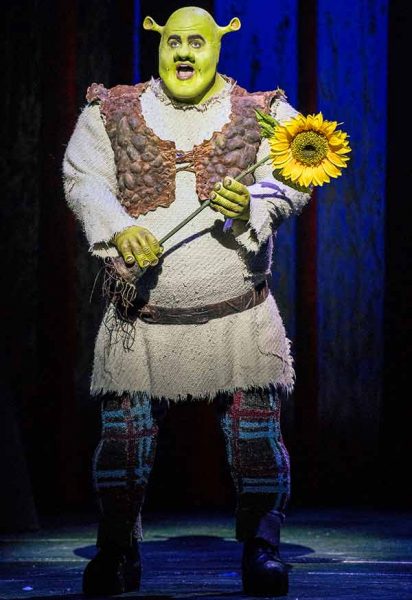 reviewed by Chris Duncan
Enchanting, waggish and fun-filled from start to finish, SHREK The Musical mirrors the iconic film exploring themes of difference, acceptance, friendship … and of course TRUE LOVE conquering all.
Bordering on the pantomime genre, SHREK The Musical opened last week in Sydney at the Lyric Theatre to resounding audience approval and a lengthy standing ovation. The story embodies the 'hero's journey' brilliantly and its appeal is universal. SHREK The Musical is endearing because it resonates with our own perception that perhaps there is a little bit of 'freak' in all of us and that a beautiful exterior does not always equal a pretty heart.
We all know the story from the now-succesful and classic film … Shrek is the socially-repelled ogre who is sent on a quest by Lord Farquaad to rescue Princess Fiona from her prison tower … Lord Farquaad wants to be king and the Donkey just wants a friend. Donkey tags along on Shrek's rescue mission and adventures ensue involving animated fairytale characters and even a fire-breathing dragon … and the show ends with a wedding.
Produced by John Frost & Glass Half Full Productions, SHREK The Musical relies fundamentally on humour and heart which this production has in spades. This show will grant you escapism and smiles for a few hours from your day-to-day routine and worries.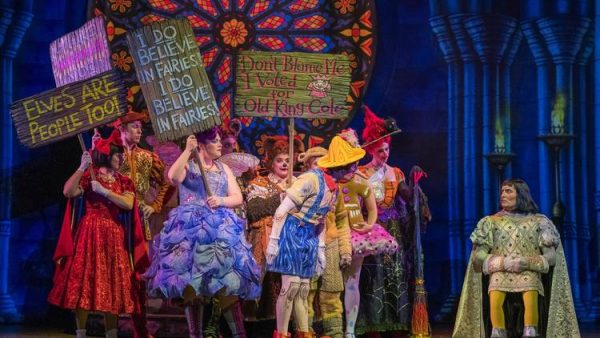 Ben Mingay plays Shrek brilliantly despite having to act through a huge fat suit, a latex mask and layers of green paint whilst maintaining a plausible Scottish accent. Nat Jobe plays Donkey precociously as expected with verbal diarrhoea that at times is quite astonishing. Lucy Durack never fails to impress with her vocal, acting and dance ability. Durack embodies Princess Fiona with gusto as she burps, farts and jokes her way through the journey like a real girl and tap-dances like a trouper with a cast of rats which further impresses a cheering audience.
Thanks to the work of some excellent puppeteers and the soaring voice of Marcia Hines, the Dragon takes a convincing 'flight', batting her eyes at and flirting with the hapless Donkey.
Definitely the comic scene stealer is Todd McKenny playing a sassy Lord Farquaad almost entirely on his knees throughout the production. From the moment Farquaad 'walks' on stage, the energy lifts and the sense of fun is firmly in place.  His professional experience, ability and charm are evident in not only his physical feats but in his comic timing and ability to deliver double-edged innuendo. McKenny becomes the baddie we love to hate and his dance routine with his troupe of henchmen is the highlight of the show, leaving our audience in fits of appreciative laughter with awe at what this actor can achieve despite the imposed limitations.
The ensemble were also exemplary with every member embodying their characters with slick professionalism. Unless you prefer your humour without the bawdiness of burp and fart jokes, SHREK The Musical provides a good laugh for the whole family and offers something for all ages.
#ShrekMusicalAU
SHREK THE MUSICAL
SYDNEY – Lyric Theatre
Until February 9
Bookings: ticketmaster.com.au or 1300 795 267
MELBOURNE – Her Majesty's Theatre
From February 16
Bookings: ticketek.com.au or 132 849
BRISBANE

 – Lyric Theatre QPAC
From May 9
Bookings: qpac.com.au or phone 136 246