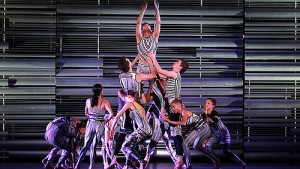 Mod Dance Company is high level, high caliber and high energy, the dancers are raw, fresh and dynamic! Suite Synergy showcases an eclectic mix or tableau of all different works, everything from solos to group work, tap to comedy, there is not a dull moment in this mix from MDC.
Highlights of this show include opening piece 'Lemurian Dance' displaying the talent and facility of the company, accompanied by the band, rigged up in the air so it looked like it was levitating. The dancers ate up the stage with grand movements and bold lines. The horizontal black and white lines of the backdrop and the vertical black and white lines of the costumes accentuated the sharp and arresting choreography.
An absolute standout was 'Free Radicals', an upbeat, high energy piece showing off the dancers' physical abilities, strength and agility including a mesmerizing number of lifts and an exquisite section where the dancers formed a line facing each other and performed a complex jumping sequence – the timing was truly outstanding!
The final piece of the second half 'A Doll's House Story' was a considerably longer work having several sections within the one piece. There were some great moments and the collective energy was really apparent in this piece, there were numerous formations, an array of lifts and the band was levitated over the group in what was almost like a massive round cage.
There were several moments in the show where I felt dancers were underutilized, for example, Emee Dillon in 'Light Play.'  This was a really quirky piece where Dillon moved around little lights that appeared to dance and tickle her, however, I was waiting to see more dancing, just as I thought it was going to move into a solo it was finished. Similarly, 'Pipe Dreams' danced by Sarah Williams underutilized the aesthetic beauty of Williams' lines and physical strength. The whole solo was danced behind vertical tubes, almost like a silver-tubed curtain, this was no doubt meant to be capturing 'a mood' but I just wanted to be able to see the solo without squinting and craning to see her between the tubes.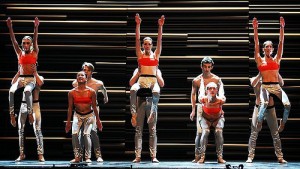 There were some really cool, unusual and memorable moments in this show including 'Pummel' where the musicians created music on the dancers' bodies by clapping, tapping and lightly smacking their bare bodies. 'Thumper' was an amazing athletic, acrobatic and fluid solo by Caleb Bartolo (why wasn't it longer?) and a fun tapping, one-man band Rhys Kosabowski, accompanied by musician, Michael Askill in 'Banged and Tapped'.
Unfortunately the Lyric Theatre is not overly conducive to dance as the first few rows in the stalls, up to about row E are not tiered at all, so you have to sit up really straight to see the dancers' feet! If you're booking I would recommend booking from row E back.
This new company headed up by world-class contemporary dance icon, Graeme Murphy has created a group of superb dancers who have the ability to serve up an array of dance that entertains, enlivens and excites audiences. I recommend absolutely getting along to see this show before it sells out!
Emma Bell is writer, reviewer and interviewer and can be found at www.emmabell.com.au