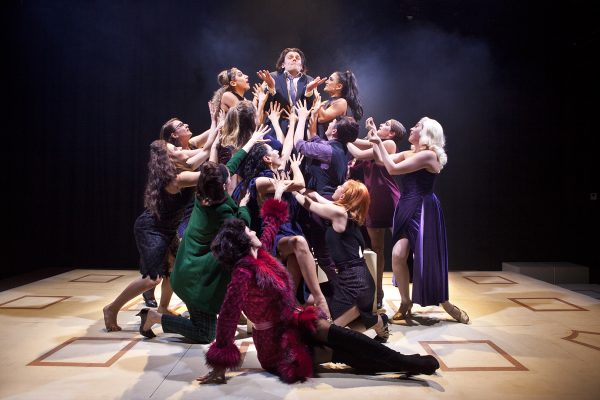 Shining Female Cast Celebrated in NINE The Musical
Chapel off Chapel, Melbourne, October 12
Reviewed by Caterina Kuljis
NINE The Musical is a new adaptation of the Broadway musical depicting the story of Guido Contini, a fictional famed Italian movie director from the 1960s. The story is based on the life of real film director Federico Fellini and his movie 8½. (more about this here)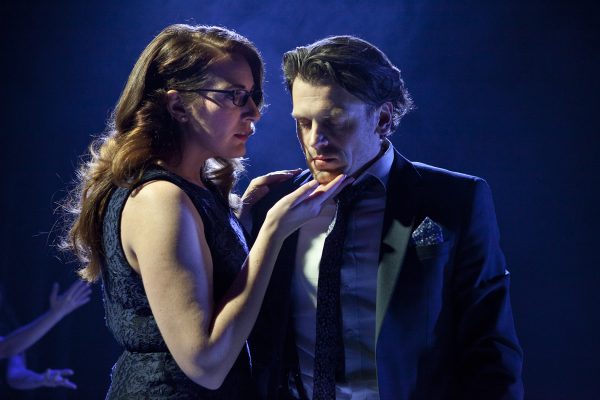 Turning 40 can be hard for some to take, and this is the case for Guido Contini. As his mid-life crisis tailspins through his infidelity, lust, flirtation, compounding cinematic flops and crippling writers block, he struggles to find inspiration for his next movie. It is all too much for Guido to bare. From the days of Casanova, Italians have had a reputation for charming women the world over and Guido well and truly lives up to this reputation; irresistible to the opposite sex with his seductive masculinity. In NINE we see him both as an adult, and with snippets of him as a child, and embraced by the powerful women who have influenced his life.
Anthony Scundi is a great choice to play the handsome and passionate Guido. Scundi captures the character's charisma, playfulness, sensitivity, emotional highs and lows, and the true essence of the Italian culture and swagger . Hi smooth voice delivers the line: "This is not a good moment in my life, I have a lot going on" which epitomises his brash and erratic behaviour as he is being torn between all his passions as his life implodes.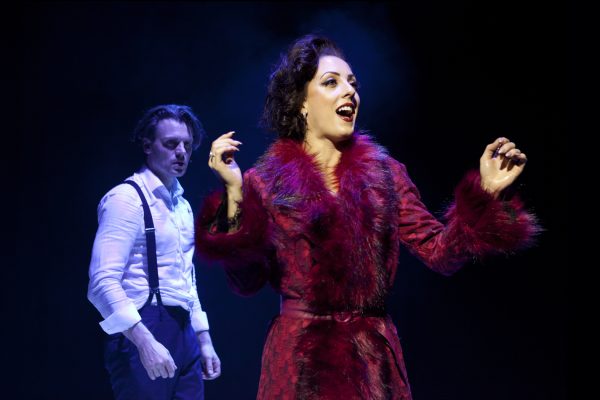 The opening act introduces us to many woman at once, all talking on top of each other, signifying the confusion in Guido's mind. The female casts' voices are all strong and passionate. Scundi fully embraces the character of Guido, and as much as you want to hate him –  you just can't! An outstanding highlight is his rendition of 'Not Since Chaplin – Reprise' with the full female accompaniment.
The women in Guido's life are a strong contrast of stereotyped woman; the wholesome wife, the charmed sexual mistress, the good mama, the naughty nymphet, the star producer … and the list goes on. The strong female-heavy cast featured in this production is a rare occurrence in musical theatre, but refreshing and well-cast by StageArt.
Rachel Bronca plays Guido's upbeat, bubbly and sexually-charged mistress Carla.  'A Call from the Vatican' was entertaining, leaving you a little hot under the collar, and 'Simple' was heartfelt for the rejected lover. Bronca is brilliant. Her voice is incredible and she was a true stand out.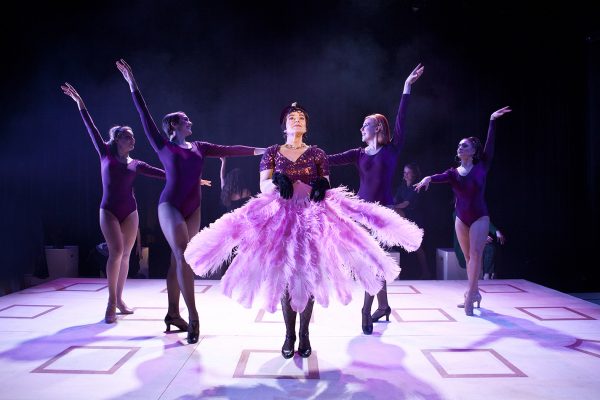 Alana Tranter plays Luisa (Guido's wife of 29 years), and her rendition of 'My Husband Makes Movies' shows her stunning vocal talent and her torment of constantly battling his loyalty while grasping for his love and attention. The ensemble was great as the reporters trying to get the low-down from Luisa. The audience are drawn to her for her resilience. Her version of 'Long Ago/Nine – Reprise' was sincere and heartfelt. Her accent faded in and out but you can forgive this as her talent still shone through.
Courtney Glass plays Guido's protégé Claudia, an actress who Guido wants to cast in his next film and who he is obsessed with. Their history shares a romantic connection. Her version of the duet 'A Man Like You/Unusual Way' with Guido showed her being torn between staying and leaving. Her accent also dropped in and out, however I loved her peeling back her layers as she removed her wig and eyelashes to reveal the true underlying Claudia.
Bronte Florian plays Saraghina, a prostitutue character from Guido's childhood.  Florian totally owned her moment on stage as Saraghina, exposing and educating the nine-year-old Guido in 'Ti Voglio Bene' and one of my favourite moments with the number 'Be Italian'. Her voice was a powerhouse and she perfectly captured the essence of the character.
Ana Mitsikas plays Guido's mother, and like a true Italian mama, she knows her son and tells him like it is! She often mentions it would have been much easier if he was a priest or a lawyer. She knew from a young age what his outcome in life would be but strongly stood by him. I recall Aristotle's famous quote: "Give me a child until he is 7 and I will show you the man." Rebecca Mortone plays Liliane Da Fleur, Guido's long-term manager and former vedette/stage star. Liliane La Fleur absolutely shone with Mortone's French flavour and delightful humour, she owns her presence on stage with her big moment in the splendid rendition of 'Folie Beregeres'.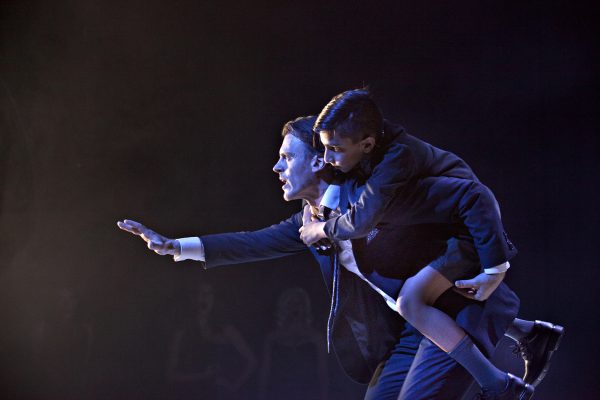 Young Guido was played by Kershawn Theodore in this performance. What a trooper! He demonstrated a shy, yet curious, boy that held his own in 'Ti Volglio Bene/Be Italian'. Theodore's voice radiates a gentle youthfulness and he held his own with the dance moves as well.
NINE The Musical was a true musical/operetta where the majority of the show was in song and it was highly entertaining. Once you got past the authenticity of the accents fading in and out of a few of the characters, their vocal and acting expertise brought the show together and did not fail to deliver on entertainment.
The music and songs were uplifting and the strong cast and ensemble brought energy to each musical number. Michael Ralph's choreography was alluring and dazzling. The formations were great in not making you feel that the stage was crowded and the movement flowed with ease around centring Guido. Another highlight was the full cast's tarantella-with-a-twist toned with tambourines. Fans were used to accent water along with the feminine poses capturing each of the characters.
Interestingly, there were no wings or traditional curtain proscenium. There was a LED-lighted frame which highlighted the stage and open wings showcasing the silhouettes of Guido's woman in his life. This helped add to the layering of complexities that Guido created in his life. The lighting ranged from cool blue  and whites to warm reds as a light mist floated across the stage.
The costumes were distinctly 1960s in theme, showcasing sharp lines, plaid, silk, diamantes and pearls, the colours ranging from deep purple and burgundy to navy and black. Guido was the only person in white which was a technique used well to accentuate him from the female cast.
In the second act all the cast where costumed in black with highlights of colour .
This classic and oft-forgotten musical is balanced with a mature, strong cast; yet you can't help but find the young Guido an adorable burst of light on stage.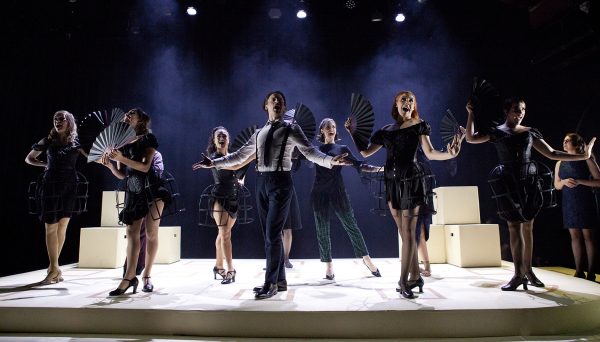 NINE The Musical celebrates all things 'woman' and how a creative, insecure Italian man draws them together to make sense of his life. NINE is energetic and an enjoyable night out.
Read our interview with Choreographer/Director Michael Ralph
NINE THE MUSICAL