Joyous Carnevale Musical with Incredibly Talented Tight Cast
The Art House, Wyong, Thursday January 10th
Reviewed by Heather Clements
When Blue Saint Productions staged this musical at The Hayes Theatre in Sydney in April 2018, it was a sell-out hit that came as a slight surprise. It's a modern-day musical featuring Lin-Manuel Miranda's signature style of rap and hip hop with a Latino beat, however In The Heights has all the style, plot, choreography and appeal of an old-style musical. And that, in truth, is the reason In The Heights works well with a modern audience, proving the point so successfully last year that now the production is enjoying a return season this January at Wyong and at the Sydney Opera House.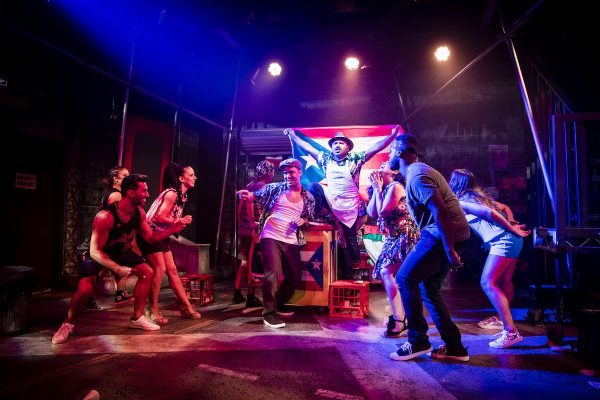 The story goes that man-of-the-moment Lin-Manuel Miranda (now famous for Hamilton The Musical) wrote the first draft of this musical at 19 years while still at college, with it playing Off Broadway in 2005 before the eventual Broadway version debuted in 2008. It went on to be nominated for 13 Tony Awards that year, winning for Best Musical, Best Choreography, Best Original Score, Best Musical Show Album and Best Orchestration.
In The Heights tells story of first generation immigrant families living in the mainly Hispanic/Latino community of Washington Heights in a precinct of New York. Over several days of a summer heatwave where the power goes out in the neighbourhood, we get to know the story of Nina who returns guiltily to her parents and their limousine business after dropping out of college. She quickly fits back into the local lifestyle and rekindles her fondness for her childhood sweetheart Benny. Meanwhile, the story's narrator Usnavi is tired of running his rundown grocery store with his young cousin Sonny and holds out for a date with Vanessa who works in the nearby beauty salon and is desperate to move out of the neighbourhood. The neighbourhood is changing for them all as they grow up and have to make important decisions. A crisis occurs when the community's elderly matriarch Abuela Claudia suddenly wins the lottery and decides to give the money away.
It's a simple storyline that works because everyone can relate to it, regardless of ethnicity or background.
This latest production sees two new faces join the dynamic cast of 17 – Stevie Lopez as Usnavi and Joe Kalou as Benny. This is an impressive cast on all levels. Each performer is a gem and executes their characters and roles perfectly, working cohesively as a tight group on stage.
The vocals of the leading ladies were amazing! Olivia Vasquez was sassy as Vanessa, Luisa Scrofani was heartfelt as young Nina, and Ana Maria Belo's humour as Camilla was delightful. Stephen Tannos is perfect as vagrant Grafitti Pete, Joe Kalou's innocence and earnestness as love struck Benny is believable, and you can easily see why Marty Alix was nominated for his charismatic supporting role as Sonny by the 2018 Sydney Theatre Awards.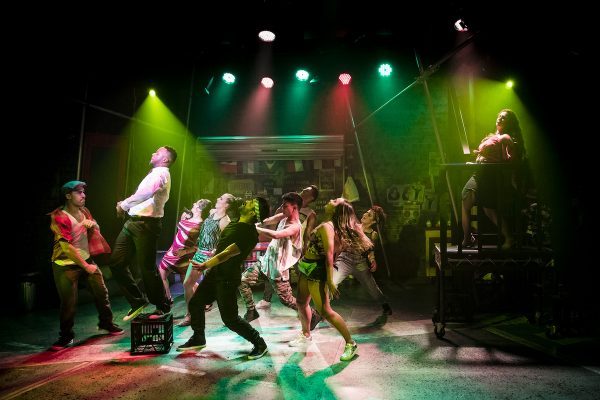 The standout performance for me personally was Stevie Lopez as Usnavi. He simply nailed every song and channelled the character originally played by Miranda to a tee. As he directs and moves the story along as a narrator, he has to be a likeable character that the audience empathises with.
Vocally the cast was on fire. Their pitch, diction, harmonies and passion for each number was superb with not one weak link. Musically, some of the songs are difficult to 'get into' on first hearing, but vocally they worked in delivering the story and emotions as intended and even with the Spanish accent and frequent Spanish words thrown in the plot was never in doubt because of the casts' excellent vocals and performances.
Wyong's Art House was a great intimate venue for this character-based story. The staging, set design and lighting was simple and effective in bringing the sense of community,  and connectedness to this story.  It felt like everyone on this suburban corner knew each other – and that we were there with them!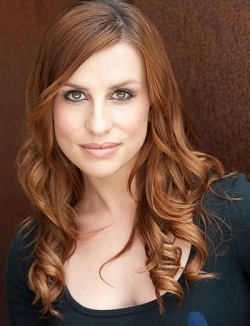 Aside from the eloquent portrayal of this beautiful, timeless storyline and its rich characters, the standout of this production is the direction by Luke Joslin in adapting In The Heights for today's audiences and Amy Campbell's brilliant original choreography, for which they have both been award-nominated.  The dancing is fresh, sexy, exciting and created with purpose. Campbell's moves capture the emotions and passions of the Latino neighbourhood during the heatwave so well I was sweating while tapping my feet. She manages to mix Salsa, commercial jazz, hip hop, partnering, and theatre jazz all without a hitch. And of course her dancers are able to do it all. A highlight is the nightclub scene at the end of Act 1 where the partner dancing is incredible and so much was going on on stage I need to see it again! Dance captain Will Centurion shines in the scene also with his Latin dance moves.
In The Heights exemplifies the immense talent we have in this country, and it is soooooo good to see an all local cast filling (and killing!) all the diversity of roles in this production without a hint of a question. Musical theatre has thankfully evolved to tell stories from many points of world views, and In The Heights was one of the first new-generation shows to do this so successfully and poetically.
This is truly a must-see show for not only musical theatre buffs, but for anyone who still thinks the genre remains in the domain of middle class white folks. It is not. In The Heights is not The-Book-of-Mormon-edgy, but neither is it Phantom-of-the-Opera-stuffy. It's a universal story of love, loss, dreams and belonging  told via contemporary methods to a modern audience. And this story is probably more relevant in the world today than ever in terms of telling stories about immigrants, but also because it has changed the genre of musical theatre forever thanks to Miranda's own unique re-imagining and inventiveness.
If you can, see it now.
IN THE HEIGHTS
Sydney Opera House
Wednesday 16 – Sunday 20 January
Tickets: www.sydneyoperahouse.com