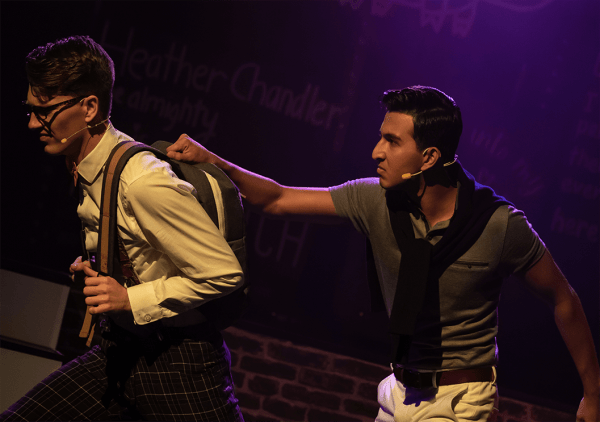 Super High Energy With a Very Dark Comedy
The Mitchell Old Company
Reviewed by Yvette Guldur
Heathers: The Musical from The Mitchell Old Company, the new independent theatre company, created by Creative Productor Mitchell Old and Directed by Jake Tyler making his musical theatre directorial debut deliver a brilliant production at the very intimate ARA Darling Quarter Theatre.
Based on 80's cult classic film Heathers, this production is full of super high energy with a very dark comedy that confronts many relevant topics that unfortunately are still happening in todays society amongst the youth of the world, including mental health, teenage suicide, low body image, depression, homophobia, bulimia, gun violence, murder, bullying, sexual assault and that urgent want to "fit in". Although there are many very confronting dark topics throughout there was a perfect balance between the heavy topics and the endless humour which made this musical so uplifting with super high contagious energy, light-hearted moments, dynamic dance breaks, vibrant costumes and outstanding vocals performed by all cast members.
Very similar to Mean Girls, this school is Westerburg High where unlike there only being one mean girl, there are three dominant, unrelenting, ruthless, powerful, Heathers in this clique.
Lead by the phenomenal Veronica Sawyer (Teigan Denina) a teenage outsider struggling to fit in and hungry to be accepted, dumps her best friend misfit Martha Dunnstock (Jayd Luna) and slides her way into the most dominant, powerful, popular group The Heathers. Veronica soon falls for what appears to be her cool, Prince Charming, J.D. Jason Dean (Jerrod Smith) that later she discovers has a fearfully dark, sinister side to him but finds herself in too deep in this web of murder and deception to get out easily. Denina's portrayal as Veronica is an absolute standout and she is definitely perfectly cast for this role showcasing her phenomenal vocals throughout the entire show and with a truly outstanding performance receiving constant applause from the audience. 
J.D. Jason Dean (Jerrod Smith) Veronica's love interest, was a great fit as the disturbed J.D. winning our hearts as a night in shining armour to quickly show his depraved mind as he is triggered by traumatic events of his childhood that now led to homicidal tendencies that later he acts on. He is beyond hilarious when his character had to be lightening the mood and delivering one-liners in the most comical way and snapped into the darkest of darkest depths of a mentally disturbed murderer so effortlessly showcasing his great acting skills. His performance "Freeze your Brain" showed great vocal strength and range and the audience loved it. One of the most intense show stopper scenes between J.D. and Veronica making out was absolutely WOW. The chemistry they had between them was undeniable and the set, sound and lighting enhance the scene to perfection.
Heather Chandler (Sabrina Kirkham) is the nastiest of all The Heathers.  Heather always commands respect every time she stepped on stage even though she isn't very likeable, she is the leader of the clique along side Heather Duke (Kira Leiva) and Heather McNamarra (Laura Dawson). What a great tri-together but definitely a group of girls that would make any ones school years a living hell. From their first song "Candy Store" they demanded your attention,  let you know exactly what "The Heathers" characters were all about and told a great story. All their voices were pitch perfect and very strong with the entire audience  agreeing with a huge eruption of applause. Best friend larrikin's, Kurt Kelly who also played Rams's Dad (Jake Vollbon) and Ram Sweeney who also played Kurt's Dad (Sam Walsh) portrayed all their characters excellently. They were absolutely hilarious throughout the entire show but their performance of "My Dead Gay Son" was beyond brilliant and another highlight of the entire show although in saying that as the dad's they didn't look old enough. It was a truly brilliant way to deliver such a sensitive yet needed message of homosexuality acceptance in a beautiful yet comical unexpected way at of all places, at their sons funeral. This scene stole the show.
It was great to see Martha Dunnstock (Jayd Luna) Veronica's former misfit best friend that was dumped by Veronica for her newfound clique with The Heathers, have her solo moment in "Kindergarten Boyfriend" that allowed Martha  to showcase her incredibly beautiful, pure voice. Teacher Ms Fleming (Michelle Lansdowne) was great and brought such life to the show with her hilarious personal interaction with the audience. Her performance of "Shine A Light" was brilliant and a definite show stopper.
The show was jammed packed with a great combination of songs, perfectly choreographed energetic dance sequences that all cast members execute to precision every time and through "Fight For Me" it was very impressive and effective when the entire cast stood frozen, not moving a millimetre while Veronica sang.
"Big Fun" was full of infectious energy performed by the cast and had the perfect title, it was definitely Big Fun. Veronica and J.D. duo "Our Love Is God" was so beautiful as was their duo  "Seventeen" showing pitch perfect vocals, their connection so effortlessly complimented each other so well. Another incredible performance was Heather McNamara's "Lifeboat". "I Say No" performed by Veronica truly showed her mind blowing vocals and wow what a performance. I could go on about each and every song but these were a few of my stand outs but all the songs of the show were really performed superbly with such power, projection and tone.
The theatre was extremely intimate and a great choice of venue. It was so nice to be given a program on arrival for all guests, the lighting was absolutely incredible, highlighting every scene perfectly to set the mood allowing every expression to be seen regardless of where you were seated in the theatre. The sound was always sharp, rich and pure with vocals and music heard too brilliantly. This is a must-see musical with a great storyline that's full of excitement and phenomenal young talent.