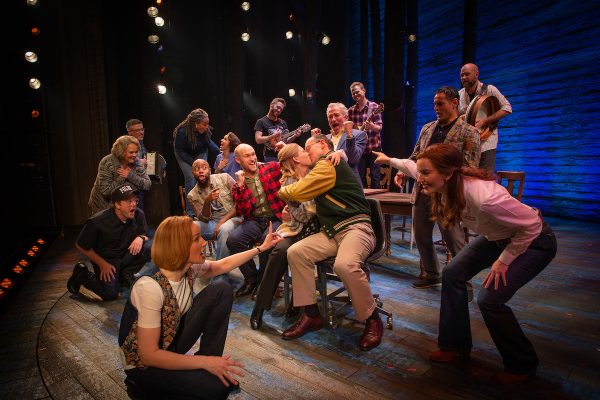 A Truly Heartfelt, Humorous and Hopeful Masterpiece
Comedy Theatre, Melbourne, July 31
Reviewed by Caterina Kuljis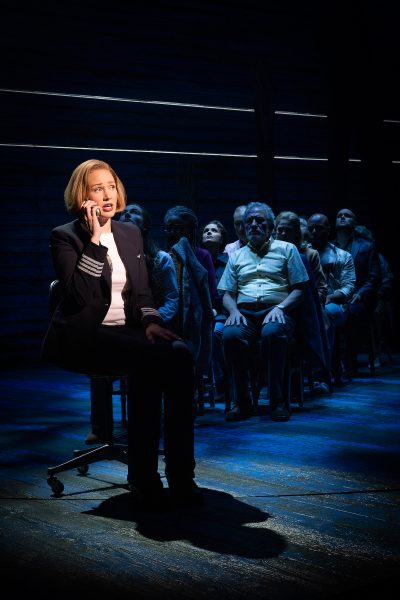 Come From Away is a delightfully creative mesh of poetic writing, acting, singing and dialogue laced in light hearted humour. The musicality, timing and stagecraft skills of this entire production all combine precisely to produce a most remarkably uplifting and entertaining musical theatre experience.
Come From Away's story unfolds in the aftermath of September 11 2001 (known universally as 9/11). American airports had been shut down with the horrific terrorist attacks, resulting in 38 planes, full of passengers, being rerouted to Gander, Newfoundland in Canada. One plane landed after the other, with a total of 6,579 passengers from cultures and countries spanning the globe all arriving in this small town and instantly doubling its population in a matter of hours. The story unfolds of the welcoming townsfolk of Gander and surrounds that will inspire, touch and motivate many generations to come and is the backbone of this musical.
This creative ingenious brings a true story to life by exploring the emotions and connections of humanity on its many levels. The diversity of perception is heartbreaking at times, but  thought provoking as the undertones surfaced of racism, ignorance, humiliation and cultural diversity. In the end, this though does not diminish the uplifting spirit of these warm, genuine and generous people.
The Gander community touched these peoples lives and showed the world that human kindness, warmth and hospitality, inclusion and compassion, can exist on a grand scale along with heartfelt honour and generosity that comes to life in unexpected and touching ways!  These beautiful people radiated such warmth, "eating rainbows for breakfast", were completed open hearted and devoted to putting others needs ahead of their own. They were generous with everything they had to offer – their homes, food, clothing, phones, computers, grills – and were happy with only a simple thank you in return.
I have been blessed to see this show twice now, and both times I was moved to tears with the character Hannah's performance of "Here I Am" along with the company's performance of "Something's Missing." I roared with laughter at all the one liners, danced in my seat to the uplifting tunes and was completed captivated with the seemingly simple, heartfelt storylines and the incredible versatility of talent from start to end.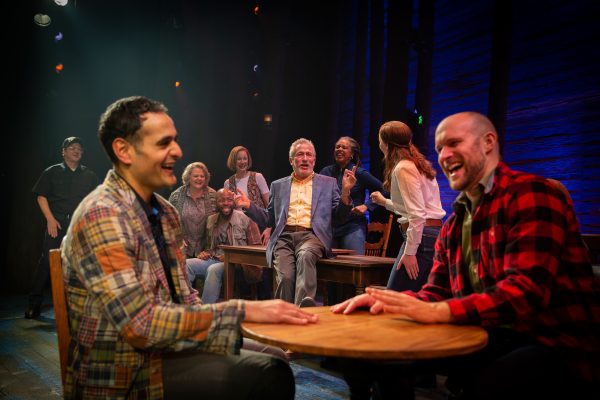 A big congratulations goes to Irene Sankoff and David Hein (book, music and lyrics) and the entire creative crew who envisaged and brought this unique story to life, giving it true soul and depth!  Choreographer Kelly Devine recently won a major award for her work on Come from Away, and what she managed to do with every cast member's movements is truly commendable. [Read our interview with Kelly Devine from last year.]
One of the most magical aspects of Come From Away is how they tell the story using a simple set and props in the most imaginative ways. It would have been an amazing experience being involved in the workshopping of the show's creative process of choreography, blocking, staging, lighting and audio with so many talented minds coming together to create such a an original masterpiece. Highest accolade of praise goes to the entire cast and crew.
The entire cast are to be celebrated for their outstanding performances. Nicholas Brown, Nathan Carter, Zoe Gertz, Sharriese Hamilton, Douglas Hansell, Kolby Kindle, Simon Maiden, Sarah Morrison, Richard Prior, Emma Powell, Katrina Retallick and Kellie Rode make up the small cast of twelve and all are Brilliant! They worked together effortlessly and their teamwork was like steering a ship seamlessly through surging waves on the high seas of life's ups and downs. [Read more about the cast here.]
The cast's range of talent was exceptional, their acting and vocal range was outstanding and their delivery of the multitude of characters, their personalities and accents were absolutely stellar. This team of talented and versatile performers were able to capture and share the essence of humanity on all levels, their energies bouncing off each other inspiring greatness from each and everyone of them.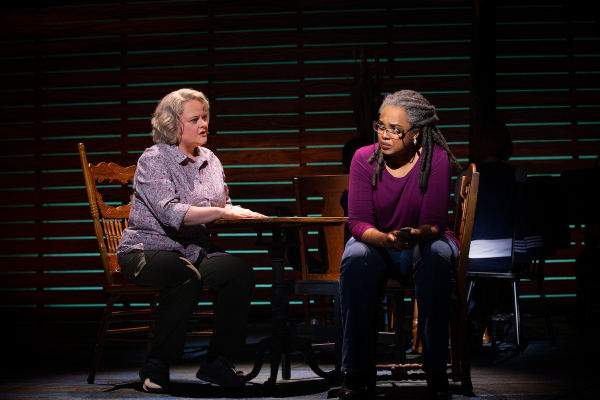 Each cast member played numerous personalities and effortlessly alternating from one character to another, this took place through a simple change of jacket or a hat along with an intricate set change. Their maturity as performers resonated through every moment, action, and emotion tugging at your heart strings. Whether the cast performed as a soloist, duet or as a collective it was sublime to witness.
Extra credit goes to the cast's sharp memories for switching in and out of roles so fluidly, to the effervescent and captivating singing dialogue and the intricate choreography to the complex variety of set changes. In doing some research I learned that there were 30 big set moves and then approximately double that if you include all the minor subtle movements. Each set change took you to another layer in the storyline: scatter the chairs places the scene in a bar; chairs in 3 rows on the diagonal and you are in the plane; 2 rows of chairs and you are now on the bus; place the chairs in a semi circle and you are at a breathtaking look out; back to the community centre to the lookout over the falls; to the cargo hold of the aircraft. The creativity is clever, the use of the staging was mind blowing to watch. These set changes were meticulous and smooth in their transition with no one faulting. And if that wasn't enough for the cast to remember and work around … there was also a rotating stage!
The rotating stage was very effective in melding the array of constant changes and storylines. This married with the lighting transitions allowed the audience to be embraced and feel a part of the story, and therefore eliciting a very emotional response from the audience. The rolling cues from warm to cool spotlights, to electric, scattered rays of movement, to vibrant colours, offered the pathways for the storyline to explore, shine and evolve. The lighting cues were timed to perfection, changing the moods from highs to the low moments, to the humour and everything in between and timed to the dialogue in a perfect fit.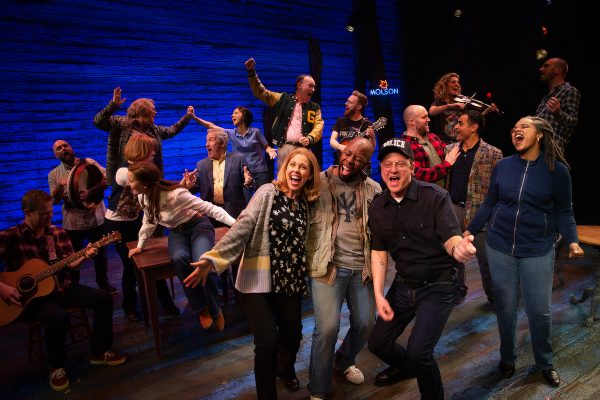 Come From Away is a modern take on musical theatre breaking traditional boundaries. It reaches and affects many of its audience through real life events of recent history.
Refreshingly, you won't find a hierarchy of leads, ensembles, or swings in this cast as the fact that they are all equal reflects the essence of the heart of the story – that we are all human. There is no elaborate costuming, hype, glitz or glam. The set was stripped back pure and raw. The stage was encased in large trunks of trees, wood toned furniture, mis-matched chairs and just two tables.  However, don't be fooled Come From Away packs an incredible emotive punch that touches the core of every person in the audience. There is no intermission; just an hour and 45 minutes of incredibly engaging entertainment, with no dull moments and no weak links.
In attending many shows over the years, I have never experienced anything quite like this … where the whole theatre spontaneously leapt to their feet applauding and cheering the phenomenal performance they had just witnessed. From what I have been told, a standing ovation happens nightly. The live band finished off the night with a thigh slapping, toe tapping groove that keeps everyone animated, dancing, smiling and continuing to clap and cheer leaving the theatre on a high.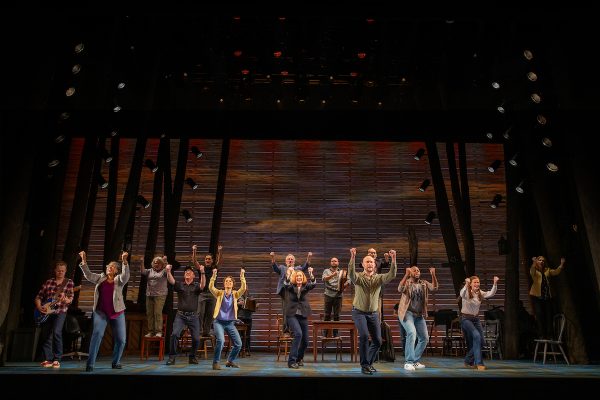 Come From Away ranks as one of my top three live musical theatre experiences to date and I would happily see it again, and again.
Come From Away will move you, encourage thought and evoke a connection with the soul of the human spirit. "Honour what was lost and commemorate what was found." The intensity of emotions will resonate with you long after the curtain falls. Gather your friends and family, Come From Away is one show that genuinely deserves the over-used recommendation of MUST SEE SHOW. Showing until November at the Comedy Theatre in Melbourne only.
COME FROM AWAY