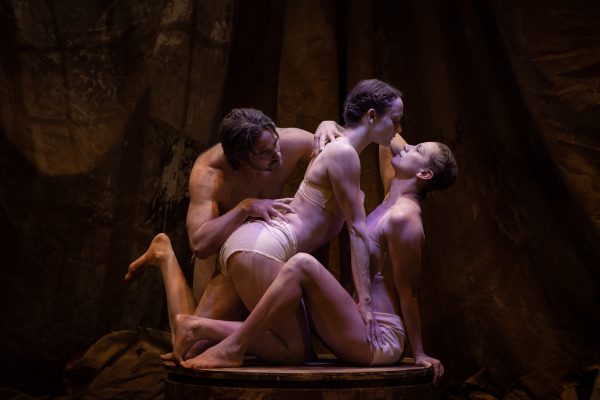 A Beautifully Sad Fusion of Drama and Movement
Sydney Opera House Playhouse, Thursday April 29
Reviewed by Sarah Navin
Step into the artist's studio. The stage of The Playhouse at the Sydney Opera House is flanked by textured, hanging drapes. Coloured in dirty cream tones, the sculptor's clay workroom feels gritty. It is the scene where French sculptor Camille Claudel felt most at home, and the audience is invited to experience her artistically successful, yet traumatic life.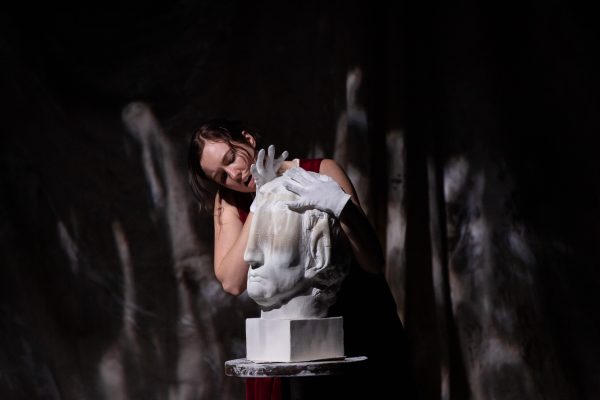 Claudel, written and directed by Wendy Beckett and presented by Pascal and Tinderbox Productions, is a fusion of drama and movement. The performance takes us through Claudel's passion for the artform, but also deep feelings of unrequited love, adultery, abandonment, rejection, and insanity.
Read more about this production of Claudel here.
The acting is strong ⏤ Imogen Sage plays a fiery and empowered Claudel, who gradually loses her grip on the world. She captures both the impassioned obsession of an artist wanting to climb the ladder of success and recognition, and her pain is visibly raw when her life unravels in a spectacularly destructive way. Tara Morice is a cold, cruel and uncompromising matriarch as Madame Claudel, while Jessie (Melissa Kahraman) and Suzanne (Henrietta Amevor) are the loyal friends bringing boundless energy and the occasional chuckle.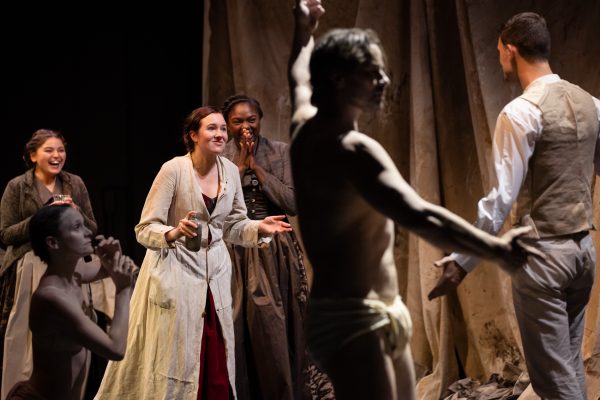 Dance is not a large part of the performance though, and by the time human figures acting as sculptures started gently moving I was begging for it! – Alongside fellow audience members from the dance fraternity. The athletic male – Kip Gamblin – slowly glides through poses, flexing every muscle and tendon along the way. The downlights accentuated the human form, like the intrinsic detail in a sculpture.
Claudel's body of work is incredibly intimate, with bodies intertwined; capturing a closeness Claudel no doubt experienced with her artistic mentor and lover – Auguste Rodin, played by Christopher Stollery.
The set is sparse, but the props are purposeful. Dancers dusted with clay, in nude underwear, sit atop rotating platforms; creating the lines and curves of different sculptures with many creating true replicas of the artist's now famous work.
The unquestionable highlight of the performance is the powerfully intense abortion scene. Claudel lies motionless, as a dancer winces in pain and distress around her… involuntary jerking movements pulling her across the floor. Choreographer Meryl Tankard used the sad and powerful wartime music from Olivier Messian to create what she describes as 'an inner world' – a stirring depiction of a period of immense loss in Claudel's life.
Equally haunting is the wildly explosive movement as Claudel is imprisoned in her asylum, spending 30 years in a psychiatric hospital, diagnosed as a schizophrenic. While she stares blankly ahead, strapped to a chair, dancers Dorothea Csutkai and Cloe Fournier transform the inner thoughts of her mind into a physical display of torment and suffering.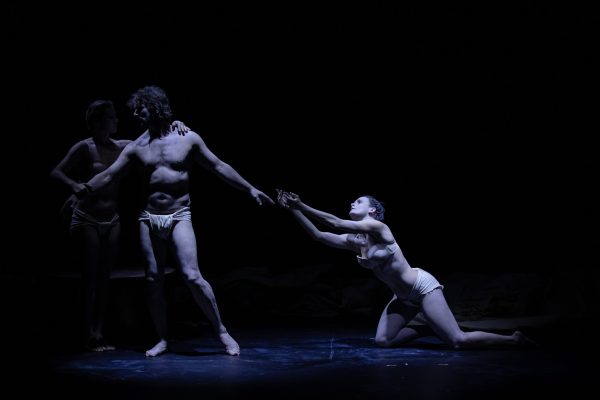 Claudel is a work best appreciated with some research into the troubled artist, who started her career in 1884. Claudel was ousted from her family and unable to convince her lover to commit to her. Coupled with the death of her father, and her mental instability, she descends into a spiral that not even her art could save her from. Evocative strings and piano build as the movement intensifies, and Claudel's years trapped away from her life's work as an artist tick by.
This is certainly not a performance you attend for a great laugh or lift, but it is an abstract and authentic journey to another time and another mind. It runs for 90 minutes, interval free, but the chronological work held interest and at no point did time seem to linger. When the cast of 9 bows, it is as if you have read an autobiography, visited an art gallery and been to the theatre –  all at once.
CLAUDEL
23 April – 9 May
Sydney Opera House, Playhouse
Bookings:  www.sydneyoperahouse.com or (02) 9250 7777
---
Sarah Navin started ballet at age 6, as she couldn't walk in a straight line without skipping and twirling. As well as studying classical dance, she went on to perform in hip-hop ensembles, cheerleading squads, cabaret shows, and musical theatre – starring in shows such as The Boy From Oz, Legally Blonde The Musical and Rock of Ages. She also has a keen eye for costuming, designing tutus as part of her HSC major work. Sarah is a Sydney-based television journalist by day, swapping political reporting for dancing at night. She is a regular at Sydney Dance Company classes and has been reviewing Australian dance performances since 2014, enjoying the chance to combine her two great loves of journalism and the arts.