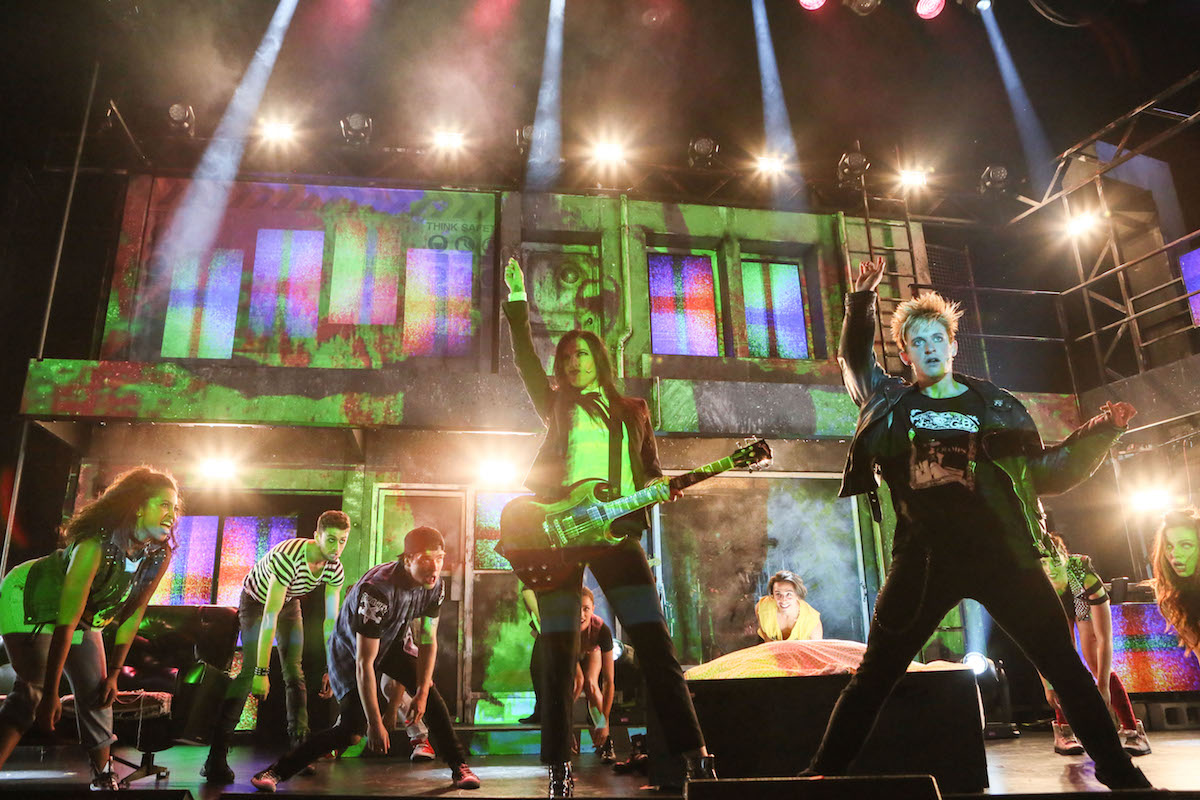 Green Day's American Idiot
Her Majesty's Theatre, Adelaide, January 20
Review by Amy Donohue
PLUS!… WIN tickets to American Idiot in Melbourne! To enter simply send in your name and phone number to win@dancelife.com.au under the email subject of 'American Idiot Melbourne'. Entries close Feb 15.
The opening night of the Punk-Rock musical Green Day's American Idiot showcased extraordinary talent.
The award-winning Broadway musical communicated the narrative of three friends Johnny (Linden Furnell), Tunny (Connor Crawford) and Will (Alex Jeans); who eagerly bought bus tickets in order to escape their stifling lives. However, before they leave, Will receives some unexpected news, which requires him to stay at home whilst Johnny and Tunny depart on their journey. The story then follows each character as they lead separate lives but still search for the meaning of life and freedom from suburbia.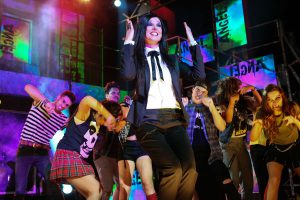 The narrative was primarily told through song and featured every song from the American Idiot album (2004) as well as additional songs from 21st Century Breakdown (2009). Due to not being entirely familiar with the lyrics written by Billie Joe Armstrong and there being little dialogue throughout, it was difficult to follow the story at some stages as it relied heavily on the content of the songs to tell the story. In other words – Green Day fans are at an advantage.
The set design by Josh McIntosh and the video design by Craig Wilkinson, however, assisted tremendously in setting the scene, which therefore made it easier to understand the storyline. The simplistic and stationary set of a suburban street transformed into a different set in each scene through the use of a variety of animations placed within the windows and doors of the suburban street. This imaginative way of incorporating technology within the performance emphasised the prevalence of technology in the characters' everyday lives.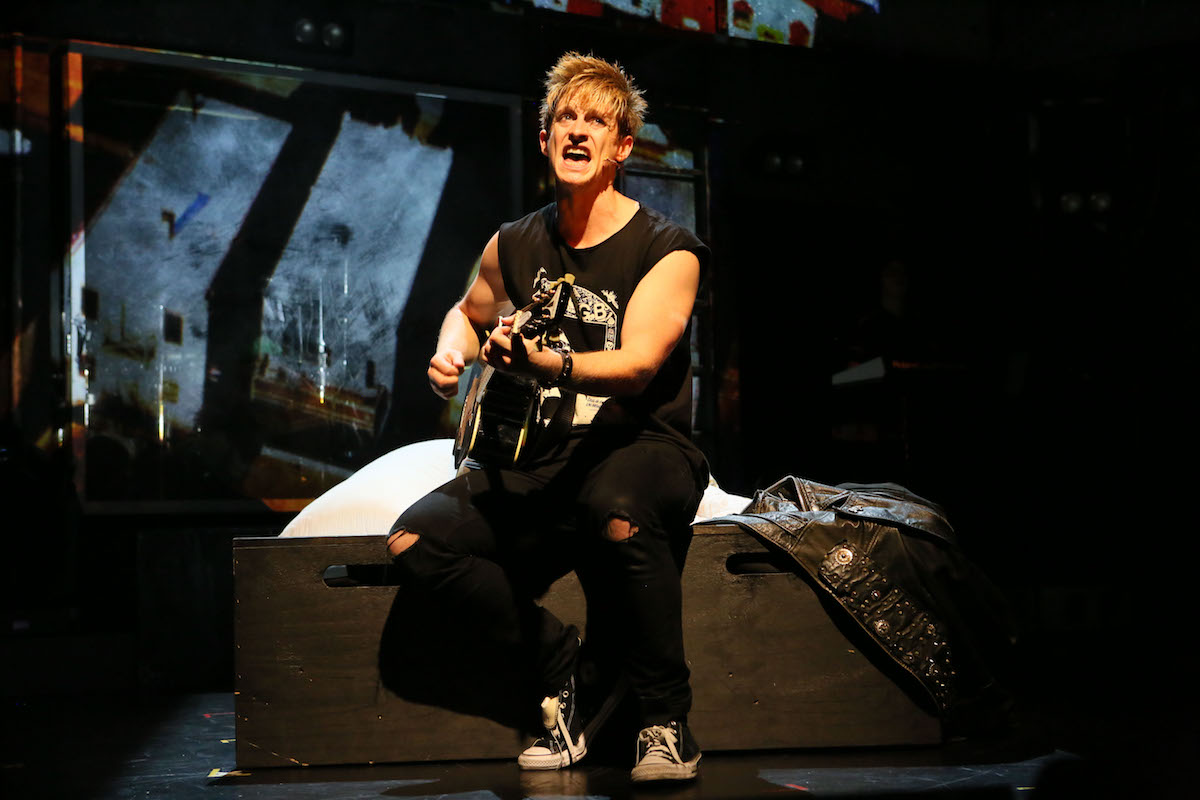 Connor Crawford (Tunny), Linden Furnell (Johnny) and Alex Jeans (Will) did an exceptional job of differentiating the paths of each of their characters as well as portraying their inner turmoil. But for me, Linden Furnell stole the show as he was able to showcase his talents through the variety of songs assigned to his character.
The female supporting roles of Whatshername (Phoebe Panaretos), Extraordinary Girl (Kaylah Attard) and Heather (Ashleigh Taylor) also exhibited a high standard in terms of singing and acting ability. The ensemble also featured some hidden talents in Erin Clare and Christopher Scalzo, who engaged in powerful solos. The entire ensemble also showed their versatility by each portraying a variety of different roles throughout.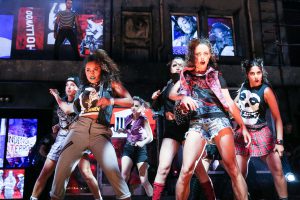 Lucas Newland's choreography in many of the ensemble numbers was stylistic of 'krumping' in the way that it was aggressive, hard-hitting and precise in order to show the defiance of each character. The choreography in other scenes like 'Extraordinary Girl' was more lyrical. In this scene Kaylah Attard was suspended in the air on wires, in which she performed a variety of summersaults and various partner lifts with Connor Crawford (Tunny). This choreography successfully assisted in portraying the dream sequence. There were also many improvisational aspects that accompanied the songs throughout. Other upbeat numbers consisted of improvisation that was reminiscent of a 'mosh pit' at a concert; for example head banging, jumping and throwing hands in the air. Overall, the movement was simplistic, which in turn added story-telling effect to the songs and also assisted the ensemble in singing whilst dancing.
The highlights of the performance were the opening number American Idiot and When September Ends, purely because both numbers were vastly different and engaging. American Idiot was full of energy with fantastic harmonies, erratic lighting by Matthew Marshall and upbeat dancing, whereas When September Ends was simple and demonstrated Connor Crawford's (Tunny), Linden Furnell's (Johnny) and Alex Jeans' (Will) guitar skills. In some aspects of the performance, however; sometimes the erratic lighting in conjunction with the dancing caused a sensory overload.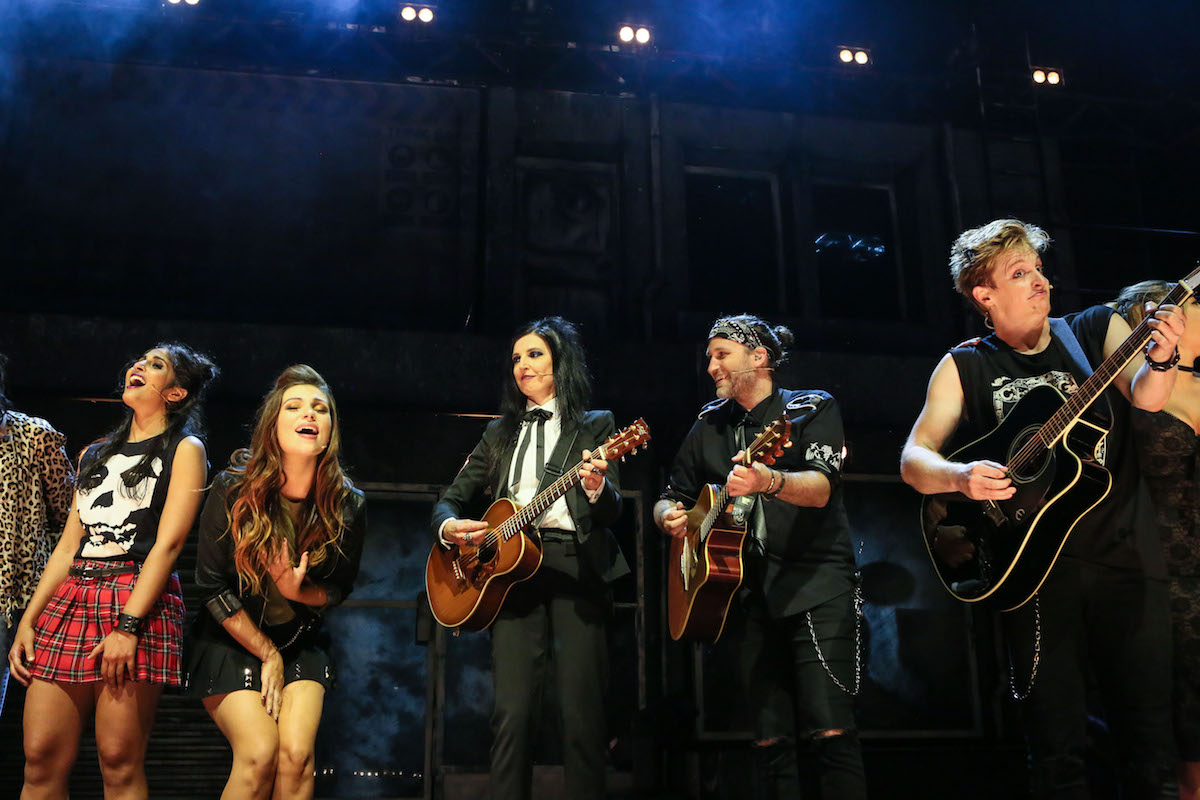 Overall, I appreciated the wealth of talent that the show exhibited, which allowed me to gain a new appreciation for Green Day's style of music. I believe Green Day's American Idiot is incomparable to any other musical in production and, although I was not familiar with all of the music, I recommend this Punk-Rock Musical, especially if you are a Green Day fan.
AMERICAN IDIOT
ADELAIDE


Her Majesty's Theatre
January 19 – January 28
Bookings: bass.net.au or Ph: 131 246
(St JIMMY to be played by PHIL JAMIESON & ADALITA*)
PERTH


Crown Theatre
February 2 – February 11
Bookings: ticketmaster.com.au or Ph: 136 100
(St JIMMY to be played by PHIL JAMIESON & ADALITA*)
MELBOURNE


Comedy Theatre
February 23 – March 11 2018
Bookings: ticketmaster.com.au or Ph: 1300 11 10 11
(St JIMMY to be played by PHIL JAMIESON, SARAH McLEOD & ADALITA*)
BRISBANE


Playhouse Theatre, QPAC
April 13 – April 21 2018
Bookings: qpac.com.au or Ph: 136 246
(St JIMMY to be played by PHIL JAMIESON & SARAH McLEOD*)
DARWIN


Playhouse, The Darwin Entertainment Centre
May 3 – May 6 2018
Bookings: yourcentre.com.au or ph: 08 8980 3333
(St JIMMY to be played by SARAH McLEOD)

*For a full performance schedule with details on the rotational role of St. Jimmy please refer to the ticketing outlet or www.americanidiotlive.com.au