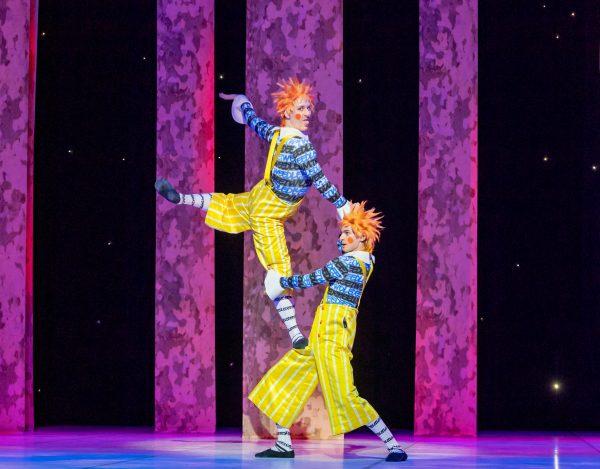 A Ballet That All Ages Can Enjoy
6th-21st May 2022 at His Majesty's Theatre, Perth
Reviewed by Courtney Allen
As I reflect on WA Ballet's latest offering, ALICE (in wonderland), returning to His Majesty's Theatre once again after a sold out season in 2019, I can't help but acknowledge that WA Ballet's range of performance styles is truly astounding. From sophisticated contemporary works such as STATE (a showing of new choreographic pieces at the State Theatre in June) to classic white ballets such as Swan Lake (with a uniquely Western Australian twist in conjunction with Noongar artists, premiering this November) to family ballets such as ALICE (in wonderland), currently performed by the ever-growing company at His Majesty's Theatre.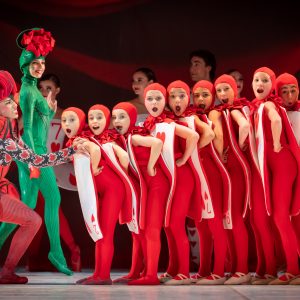 ALICE (in wonderland) is indeed a ballet that all ages can enjoy; clear from its emphasis on incorporating a large cast of children into its performance as guest dancers, as well as the colour-drenched array of costumes (designed by Liz Vandal of Cirque du Soleil fame) and high-wire contemporary circus feats (including the set design of James Kronzer and puppetry design of Erin van Wyk). However, it is worth noting that the artistic team (led by Artistic Director Aurelién Scanella) never shies away from the more "adult" elements of the celebrated literary work by Lewis Carroll Alice's Adventures in Wonderland, expertly recreating Alice's exploration of various potions and elixirs (performed with a balance of innocence and impertinence by the always-breathtaking Carina Roberts), the brutal chill of the Queen of Hearts (danced by Glenda Garcia Gomez with perfect "Off with their heads!" aplomb) and the psychological terror Alice experiences when falling between different states of being.
While the choreography by Septime Webre, Artistic Director of the Hong Kong Ballet, is crisp and clean, it isn't simplistic, and showcases the technical and artistic skill of the company's dancers. It also allows the adorable child guest artists to flourish, by providing enough of a challenge without overwhelming them. The results are exquisite: a parade of miniature doors with a giantess Alice looming above them; playing cards stacked in a row; piglets trying their best to escape the cooking pot; hedgehogs rolling across the stage; and my favourite, baby flamingos huddled together, inspired by Swan Lake's Dance of the Small Swans. These scenes come alive due to the extraordinary sets which show a real understanding of scale. As the doors are shrinking and Alice is growing before our eyes, playing with scale becomes central to the story of navigating looming adulthood while still having one foot in the door of childhood.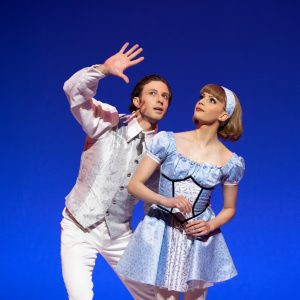 Highlights from the West Australian Ballet cast include Asja Petrovski's utterly captivating performance as a Caterpillar in all her sleek glory, and Izaak Westhead as the Joker, a mischievous sidekick of the Queen of Hearts. Among a sea of extraordinary talent, these two dancers manage to elevate their craft further still, lighting up the stage like beacons. During Westhead's solo (in particular, the five pirouettes executed perfectly and balancing for what seems like an eternity before the cleanest of landings) there are audience members beside me who audibly gasp. During his grand jetés across the stage, I am struck by the improbably soft landings (not a peep!) in the face of such strength and dynamism.
The Mad Hatter's Tea Party is another highlight, in particular the 1980s UK punk costuming of Tweedledee and Tweedledum (Adam Alzaim and Matej Perunicic) and the hilarious tone-shift of Tweedledee's live singing while wearing headphones, unaware of the looming dangers that surround him. These whimsical and creative risks are another example of what makes this ballet company truly special.
When Alice awakens from Wonderland and finds herself in the safety of her home once again, there is a mirroring of the final scene of Clara in the Nutcracker. A bittersweet quality, where the childlike perils of Alice's dreamlife make way for the more earnest challenges of adulthood. Carina Roberts' artistry allows for this poignant moment to unfold beautifully and with sensitivity.
Don't miss out on tickets to WA Ballet's 2022 season of Alice in Wonderland, a bold, cheeky, and energetic spin on the classic Lewis Carroll story.