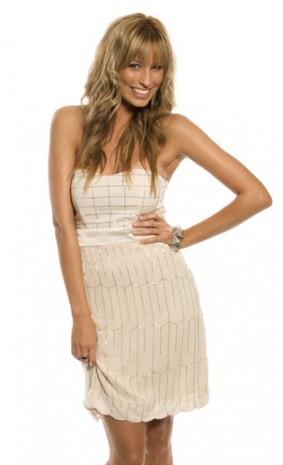 The singer/model/dancer/actress can now add TV presenter to her long list of credits.
Renee is relishing her role as a Host in Channel V's, What you Want Segment. 'This role is a dream come true for me, interviewing bands, listening to music and checking out live gigs is a lot of fun!'
she says!
Queensland born Renee sat down with DanceLife to chat about life and provides some great advice for up and coming performers.
Q: Favourite Dance Movie
' I will have to say Honey, Jessica Alba was just gorgeous and the choreography was hot!
Q: Favourite Musical
'Boy from Oz,' It has great music, the costumes were brilliant and it was all round very entertaining! Hugh Jackman was unreal. But I am very excited to see Wicked!
Q: Did You Dance around your bedroom, with a hair brush singing to a certain song when you were young?
ha-ha yes and I still do! But when I was younger I used to dance around my room pretending to be Janet Jackson performing 'the best things in life are free,'
Q: Favorite Style of Dance?
My favourite style to watch is probably contemporary I am in awe of people with beautiful technique as I never had it! But my favourite style to dance would be commercial jazz or hip hop.
Q: Best Dance Class to do in Sydney?
I would have to say either Marco Panzic at Brent Street or Michael Boyd at Sydney Dance, both very energetic!
Q: Personal recommendation of courses available for young performers?
Electric Safari Grooming School. I think it is really important for young girls to realise that just having talent isn't enough. It is about the whole package and knowing how to approach an audition situation will really help them in the future. Check out Electric Safari, Grooming School For Young Performers!!! www.electricsafari.com
I suggest that anyone wishing to pursue a career in dancer needs to do this course.
It will give you the edge on the competition – under the direction Australia's Top Industry leaders!!!!
Guys and Girls need to know what to wear and how to prepare themselves before they get into casting situations!
Q: Do you miss dancing at the moment?
I do and I'm going to start going to classes again, not only for the fitness aspect but It just
makes me feel great!
Q: People who have played a serious role in the development of your
career?
I would have to say Pj Clarke for sure, he saw something in me and really encouraged me to follow my dreams. Even when things didn't go as planned he would help me to realise what I was capable of. Due to his experience in the industry I knew I could always go to him for advice.
Q: Words of Advice for aspiring young dancers?
As cliché as it sounds if you want something bad enough, you can get it. If you believe you can achieve. Just know what you want and go for it, nobody can hold you back but you!
Q: Audition Tips that have got you top the final round?
I used to visualize my self in the role I was going for and that would help me get into character. I believe research is the key, know how the character what dress and act, and put in the effort, if you do you will be rewarded. From the moment you step into the room smile and be focused on the audition.
Q: Did you ever think that Dancing was a gateway to other fields in the entertainment industry?
Coming from a small country town i had no idea what work was available for dancers. I also didn't know how you could break into the industry. I was so blessed to do some great jobs as a dancer, and had no idea it would be a stepping stone to get my dream job as a presenter.
Q: Music Interests?
I love dance music obviously, there are so many great bands at the moment, but I love MGMT, The ting tings, Robyn, Estelle, Justin Timberlake, the presets, the list goes on, channel V showcases all the best new music.
Q: Fashion do's and don'ts?
Do dress to suit your body shape, and know your best assets. Black is always flattering, but add a bright colour that suits your skin tone to stand out in an audition! Never wear stockings with runs and holes! Always dress the part for an audition it shows the panel that you have done your research and are enthusiastic. A great pair of heels are essential, It really lengthens the legs and gives them a nice shape.
Q: Where do you see yourself in 5 years time?
If I was asked this 5 years ago I never would have guessed to be where I am. I am taking every day as it comes, but I hope to succeed as a presenter and do what I love for as long as I possibly can.
I believe my training and experience as a dancer was a great starting point for my career. I always wanted to dancer but never realised how many more opportunities could come from this!