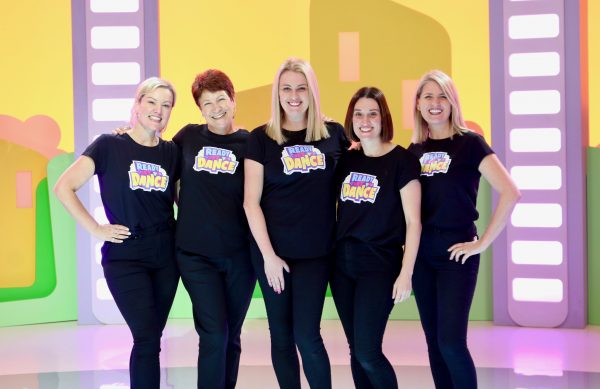 Cheers for the Women Behind Ready Set Dance Success
Finalists in AusMempreneur Awards as they 'get the world moving one preschooler at a time'
The five women creators of popular preschool dance program READY SET DANCE  have been named in the finals for the 2020 AusMumpreneur Awards.
Belinda Agostino, Jade Barnes, Natalie Ettingshausen, Priscilla Severino and Glenda Yee will represent the dance program at the Awards in the Categories of AusMumpreneur of the Year, Business Excellence as well as People's Choice Award for Customer Service and Product.
The annual AusMumpreneur Awards, presented by The Women's Business School, celebrate and recognise Australian 'mums in business' achieving outstanding success in areas such as business excellence, product development, customer service and digital innovation. The awards are designed to acknkowledge the growing number of women who successfully balance motherhood and business in a way that suits their life and family.
READY SET DANCE was created in 2014 by a newly formed partnership of five of Sydney's most successful dance studio owners. They created a preschool dance program that is now licensed to 234 dance studios in Australia and New Zealand with 15,000 preschoolers participating in classes each week. Following the popularity of the program the business entered a joint venture with Nickelodeon to transform the program into a TV show which launched in January 2018 on Nick Jr.
The program was originally created as a solution for the dance studios of the founding directors. There was a huge gap in the market of preschool dance where existing programs were generally outdated and girl focused. The READY SET DANCE team were inspired to create a fun and fresh gender-neutral combo class utilising their vast combined experience as dance educators. READY SET DANCE was created by dance studio owners for dance studio owners to save them time, money and deliver a magical dance experience to the preschooler of today.
READY SET DANCE is delighted to be named as a finalist and is proud of their achievements, especially having The READY SET DANCE TV show now rolled out in 125 countries around the world, translated into 20 different languages and recently picked up by free-to-air Channel 10 in Australia. This global TV success has opened the door to exciting opportunities to expand the program into international markets in 2020 and develop further segments of the Australian/NZ business including merchandising and live shows. READY SET DANCE aims, 'to get the world moving one preschooler at a time'. This vision is becoming an exciting reality as the brand is embraced throughout the globe.
There are many benefits to balancing business and motherhood as Belinda Agostino explains, "We are all proud mumpreneurs who are passionate about creating a flexible workplace that supports women to succeed in their role as both employee and mum. This workplace culture allows employees to attend small yet special moments like school assemblies or school swimming carnivals."
It can be challenging to be a successful business woman whilst raising a family and Jade Barnes gives this advice for others thinking about starting their own enterprise, "Collaboration has been a key ingredient to our success. As five mums in business we celebrate the wins and also work through the challenges together. This support has allowed us to achieve a better balance with our families. It's also invaluable to connect to networks like the AusMumpreneur community to feel supported and inspired."
The winners of the 2020 AusMumpreneur Awards will be announced at an online event in September.
Read more at www.ausmumpreneur.com  and readyset.dance