QL2's Major Project for 2018 is TWO ZERO
Audition | Sunday 18 February
TWO ZERO will be QL2 Dance's major project for 2018 for their Quantum Leap youth ensemble (ages 14+).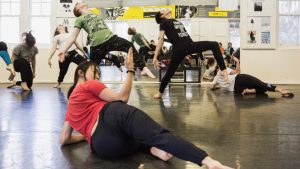 Creative young people from in and around Canberra will form the ensemble following auditions on 3rd December, and will create new work with Artistic Director Ruth Osborne and other choreographers, as well as re-visiting ideas from two decades of youth dance from Canberra's Quantum Leap contemporary youth dance ensemble.
TWO ZERO will be physical, thoughtful, and professionally presented. It will be performed at the Canberra Playhouse in early August 2018.
Quantum Leap considers their style to be contemporary dance for all audiences. To give you an idea of Quantum Leap's projects, here are some reviews of previous works:


"a strong, cohesive work … rich in exquisite imagery and inspiring for the obvious passion and commitment of the young dancers to the central theme…"  – Bill Stephens
"…thoughtful in its intent and electrifying and entertaining in its execution. … The choreography throughout is clear in its intent, dramatic and often dreamlike, and always beautiful to watch.  The dancers attack the work with enthusiasm and perform with a discipline and preciseness over a continuous seventy minute running time that is awe-inspiring." – Len Power
AUDITION
Sunday 18th February at QL2 Studio, Gorman Arts Centre.
Pre-Registration is essential. Arrive 15 minutes early.
WHO CAN AUDITION?
Ages 14-21, with a creative mind and dance or gymnastics experience.
AUDITION FORMAT
The audition will be in the form of a dance workshop, including a warmup, learning some short sequences, and creative group work. You don't need to prepare anything. We are keen to see young people with physical or performance skills from other forms — eg gymnastics, or theatre.
The aim is for you to have a good time, meet other dancers, and perhaps get into Quantum Leap — in that order!
"Remember that we are looking for a variety of skills, so don't be put off by others seeming to be more experienced in one form or another — just enjoy yourself and do your best in each section. I look forward to seeing you there!," Ruth Osborne.
The panel will make decisions about who will join Quantum Leap shortly after the workshop.  Results will be emailed.
REHEARSALS
Sundays until July. Two weeks full time in April, two weeks full time in July — in school holidays for most students.
PRODUCTION PERFORMANCE
Canberra Playhouse, 6-11 August 2018.
CLASSES
Classes are essential! Everyone in our projects must regularly attend dance classes — either at QL2 Dance, or if you are already doing solid technique classes elsewhere, you can ask (in writing) for an exemption from the Artistic Director.
COSTS
Cost, payment plans, bursaries: This project is heavily subsidised — the total cost to you is $475, including the project t-shirt. You then need to add the cost of classes. Bursaries are available on request.
TO REGISTER FOR AUDITION visit ql2.org.au