PRO TALENT WATCH | Tom Hodgson

Indulging his ABBA Dreams and Having Way Too Much Fun with Mamma Mia The Musical
Interview and article by Heather Clements
Originally from England, former professional dancer Tom Hodgson has called Australia home for more than a decade where he is now enjoying a career as a choreographer for musical stage shows both locally and abroad.  
With past associate and resident choreographic credits including Matilda The Musical and Billy Elliot The Musical, Tom's current work is on the re-vamped production of worldwide musical hit Mamma Mia where he has created totally new choreography with a stunningly talented local cast to bring a fresh, new version of the production to audiences in six cities around Australia. Next, Tom heads to Korea to work on the foreign language version of Matilda and then heads home for the new Harry Potter musical.
Currently playing at Sydney's Capitol Theatre before heading to Perth, Melbourne and Adelaide, I spoke to Tom about the challenges of trying to reinvigorate a modern classic musical story with new and exciting dance numbers, and also how much fun it is to sing and dance to ABBA songs all day for a job!
*****
Q: In this production you get to selflessly and professionally indulge in the music of ABBA – Have all your ABBA dreams come true doing this production?
Pretty much, yeah. There's not much that you can't enjoy about that music, especially if you're choreographing – it's great!
Q: As choreographer on Mamma Mia how much creative freedom did you have with this new production?
Well it's all new choreography, so I had quite a bit of freedom … and all new direction and all new sets. But obviously it is still the same story and all set on a Greek island so I had to work within the confines of the story. But I have created whole new dance numbers. I've seen the original several times, and also the film. And I have to be honest… I've got quite a lot of Abba records! So, it's not something that's been very far from my sort of focus.


Q: Tell me how the production has been going so far? (already played in Canberra and Brisbane)
It's been great, actually. We've got an amazing cast that give 100 per cent each show. I hadn't worked with Gary Young (the director) before and that has been a terrific experience… he is very experienced and incredibly generous in terms of how he set about devising the new show. I've worked with Stephen Amos (musical director) for many years too… We had sell out crowds in Canberra and the reaction in Brisbane was extraordinary.
Q: Were you involved in the very beginning through the audition process right through to maintaining it now?
Yes. I was there all the way through auditions, which is really important, because certainly from the choreographic point of view we wanted a larger choreographic content in the show. I wanted to really wanted to push the dance as much as possible in this the new production.
So, I was there right through from beginning to final rehearsals. But now I have an excellent resident choreographer Danielle Bilios who looks after the show from week to week and keeps it in great condition.
Q: So your background is very much a classical and contemporary trained dancer, is that the case?
Yeah, that's right. You know, interestingly enough I trained at a performing arts college in London. And fortunately we had some fantastic teachers, at that time, for ballet and contemporary. They pushed particularly the boys, very hard. And they were getting a number of boys into ballet companies. But my first job was actually in Cats and I did a year and a half in that touring the UK.
And I sort of felt like I really wanted to do more dancing. And so I kept training, all the way through Cats, and kept my classes up and my ballet classes. And then I went to Germany and got into a ballet company. And then, from there I basically worked in ballet, contemporary and then physical theatre companies for the bulk of my career. I spent my professional performance career mostly in Europe on the continent.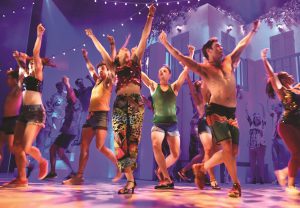 I came back to musical theatre after that, because I was actually in London when Billy Elliot's choreographer, Chris Darling, was beginning the workshops for the Billy Elliot musical. And we got sort of put together through a mutual colleague of ours. And that's sort of how I got back into musical theatre.
Q: How did you find the Australian talent, and what were you looking for when you put together your cast for Mamma Mia?
I do cast a lot of shows here. And I think people from overseas don't realise what we have here in Australia. They think that because it's a small population, they won't find the talent, that they won't have enough people. But it's absolutely never the case. I mean, the level of the Australian performers is so high… they're incredibly good, and disciplined. And there are some great training institutions here too. So, I'm never in any doubt about finding the right people for shows in Australia.
At the auditions, I do like to do a pretty extensive dance audition… I mean a hard dance audition. As we were looking for people that really could do everything for Mamma Mia. We wanted strong actors, strong dancers, strong singers. Especially as I was looking to build the ensemble/company numbers in the show for it to be really inclusive of all the cast.
I didn't want to have actors in one camp and dancers in another. And I think it shows on stage that we don't. Even with our lead actors, we could mix it up altogether and create, and tell the story more clearly as they are all talented.
Q: What have you found to be the biggest challenge or surprise in working on this particular production Mamma Mia for you?
I think the biggest challenge is, you know, to create a new production of a show that has been a global smash like Mamma Mia has. We still want people to come and love the show like they obviously did the original, but at the same time, we want to give it a slightly new feel … freshen in up.
So, I think the challenge was to respect what was already in place… in terms of the story and feel of the sho… But at the same time, give it that little bit of a kick and push it… Give it a bit of an update. I think that was the most challenging part to do because you don't want to alienate all the people that loved the show the first time around or those that loved the film.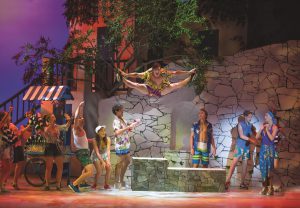 Q: How did you make it 'fresh'? Was it in the particular dance style? How did you keep that sort of fresh edge to it, while not being disloyal to the original story?
Well, hopefully, certainly on the choreographic side, I have tried to give each number its own identity. I find ABBA songs very theatrical so I tried to tap into that. Although they're of a specific time from the seventies, and you've got very clear disco beats going on, certain numbers are just what they are… And I've kept true to the style of the music.
But with other numbers, I've sort of delved into some other styles… a bit of Hollywood, bit of contemporary movement… Just to sort of give a little more variety to the style of movement used to tell the story.
I think that's important for the audience, so they're not looking at the same thing repeated constantly. There's a new element, a fresh element coming in, as you go through the storyline. This is especially with ABBA music as you can tell its ABBA in the first four bars … its iconic! But when you listen more closely to it, there's a really clear theatrical element, there's a really clear story to it. And so I tried to where possible pick up on those things. And pull us into a little bit more of a fantasy world while on the Greek island.
Q: Do you have a favourite number from the show?
From a dance point of view and as the choreographer I really like the sort of build up at the end of Act One, which goes through a sequence from Super Trooper into Gimme Gimme Gimme and climaxing with Voulez Vous. It's sort of a medley with scenes between those through song and dance numbers… And it builds up to a crescendo the night before the wedding. For me it was exciting to build that energy over those three numbers. I thoroughly enjoyed working on that, with the cast and choreographing it. It was tremendous fun.
Q: How would you describe your style as a choreographer and the way you approach a contemporary musical like this one?
I'd say that I like to think I am driven by the music and the story most clearly. I'm definitely using contemporary influences in terms of style. And I like to try and find movement is clearly connected to the music, but at the same time I can adjust and play with, so that it has a slightly fresh feel about it. But I'd certainly say I'm coming at it from a more contemporary angle.
Q: Why should people come along and see this new production of Mamma Mia and what can they expect?
I think it's got an appeal to everyone, of all ages. I think if you're a traditional fan of the original stage show… you'll still be pleased with what you see, enjoy the changes and fell like you've been fulfilled by the Mamma Mia experience. But the new generation of people coming to see the show, whose only point of reference is the film will still thoroughly enjoy and relate to the live experience.
They'll see that we've got this sort of new fresher feel within it. And particularly with the adjustments we've made in terms of the direction and the choreography… Hopefully it's got a broad appeal for a new audience.
And they're gonna have fun! I mean, I think the challenge is try not to smile and have fun at Mamma Mia actually!
Q: I am envious. The cast must just have so much fun, getting up and singing those songs every single day. It must be fantastic?
Well, you know, I have to be honest… it is!! And that's part of it, the cast are having such a good time. They are incredibly talented people… that's the key. But on top of that they are having a brilliant time, and their energy and enthusiasm is just contagious. And so, by the end of the show, the audience are just– they're on their feet. They're dancing. They're singing.
BIO | TOM HODGSON
Tom has had an extensive international performance career with companies including: DV8 Physical Theatre, Scapino Ballet Rotterdam, Lucerne Ballet, Conny Janssen Danst, Dansity Amsterdam, State Ballet Braunschweig, Kiel Ballet, Force Majeure, Sue Healey Company.
Creative credits include: Matilda The Musical – Australian Associate Choreographer (RSC/LWAA); Billy Elliot The Musical – Associate Choreographer Japan, Korea, Broadway; Billy Elliot The Musical – Resident Choreographer Australia (Working Title/LWAA); Once – Resident Movement Director (MTC/GFO); Low Level Panic – Choreographer (The Old Fitz); Skin Tight (fortyfivedownstairs); Far Away – Choreographer (fortyfivedownstairs); 42nd Street, Sweet Charity, When Midnight Strikes – Choreographer (Arts Academy, Federation University Australia); 1st Prize – International Competition for Choreographers (Hanover, Germany).
MAMMA MIA! | National Tour
SYDNEY


Capitol Theatre
From February 11th 2018
PERTH


Crown Theatre
From May 15th 2018
MELBOURNE


Princess Theatre
From July 10th 2018
ADELAIDE


Festival Theatre, Adelaide Festival Centre
From October 9th 2018