Stacey Kenealy has proven a humble girl from the Gold Coast can realise her dreams. After initial training on home ground she was fortunate, and talented enough, to become a revered Moulin Rouge dancer in Paris at the age of 20.
She travelled the world with the Moulin Rouge troupe before heading home to Australia then and ultimately to the USA to pursue her next goal of conquering LA. In just a few quick years Stacey has managed to sure-up her viability by booking jobs for high-end brand such as Cointreau, Marvel Comics, I.Am ear buttons, Latin America Music Awards, Westfield, Lorna Jane, Michelob Ultra at The Super Bowl, as well as adjudicating numerous US dance competitions. 
Once again we celebrate young Australian dancers pursuing their careers in our Hot Talent Watch Interviews. She is a star about to explode! Please read-on to get to know Stacey.
***
Q: So tell me a little about your self – where did you start and train?
I was initially trained by Sheridan Vollenweider and Peta McKenney (Todd McKenney's mum) at Paradise Performers Academy on the Gold Coast, then to become Sheridan's Studio 1.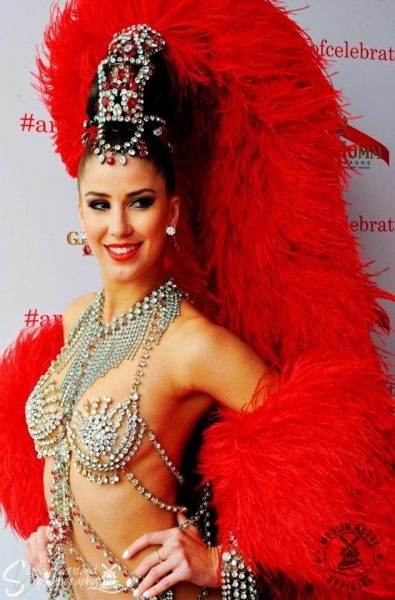 I was a commercial jazz girl. And growing up, learning under Sherry and Peta, they most definitely encouraged us to learn every style. But for me jazz was always my favourite and forte. And I was an acrobat and a tapper. I don't refer to myself as a ballerina, but I most definitely trained in ballet, and I loved lyrical, but ballet is integral to every style in dance especially in my getting in the Moulin Rouge.
I didn't do any full time training, because I was lucky enough to start working professionally straight away. After I finished school, I started working on contract at Jupiter's Casino. And then, I auditioned for the Moulin Rouge and booked a contract and moved to Paris straight after that. So, I was kicking a leg at the Moulin! I was based there for two years and I toured with them for five years internationally, which was truly a dream come true.
Q: What was your inspiration to pursue dance?
I remember I got my first-ever overseas gig when I was 12 to Dubai. And I remember being this little kid and looking up at the professionals in the show and I just idolised them … and I was so shocked to think that they could travel the world doing what they loved. And that became my passion from then on.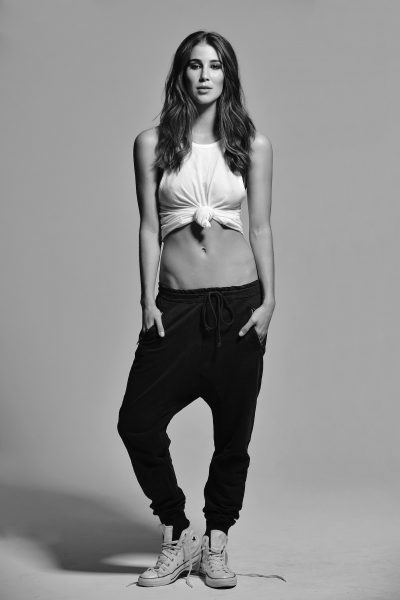 Q: You were at the Moulin Rouge, so you must be quite tall?
I am 5'8″ and a half (Laugh). So I only just made it! Luckily, I have slightly longer legs, but I can definitely sit 'into a hip' if I need to do commercial stuff. And then I could always put an extra platform on my heel to make it up there with the really tall girls at the Moulin.
I started there when I was 20 and worked in Paris until I was 22 before travelling with the tour group for many years. But the Moulin was actually a wonderful experience and it was on my bucket list. So, to do that, and as a can-can soloist, was the highlight of my career to date. And being able to travel the world doing what I loved with them was spectacular … I travelled to Moscow, Italy, Singapore, Australia, New York and did the Italian Music Awards. We did a spectacular show in the middle of New York's Times Square, which I'll never forget.
Q: What did you do after leaving The Moulin Rouge tour?
I came home. Because I've always wanted to be a multi-faceted performer, I came home and moved to Sydney and signed with Jeep Management. Then I was fortunate to get work in many facets. I moved into TV commercials and worked for many brands in Australia like Lorna Jane, Australia's Next Top Model, Asics, Toyota, etc. I loved that and doing 'the Sydney thing' but at the same time, I always had my sights set on LA. I eventually, and legally, moved to LA to work three years ago in 2016.
I'm just here (LA) with the mantra to just reach for the impossible dreams and to live without fear, because you can't lose something you never had. And I was so lucky to get here and pretty much book a Super Bowl commercial for my first job!
And I've had some amazing experiences, as well as it being really tough at times. But I'm the kind of person that thrives on the challenges. It helps that I'm signed to Go To Talent Agency.
Q: Do you still see yourself as a dancer?
Dance will always be my first love. I will always be a dancer at my core…100%. But like I said, I really have always strived to be a multi-faceted performer. I looked up to certain people throughout my career, like JLo (Jennifer Lopez), because she's someone that dominates all those fields and crosses over effortlessly. And that's the kind of performer and performing artist I wanted to be.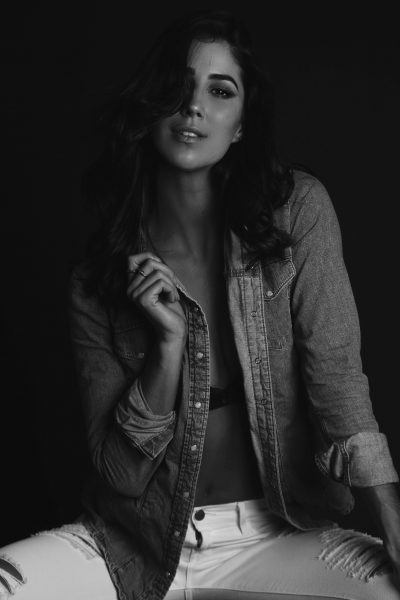 Q: You also adjudicate competitions in the US – what are your impressions about the current dance environment?
There is a blending of style now. Jazz and hip hop have become one, but there is a harkening back to true jazz I hope. It is all very laid back and in the pocket. And I think with the epidemic of social media, it's really reaching those young generations and they're seeing that and wanting to emulate that and not really focusing on the other genres as much as I know I did growing up. And I think it's so important that they do. I love classic jazz. I love seeing that.
And judging the comps over here the calibre of talent in those younger generations is insane. I have noticed as well, I don't know if it's the same in Australia, in the last few years or 10 years or so, but in America in general I think for the younger generations it's a lot of tricking and less dancing from the heart.
I can see that you can turn! If you pull off a triple or a quadruple or however many once… I'm cool, I can see it .. Now, let me see you dance from your heart… that's what I want to see!
Q: What's on your Spotify playlist at the moment?
At the moment, I love the artists HER and NAO. I listen to their stuff on repeat … it's relaxing, just good vibes, that's what I'm all about.
Q: What are you binge-watching?
I am obsessed with 'The Marvellous Mrs Maisel'. It's set in the 1950s and very fast paced, it's must see. Also, I've binged watched 'Hanna'.
Q: What do you always have in your bag?
I always have a snack because I'm known to get 'hangry'. So, I love a KIND Bar. And I always have my lip balm, chewing gum and my I.Am ear Buttons.
Q: What do you like to do when you're not being the performer?
I love to eat. I'm such a foodie. My motto in life is work out so that you can eat what you want! I'm very partial to a burger and Mexican food, especially in LA.
Q: What's your favourite workout style?
Definitely Reformer Pilates … that's something that I wish I had done when I was younger growing up in the dance world, because I think it prevents so much injury. But Pilates and HIIT workouts just give me the best of both worlds, resistance and cardio.
Q: What are you next striving towards?
The list is too long. But I've had the opportunity to work for Marvel doing their motion capture since I've been here, which is such a dream of mine, working for that company. It's really different and it's such an honour to just be in the room with the heads of Marvel and I have my eyes set on film. I want to work in feature films in any capacity that I can. And I really want to … ultimately bridge the gap of dance and film together. Eventually, to be an actor.
Q: What's on your bucket list?
Travel. I have so many places I want to tick off my list. The top of my list at the moment is Italy. I'd love to go back to Italy and do the Amalfi Coast, because I've not made it there yet. And I'd love to visit Japan.
Professionally, working in film is on my bucket list. I want to work hard and see if I can make that dream come true and work in film in any capacity, but acting and dancing would be the dream.
The one other thing on my bucket list is to pursue my philanthropic endeavours. I'd love to get involved with some organisations that I love and are doing really positive things in the world. In particular, female empowerment and anti-bullying programs … They're my two that I'm really passionate about.
Q: What advice would you give to young Australians wanting to pursue dance?

Yes, that's a really good question. I think the biggest one for me is to remain humble. And you really do see the same people on the way up as you see on the way down, and there's no time for ego. And Just to be kind. Again, it's something I think is such a simple premise, but I think there could be more kindness spread, especially on social media maybe sometimes. And my other advice would just be to put the phones down, don't film everything that you do, get into class, and continue to work on your craft.
Q: Who are some of the people you loo up to or have enjoyed their class?
I think I look up to different people in the industry for different reasons. One is Diana Matos, she has unbelievably unique movement, and I get very inspired by her. There's also a dancer named Kim Gringas … And she's just all about promoting self-love and confidence while navigating the industry. And then, Marty Kudelka, he's Justin Timberlake's choreographer and such a kind human.
Q: Final comments?
I just feel like I've been really fortunate enough to work for so many amazing brands and I just have never limited myself and I just really try to reach for the impossible dreams all the time. Because I'm trying to live without fear, that's really my new mantra. As an example, I've just worked on a major global campaign for Cointreau liqueur which I never would have imagined before and was so great to work on! We did an unbelievable campaign for them. That was a highlight for me, shooting on the Paramount lot, on the rooftop at sunset with the Hollywood sign in the background. It was a 'real' moment for me.
https://www.youtube.com/watch?v=qx07lKeP4kg


BIO | Stacey Kenealy
Stacey is a Gold Coast born and bred performing artist /professional dancer who has worked around the world. She studied dance under Peta McKenney and Sheridan Vollenwieder. At the young age of 20 she earned a contract with the world famous Paris Cabaret The Moulin Rouge for 2 years and toured internationally with the company for five years.
Since, Stacey has been the face of a number of commercial campaigns in Australia for brands such as ASICS, Lorna Jane, Westfield & Toyota.
Now based in Los Angeles, Stacey has had the following jobs: * Principle in Super Bowl commercial for Michelob Ultra  * Lead dancer at Latin America Music Awards * Performed with Grammy winning artist Pitbull and 8 other globally recognised artists. * Motion Capture shoots for MARVEL films, Spider-Man Homecoming, Black panther, Avengers Infinity War & Ant man & the Wasp. * Lead performer in Foster the People music video 'Worst Nites' * Appeared in I.Am + buttons social campaign (Will.i.am's brand) * Judged a number of US National Dance competitions * Starred in a global Cointreau campaign (which can currently be seen in Australia) *