Pro Talent Watch Interview with Courtney Casaceli
Moulin Rouge Showgirl Ready to Can-Can for Australian Audiences
Interview by Heather Clements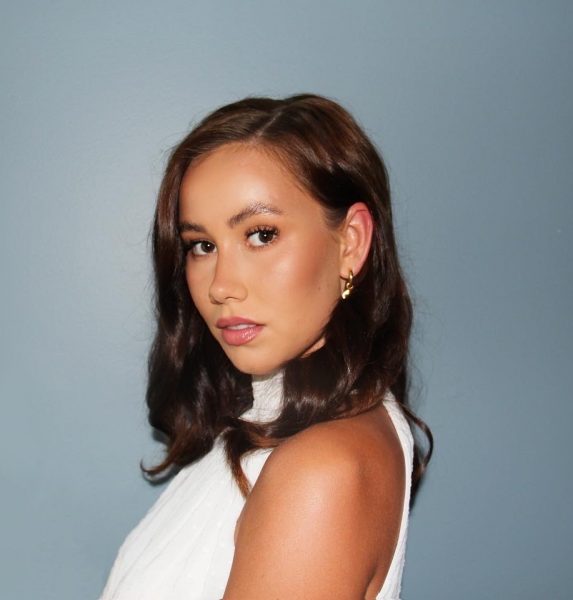 Courtney Casaceli was a star showgirl with the world-renowned Moulin Rouge, when Covid brought her home to the Gold Coast in 2020. Courtney has been dancing for 21 years and working professionally for 9 years. She grew up in Brisbane training in all styles of dance and completed a full time course at the Queensland Dance School of Excellence. Straight from school she had her first gig at 18 with Warner Brothers Movie World on the Gold Coast as a character performer and dancer. Then, in 2014 at the age of 19, Courtney headed over to Paris, France, to live out her ambition when she joined the cast of Le Moulin Rouge.
In her first month she started performing as a can-can soloist and by 2016 was the face of the company on worldwide advertisement. In 2017 she started performing as Principal of the show and is one of only a few girls who understudy all three principal roles. Courtney has also toured many different countries in Europe with the Moulin Rouge's touring groups. Now back in Australia after seven years on the French stage with the Moulin Rouge, Courtney's back working for Warner Brothers Movie World and is very excited to be bringing some Parisian love to stages all over Australia in the new production of Cabaret de Paris.
DanceLife recently spoke to Courtney about her experience as an Australian showgirl in Paris, and her role in the new variety cabaret production ready to thrill local audiences.
***
Q: How did you become involved in the Cabaret de Paris production here in Australia?
Well, I've spent a long time at the Moulin Rouge in Paris, and the ex-singer/lead of Cabaret de Paris is Marissa Burgess who was also at Moulin famously for many years … and everyone in the industry kind of knows each other, so she knew I was back home and last year when the show came round again Marissa put me forward to the producer of the show. Marissa has now left the show and we have the wonderful Rhonda Burchmore stepping in to the show and she is going to put a whole new fabulous twist on the show. It's going to be exciting having an audience expecting something different this time too.
Read our 2016 interview with Australia's most famous showgirl Marissa Burgess
Q: What can audiences expect from how Cabaret de Paris delivers a show of burlesque and showgirls?
It's always good to have a show that takes you to a different place and I think Cabaret de Paris really tries to do that. It really embodies what The Crazy Horse, Lido and Moulin Rouge in Paris is like and we try to bring that experience to Australia, because a lot of Australians haven't been to those places or experienced those shows, so we try to give you a night in Paris with us!
We are making some changes to the new show because Rhonda is in it now. There are about 14 male and female dancers in the cast not including the circus acts.
This time I am actually the principal dancer in Cabaret de Paris, with Rhonda Burchmore the host/singer, and I'm the lead in all the dance numbers, which is exciting.
Read more about the Cabaret de Paris show here.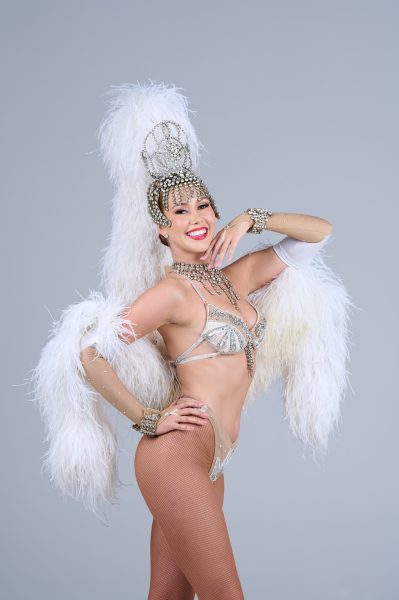 Q: I notice the show includes variety acts such as aerial artists and magicians … is that usual in Parisian shows?
Yes, usually a lot of European shows will add circus acts to break it up and provide something for everyone to enjoy … it's not just a dance show. We have in Cabaret de Paris Michael Boyd doing illusions as well as fabulous circus acts and of course great singing and dancing.
Q: Tell me about your training Courtney, and how you became a showgirl.
I'm 26 now and started dancing at 5, because I was obsessed with tap shoes and that is all I wanted to do! I danced all styles and did every solo competition possible before doing full time dance at the Queensland Dance School of Excellence (Queensland Ballet Academy) where we did half a day of ballet … being the most important form of training for all genres … and half a day of academics. As soon as I turned 18 I got my first contract at Movie World on the Gold Coast. Then, soon after that I was contacted by the Moulin Rouge to join them! And that's where I have been ever since! The Moulin Rouge casting team come out every two years to run auditions in Australia, and I did that when I was just 17 but still too young to get a contract. But they remembered me and got back in touch when I turned 18. I had kind of forgotten about it, especially because I'm a little too short for their usual dancers. Like, you have to have long legs but if you dance really tall and they like your personality that's also important. The cut off is usually 175cm and I am only 170cm. Since me, they have also brought in a couple of shorter girls into the cast. It was exciting, as I had settled in at Movie World when the contract came up, but I had to take it!
Q: How did you go from being a keen tap dancer to a showgirl? Was being in the Moulin Rouge something you always aspired to?
I was always very tall, and that is kind of the 'thing' for tall dancers. After all, the Moulin Rouge is probably the most famous dance stage in the world; along with the Rockettes in New York… those two were the main goal. They are such an inspiration for everyone. Hearing those company names from such a young age, even if you don't really know what it means, is such an inspiration. As soon as I realised it was can-can and glamour I knew it was what I wanted to do … and it was in Paris!
There are actually quite a lot of Australians at the Moulin Rouge, we are very prominent.
Q: You lived in Paris for 7 years, what was the adjustment like for you moving there at 18?
I remember my mum offering to come with me for the first month when I left, but I said, "nah, I'm good!" When I look back now I wonder how I did it! I do remember leaving my Paris apartment for the first time and being totally 'wowed' especially because it was my first time being out of Australia too. It was so crazy and great, and I am so happy I had that experience in my life. And having to fend for myself alone in another country in a different language is a whole other aspect to it. We did French lessons at the beginning which I wasn't very successful at, but being immersed in it for a year or more, I did pick it up and being around it all the time makes it much easier to learn as it becomes familiar. Also, we do sing in French in the Moulin Rouge shows so we have to know what we are singing about. The principal roles at the Moulin all sing, and I was understudy to them all so I had to be able to sing. I had done vocal training while in full time.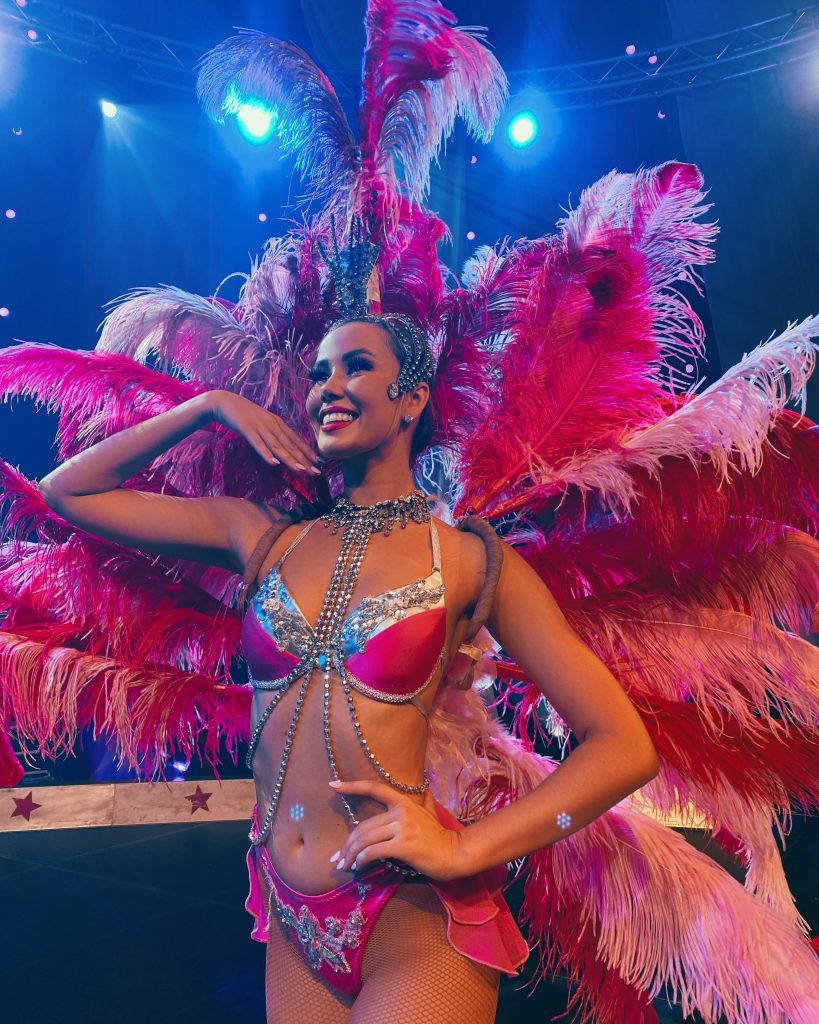 Q: How did your life change when Covid struck?
It was March 2020. I didn't even know it was my last show at the time. When we woke up the next day it was announced that the maximum capacity in theatres was down to 500, which is not sustainable to run shows, then it was down to 100, and soon after cancelled indefinitely. When the French president announced the lockdown I was on the phone to my parents telling them I was coming home. It was pretty scary at the time because we had to figure out the best route to fly to get home without being locked out of Australia. I just got home in time without having to do hotel quarantine. Before then, I had only been home for a week or so every eighteen months.
Q: Was it just as difficult to adjust to life back home and being back at Movie World?
I've only recently gone back to working at Movie World the last few months, but it was absolutely such a shock because I felt like I have never really been an 'adult' in this country. I didn't know anything about life here as an adult because I have grown up in Paris, I didn't even know any of the restaurants people were talking about. It was like being on some weird holiday … last year was kinda hard.
So, when the opportunity to do Cabaret de Paris came around it felt nice to do a can-can again and put on the feathers.
Q: How have you been keeping yourself fit, flexible and stage-ready this past year?
At first I had no idea how long I would be off stage for, so I enjoyed the break and relaxed for the first couple of months, enjoying all the great food in Australia and having a long break for the first time ever. When the gyms re-opened I joined one and I try to go at least a couple of hours every day, which I love. Plus I've been doing a few dance classes. I like to go to Theatre & Dance in Brisbane where they run contract-ready classes for professional dancers to keep up technique and fitness. But, it is hard to keep motivated when there are no shows coming up, or they get cancelled, but thank god Cabaret de Paris came around early this year so I have a month to get myself ready.
Q: Finally, describe what this version of Cabaret de Paris is like and why should people come and see it?
It's just such a fun night out. You get taken to a different place, there are ups-and-downs, with every number completely different to the other … there's a big can-can, a pole artist, Michael's magic… I think now is the perfect time to see our show because the whole cast on stage is absolutely performing their guts out because we are so grateful to have work and be back on a live stage.
***
CABARET DE PARIS
PERTH

 ⏤ His Majesty's Theatre, Perth
27 & 28 August
Bookings:   ptt.wa.gov.au or (08) 6212 9292
SYDNEY

 ⏤State Theatre, Sydney
22 & 23 October
On Sale from 28 June
Bookings:  ticketmaster.com.au or (02) 9267 3234
ADELAIDE

 ⏤ Her Majesty's Theatre, Adelaide Festival Centre
6 & 7 December August
Bookings:  adelaidefestivalcentre.com.au or 131 246 
*Note: Cabaret De Paris is a Burlesque Topless Revue show, some aspects may offend – viewer discretion advised.