Pro Talent Watch | Amy Campbell
In The Heights sees Amy Forge Ahead in the World of Choreography
With a well-earned place of high regard in the theatre and dance world, Amy Campbell has grown to become a go-to choreographer covering everything from opera and musical theatre to commercials and corporate events. Her original choreography will be on show in the encore season of In The Heights which will feature at the Sydney Festival at the Sydney Opera House after a sell-out premiere season earlier this year at The Hayes Theatre. From performer and dance captain extraordinaire, Amy is now applying her craft and skill to original choreography across many artforms and cementing her place in the Australian arts along the way. 
Her original choreography for In The Heights sees Amy return to her home on the Central Coast of NSW for a rare visit with this show's pre-season warm up at Wyong's Art House in January. DanceLife spoke to Amy about her work ahead of the new season of In The Heights.
PLUS… Win a double pass to see In The Heights at the Sydney Opera house on Saturday 19th January at 2pm! To enter simply send in your name and mobile number to win@dancelife.com.au with the subject title of 'In The Heights'. Entries close 7th January. You can also enter by liking and commenting on our social media posts on this story.
***
Q: You've had an amazing year Amy!
Yes, I've just been flat out all year. But I've actually just calmed down a little bit before I start In The Heights next week. We're in pre-production right now, so it's more emails than dancing. (laughter)
Q: Is Blue Saint Productions producing the show again?
Yes… So, we had this amazing sell out season for our opening at the Hayes Theatre this year, which was crazy! … You couldn't get a ticket. Now it's the same team, same creative team, same producers, and almost 90% of the same cast. We've got a few new great people joining us as well.
Q: So, why do you think this show connects with a particular audience? What's so special about it?
In The Heights is one of the first shows that really took more of a current and commercial language of storytelling in musical theatre. It's ahead of its time … I don't think there'd been rap and salsa in a musical before, at least to this scale. So, that kind of music and culture and way of storytelling really opened up the show to a whole different demographic.
It celebrates the Puerto Rican community in Washington Heights. It was great to have their voice shown in a really unique and beautiful story. And Lin-Manuel Miranda is just, like, crazy talented!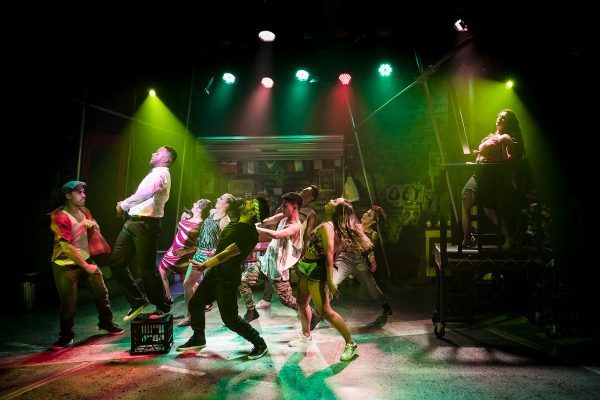 We've always had great shows like West Side Story, and the likes. But Miranda really came at it from such a modern viewpoint, and it was really nice to open people's brains up so that you can have lots of different styles of music. And rap is intelligent and smart, and its lyricism just kind of engages with a new audience, and that's what we want do in theatre, is keep bringing people into hear these stories.
It celebrates a different point of view. There are no gangs warring in our show. I think originally, that's what Lin was trying to portray (a la West Side Story). But there are other stories that we might not have heard of culturally … like about immigrant culture in a different country, which we can kind of all relate to. So, it's a universal story, even though it's from this Latin American point of view.
Q: And this cast is very representative of that … being very diverse?
Because we are such a melting pot, it's really important to represent all different cultures. I think it's really important to have that cultural diversity. So… we are very fortunate to have such an authentic and wonderfully diverse cast. We've been very fortunate to be able to showcase them and their amazing skills.
Q: When it comes down to the dancing it is very Latin-based … has that been a comfortable zone for you? Or has it been a challenge?
The world of salsa, Latin dance, hip hop and commercial dance and all of that … is my vibe. I love partnering and I love social salsa and Bachata. For me, it's excellent storytelling, 'cause you can just move the body in so many different ways, and really embrace those Latin rhythms. Especially with partner dancing, that's my favourite thing to do!
Q: So it does have a little bit of all those different styles though in this show?
Yeah, it's got everything in it. 'Cause the music is a different style for each song, so each song has a different kind of movement language, plus they've created this physical language through storytelling that is even in through the transitions and the other things. It's been just an absolute delight and challenge to choreograph.
It's got something for everyone. And that's why I think it resonates with so many people, is because it tells so many different stories from every age group and every point of view.
Q: Is this your original choreography?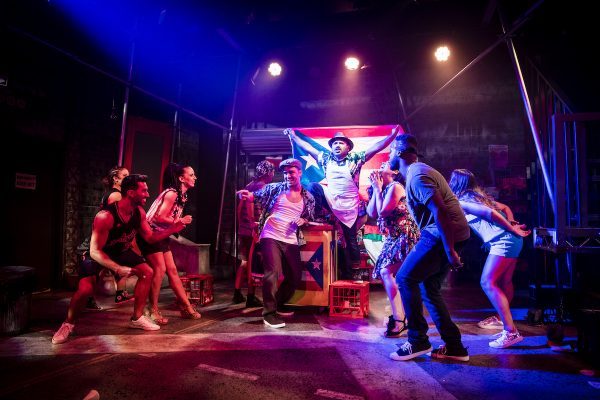 Yes, it's my original choreography! It's all mine, from scratch. The whole creative team is original Australian work. The original choreographer, Andy Blankenbueler, is one of my favourites! I used to take his class when I lived in New York. His work and movement always just resonated with me. It feels very full circle to be paying respect to the original work. But then, it's important to me to create my own point of view in the work as well.
Q: What else have you done this year?
I started with In The Heights, and then I did a play called An Act of God followed by Oklahoma! for The Production Company. Then I did Funny Girl for the Sydney Opera House and Candide for the Philharmonic Choir. So, it's been a big year of chore! (Laughs) … and now back to In The Heights!
Q: What are the big show stopper in In The Heights?
Look, there's a lot of numbers that get the crowd going. '96,000' is kind of a killer number and 'The Club' is where we can really showcase some of the amazing dancing and salsa rhythms in the show.
Although the cast would tell you that they're all big numbers, because I get them moving the whole time (laughter).
Q: It's only a small cast … are there any new members?
It's an intimate cast of 16 … but they're larger than life, so they'll feel like 30! We've got two new ensemble members and we've got two new leads. So, we've got Stevie Lopez, Joe Kalou, Dayton Tavares and Romina Villafranca joining us.
Q: So what's next for you after In The Heights?
After In The Heights I've got a few things that haven't been announced yet. So, I can't comment on them, but I am choreographing Once for Darlinghurst Theatre in the middle of next year. So, that'll be the next one to look out for.
To learn more about Amy or to book her services visit missamycampbell.com
***
IN THE HEIGHTS
Art House, Wyong
Thursday 10 – Saturday 12 January
Tickets: www.thearthousewyong.com.au
Sydney Opera House
Wednesday 16 – Sunday 20 January
Tickets: www.sydneyoperahouse.com