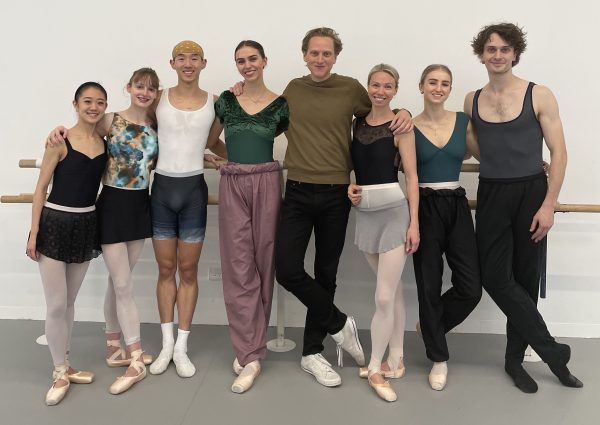 A New Era at The Australian Ballet Sees Promotions for Seven Dancers
Following The Australian Ballet's opening seasons 0f 2021 in Sydney with New York Dialects and Counterpointe, the dancers returned to Melbourne learning that seven promotions were made across the ranks of the company.
New Artistic Director David Hallberg has made the promotions acknowledging the exceptional commitment, determination and artistry of these dancers, boldly furthering his vision to promote and highlight the talent at The Australian Ballet.
At an all-company meeting, Artistic Director David Hallberg announced the following promotions:
Callum Linnane from Soloist to Senior Artist (hometown Ballarat)
Isobelle Dashwood from Corps de Ballet to Soloist (born in Toowoomba, Queensland)
Yuumi Yamada from Coryphée to Soloist (was born in Ami, North of Japan)
Jacqueline Clark from Coryphée to Soloist (born in Sydney)
Lucien Xu from Corps de Ballet to Coryphée (born in XuZhou, China)
Lisa Craig from Corps de Ballet to Coryphée (born in Dunedin, New Zealand)
Riley Lapham from Corps de Ballet to Coryphée (grew up in Wollongong, New South Wales)
David Hallberg says, "It's such an honour for me to announce the promotions of all seven exceptional dancers. Each promotion is the recognition of their individual focus and fortitude in their careers as professional dancers and equally, their contributions to the healthy culture of the company. Their talent exemplifies all aspects of the artistic vision I have for the company and I look forward to seeing them all flourish in their new roles with vigour and confidence in their abilities."

"The promotion of Callum Linanne to senior artist makes me extremely proud as he has recently taken on a multitude of principal roles. The exciting promotion of Isobelle Dashwood from corps de ballet to soloist, an unprecedented jump bypassing coryphee, is a result of her perservence and the exceptional development of her artistry. I'm very much looking forward to seeing the progession of Yuumi Yamada and Jacqueline Clark as they take the next step into soloist roles and Lucien Xu, Lisa Craig and Riley Lapham have all demonstrated that they are ready for the advancement to coryphée and the new responsibilities dancing at that level involves."
David Hallberg's ambitious 2021 season is well underway and has received outstanding reviews for New York Dialects and Counterpointe in Sydney. Looking forward to the next six months, the company will present New York Dialects at Arts Centre Melbourne, followed by Yuri Possokhov's new production of Anna Karenina, which will captivate audiences in Melbourne and Adelaide. John Cranko's Romeo and Juliet, the highly acclaimed full-length retelling of Shakespeare's tragic love story, will be performed in Melbourne and Sydney and The Australian Ballet and American Ballet Theatre's co-production of Alexei Ratmansky's Harlequinade, a vivid, lively ballet based on commedia dell'arte characters, will complete the 2021 season.
For more information on The Australian Ballet's 2021 Season visit: australianballet.com.au