Joel Woellner Promoted to Principal Artist at Queensland Ballet
Queensland Ballet's Joel Woellner will finish The Sleeping Beauty season as a Principal Artist after his promotion on last week.
Woellner was on stage following a stellar performance as Aurora's Prince Désiré, when Artistic Director Li Cunxin AO jumped on stage to address the audience.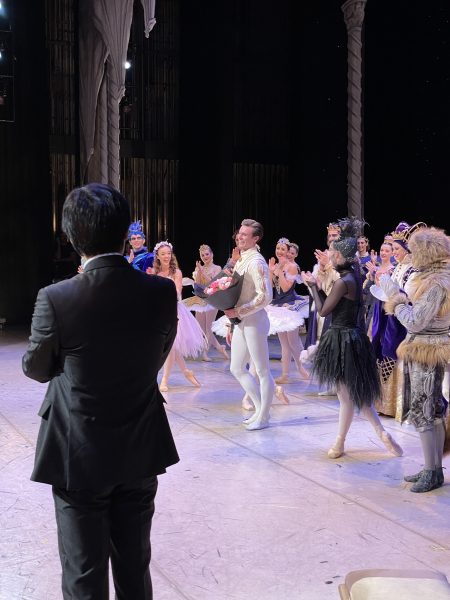 "I would like to share exciting news with you," Mr Li told them before announcing the promotion.
"I want to acknowledge and thank Joel for all the artistic and technical improvements, dedication, passion, hard work, maturity and contributions he has demonstrated and made over the years.
"We're looking forward to Joel's continued success and contributions in the future," Mr Li concluded.
Joined by the cast and crew, his family and original ballet teacher Joanne Ansell, an emotional Woellner thanked everyone who had been involved in his journey.
"I've never felt more grateful, loved and truly lucky. I feel really privileged to be part of Queensland Ballet. Every day I work with our coaches who are mentors that inspire me with their knowledge and experience. Together we refine technique and explore new artistic levels. Their input is invaluable," Joel said.
"I have learned so much and see that journey continuing. The older I'm getting, the more of what they're saying makes sense to me. Your comprehension as a dancer develops. I look forward to building on their lessons as a Principal Artist. I still have so much to achieve," he said.
His mother Wendy Woellner was thrilled to join in the celebrations.
"We are so proud of him. All his hard work and dedication has paid off, congratulations mate," she said.
The Sleeping Beauty was Queensland Ballet Master and Choreographer Greg Horsman's first major production ten years ago.
"We all knew what this show meant to Greg. To have been promoted during his show makes it extra special," Woellner said.
The Li's first spotted Woellner at the Alana Haines Australasian Awards in New Zealand, where the husband-and-wife duo were judging. Woellner had just been offered a full scholarship with Houston Ballet and the pair encouraged him to take up the opportunity. Li and Mary continued to monitor his progress, and after four years with Houston Ballet, he joined Queensland Ballet in 2015 as a Company Artist.
He has worked his way up to the top ranking in the six years since then.
"It's amazing to finally be awarded this title as Principal Artist, but really the hard work is only just beginning. I can't wait to share many more performances with our truly supportive community," Woellner said.
The 27-year-old will dance in the remaining shows of The Sleeping Beauty at Queensland Performing Arts Centre which ends on June 19.