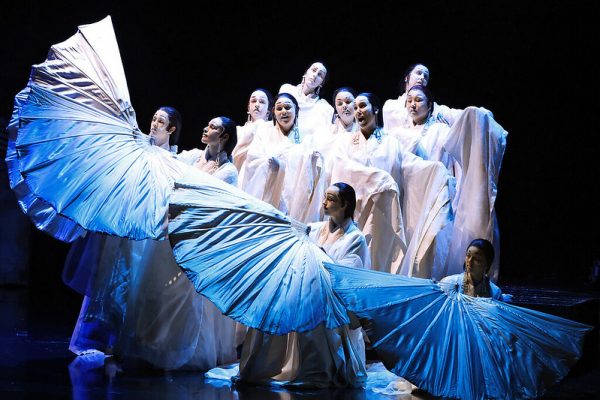 New Theatrical Life for Former Aussie Ballet Dancer
Interview with Shane Placentino
A conversation by Chris Duncan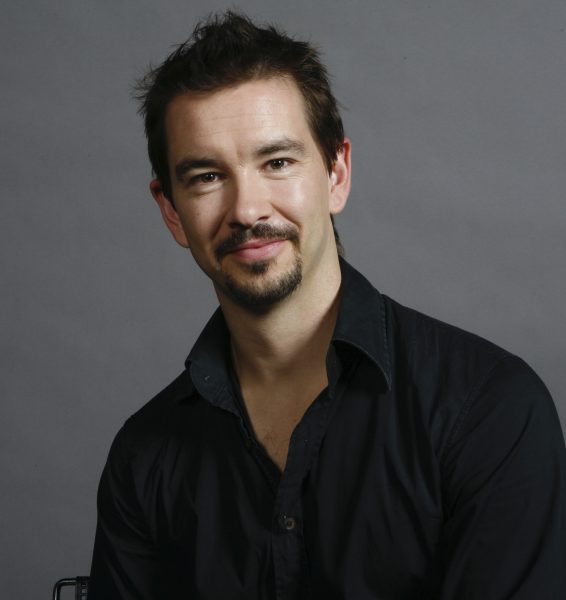 You may not know much about the story of Puccini's opera Turandot, but you will no doubt know its epic musical highlight 'Nessun Dorma' made famous by the legendary singer Pavarotti. 
Straight from a dance rehearsal in early December, director and choreographer Shane Placentino took time out from his day to speak with DanceLife Editor-in-Chief Chris Duncan about his work on the upcoming production of Opera Australia's Turandot. He was rushing because, as he says, "everything is late these days because of Covid".
Shane has had the seemingly perfect career as a professional dancer, moving into The Australian Ballet company after graduating from its training school. After a decade-long stellar career with The Australian Ballet, Shane then joined the esteemed Sydney Dance Company. It was here, under the artistic directorship of the famed Graeme Murphy that Shane further developed as an accomplished classical/contemporary dancer until an injury at the age of 36 forced him to farewell the stage as a performer.
After Sydney Dance Company, Shane worked as a dance teacher but really struggled to find his purpose after retiring from the stage. Under the mentorship of Murphy and his partner Janet Vernon, Shane was offered to work on the opera Aida in 2008, followed thereafter by Faust and The Merry Widow. Now, several years later, Shane has found his place in the grand world of opera and is more than comfortable with his transition from dancer to assistant director and choreographer for Opera Australia. 
Currently, Shane is the directing the 'revival' of three classic operas this year – starting with Graeme Murphy's interpretation of Puccini's Turandot (playing until March 14) and then Lohengrin and Madama Butterfly later in the year, and Aida in 2023.
Turandot is a fantasy opera of poetry and myth, set in an exotic world where fear and love go hand in hand and death is always just around the corner. 'Nessun dorma' is just one of its magnificent moments.
***
CD: How are the rehearsals for Turandot going?
SP: We started with the dancers on Monday (*interview conducted in early December) and just had a call with them a minute ago for a couple of hours. And I've got another call with them on Saturday. I start with the singers next week. I've got the actors this afternoon and the children this Saturday morning. So, in putting on an opera, there are several major element elements you've got to try to pull all together and make it cohesive.
I often start with the dancers and actors and children first, try and get them up to speed as best I can and give them some love that's one-on-one. Because, really, when we get into the studio with the singers, I really have to focus on them more. So the dancers, actors and children become a bit more self-sufficient, but I would've hopefully given them enough information and direction that they can integrate with the singers. But with a Graeme Murphy production it's not often that easy, and the lines are never so clearly delineated… it's more everyone mixes with everyone else. And that's what I love about this work; it's all collaborative, even from the creative side of it… from the lighting, design, costumes and choreography to the fact that the singers, dancers, actors, and principal cast all intermingle and create something beautiful on stage. It's really quite a challenge, but it's also lovely when it all works together.
CD: That's fantastic. It's really nice to see so much dance being involved in the opera production process now with so many beautiful productions coming out. What other productions have you got coming up that involves a lot of dance that our audience would be interested in?
SP: I think the production with the most dancing would probably be The Phantom of the Opera. The Handa Opera on the Harbour version is playing in March, and then in the Sydney Opera House itself from August. They are two different versions of Phantom, but both will have quite a lot of dance and that's going to be fantastic I think.
This is the beauty of opera. More often than not, a lot of operas were written with ballets or dances in them. And they often were in the second act because the gentry used to come and watch the dancers in act two, so it's quite often in the second act. In Turandot, director and choreographer Graeme Murphy's got the dances in nearly everything, and it's not necessarily all dance, it's a lot of movement, with ribbons and pageantry, and it's really quite lovely and lifting and with great partnering as Graeme Murphy always does. And they're on their toes from, in all three acts and they do not stop. The dancers are going to have to be very aware of what's going on the whole time.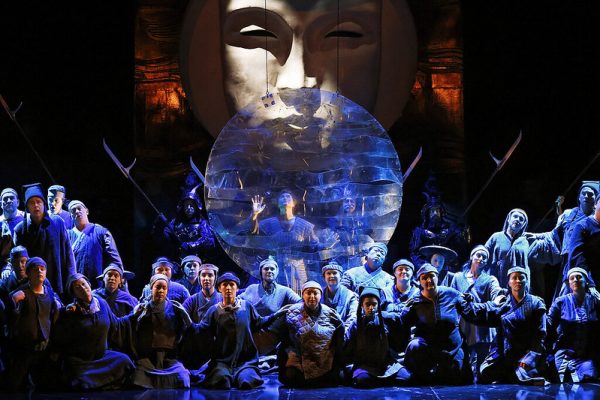 CD: That's sounds very energetic, and exhausting actually. What is special about Turandot?
SP: Yes, it will be for the dancers… but I just have to teach it! I've been working with Graeme Murphy since 1994, when I was a little kid just in The Australian Ballet we did The Nutcracker, and that was with a Kristian Fredrikson design as well. And it was just a marriage made in heaven with Murphy and Fredrikson… their creative talents were just at a pinnacle when they both met each other. So Turandot is also the collaboration of both those amazing men, and this Turandot production is from 1991 so it's a 30-year-old production, and for an opera to be revived quite often it means it must be a favourite, and it must be good and people want to come and see it. And I think it's because of Graeme Murphy and Kristian Fredrikson. I think they were geniuses and they appeal to audiences.
CD: You have come through the ranks of working under and with the great Graeme Murphy to now be choreographing using his work. What is it like transitioning into that role of choreographer and director?
SP: I owe my career to Graeme. When I left Sydney Dance Company in 2008, Graeme asked me to assist him on the opera, Aida, and from then on, I've been mentored by him and his partner Janet Vernon. They have given me everything and this love of opera. I always did love it; I used to watch it when I was in ballet school. But of course, I focused on the dance aspect of my life and that became all consuming. After Graeme asked me to do Aida, I followed it up with Faust, another opera that has a lot of dance in it. I usually get asked to revive operas that have a lot of dance in it, just because of my background. Not long after that, there was The Merry Widow then Madam Butterfly both with Graeme. And now Turandot, which is just a huge honour to put on.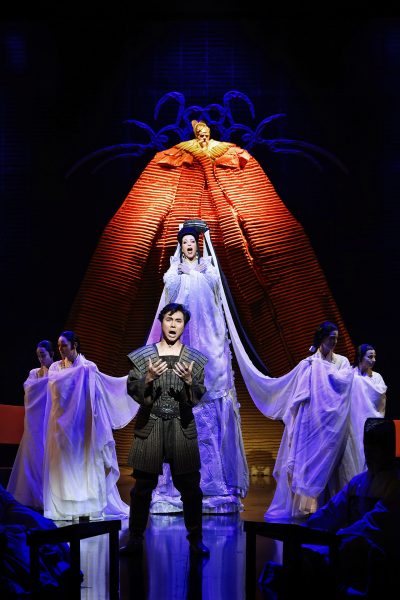 CD: I believe Madam Butterfly will also be revived in 2022?
SP: That's right, winter in Sydney in 2022. Madam Butterfly only has one dancer in it, but she does a lot! That production is so slick. It's interesting because we've got these huge LED screens all the way around the stage and integrating that content with a massive platform in the middle of the stage. So all the singers and the dancer have to negotiate many crazy elements that are flying around them. But when it all comes together, it's just magical.
CD: Tell us a little bit about your background. You were accepted into The Australian Ballet after graduating from The Australian Ballet School. What did you then move forward to?
SP: I was with The Australian Ballet for 10 years (1990-2000). I worked with Graeme on two productions – The Nutcracker and Beyond Twelve – both were fantastic. I loved working with Graeme, he's so creative, but demanding as well. Then after I left The Australian Ballet I joined Sydney Dance Company when Graeme Murphy was the artistic director. From there I did many productions – Ellipse, Air and Other Invisible Forces, Free Radicals – and we toured to the United States and Europe. Unfortunately, I was injured for Shades of Gray, but then he did a magnificent ballet that was a tribute to his mother who used to play the piano for him when he was doing ballet classes; I think it was called Grand. We all did these amazing performances around this grand piano while a wonderful pianist called Scott Davie played it live. It was just magical having all that integration on stage. But unfortunately, that was my last time I danced because I got a back injury. I was 38 and it was probably about the time most dancers retire from the stage. Actually, when I think about it now, I was absolutely blessed to spend 18 years as a professional dancer, that's not common. I was so lucky I had world-class medical staff at The Australian Ballet, and I was relatively injury-free for 10 years when I was there. But as I got into Sydney Dance Company my body just started to, my lower back in particular, started to give way.
After that, I really didn't know what I wanted to do. I was doing a bit of stage management and company management for Sydney Dance Company. And I worked with Graeme on Aida as an assistant director for that opera. Then I went back home to Adelaide and I did some teaching at the Adelaide College of the Arts, taught ballet for the contemporary course there, which was really fascinating and I learned a lot. But then the call of the opera came back to me and Graeme was doing The Merry Widow as an opera, and he asked me to assist him on that, and I thought, 'what a great opportunity!' And before I knew it, I was back living in Sydney and working on several operas. And it's been a fantastic learning experience and very different from being a performer. I'm continually learning.
CD: It's wonderful to be able to develop a whole new career path on the other side of the stage.
SP: It's the sort of thing where I wish I had known what I know now when I was a performer, but of course you can't, that's not the way the learning process happens.
CD: What advice would you have for dancers transitioning after a life on the stage?
SP: I don't know if you've heard this or not, but they say dancers die twice: first when they stop performing and when they actually die that's the second time. So I have to admit, I went into a bit of a mourning period when I couldn't dance anymore and I was quite lost. I really didn't know whether I wanted to be a creative or whether I wanted to choreograph or teach, a lot of people fall into the teaching thing, and some people absolutely revel in it, I don't. Even though I still teach and I get quite a bit out of it. I feel like I fell into the opera world and have been learning on the fly ever since. And there are a lot of performers that have gone onto to do something like the NIDA's director's course. I always wanted to do that, but I never got the time because I was always working, which is a really lovely problem to have.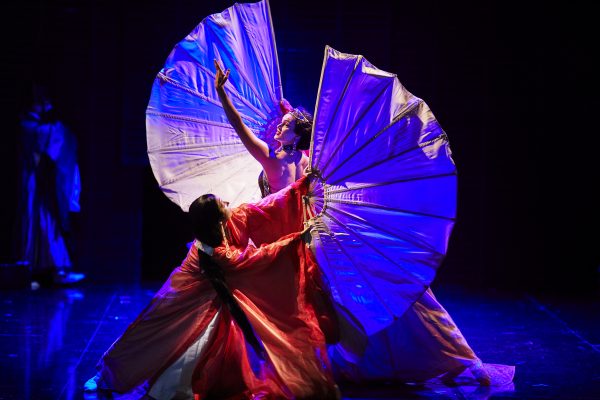 I mean, really it's about being prepared, which I was not. My advice would be to do what I didn't! That is, if you feel like you're coming to the end of your time as a performer, find something else that you love that's not necessarily in the arts. Find something that you like doing as a hobby while you're a dancer, and then if that interests you, maybe head into that direction after you've finished. I know a lot of ex-dancers that started doing business courses while they were still dancing and then got their MBAs, and are now working in the business industry. I'm very envious of them because they're earning way more money than I am, but that's just the way it's.
I think as dancers, the question is, 'what do you do when you finish doing the thing you've always wanted to do?' It's a really difficult situation. I don't know if artists have this problem – actors, singers, musicians, painters – because I feel their creative life is longer than a dancer's. I always say that a dancers life is like a dog's life: you have got to multiply everything by seven. One year for a dancer equals seven normal years.
CD: That's a great way of looking at it. What advice would you give dancers coming through now trying to make it as a professional, especially after the last two few years of Covid?
SP: Learn as much as you can about theatre. I don't regret asking questions to the backstage crew: What is that fly system? What happens here? How does this scenery work? Why did that light move? How did you put this costume together? I was always asking questions off stage. I just was fascinated by how it all worked. For instance, I recently went to see Sydney Theatre Company's Julius Caesar and the way they put that together in the round situation was just phenomenal. And I think the young creative people making theatre now are phenomenal. They're resourceful and making things happen for themselves. They're not waiting for someone to offer them something.
And I think that is probably the best advice that I've come to at my age: if you want to do something, go out and do it, go out and put it on yourself. Even if it's in a small church hall with three lights and a boombox, it's your work and you perform it for someone. If you want to do it, go ahead and do it. I mean, everyone talks about expenses, and sure you can throw more money at something, but if you are creative enough, you can make something really exciting and it doesn't need much more than you.
TURANDOT by OPERA AUSTRALIA
Until 14 March 2022
Joan Sutherland Theatre, Sydney Opera House
Bookings: opera.org.au
***
Adelaide born Shane Placentino graduated from The Australian Ballet School in 1990 and was accepted into the Australian Ballet in 1991. As a member of the Ballet, Shane danced in the entire classical and contemporary repertoire. He also worked with Graeme Murphy and Janet Vernon appearing in Murphy's Nutcracker and Beyond Twelve. After ten years with The Australian Ballet, Shane left in 2000. He joined Sydney Dance Company in 2002. Sydney Dance Company repertoire: Ellipse, Air and other invisible forces, Salome, Free Radicals, the role of 'Jack' in Tivoli, Underland, Random Play, Some Rooms, Grand, Hua Mulan, Berlin and Ever After Ever. Other credits: The Australian Ballet: full classical and contemporary repertoire including Swan Lake, The Sleeping Beauty, Giselle, The Merry Widow, Jiri Kylian's Sinfonietta, Nacho Duato's Jardi Tancat, Stanton Welch's Red Earth, John Cranko's Romeo and Juliet and Kenneth MacMillan's Manon. In 2008 Shane has assisted and performed in Meryl Tankard's Inuk2 and was appointed the stage manager for Rafael Bonachela's recent work with Sydney Dance Company. Since 2015 Shane has worked on choreographing and directing productions for Opera Australia, including West Side Story, Madama Butterfly, The Merry Widow, Faust, Aida and Turandot.