Patience and Perseverance Pays Off for In Demand Aussie Talent
Interview with Renee Ritchie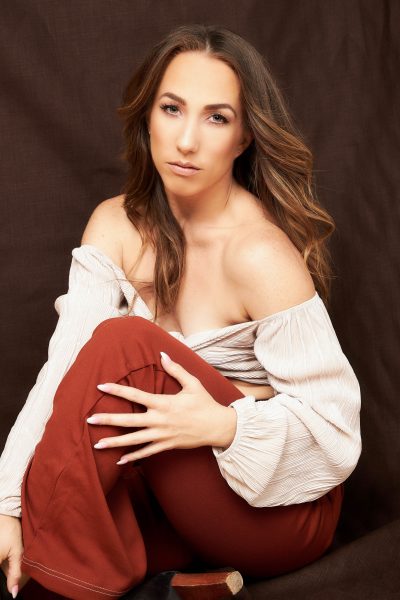 Interview by Chris Duncan
Welcoming the world opening-up again, Tasmanian-born dancer Renee Ritchie is more than ready to get back to work and ramp up her ever-expanding career as a choreographer and performer in the USA. Despite the global pandemic interfering, Renee did manage to make her way home and successfully run her passion project –  Tasmanian Dance Expo – both online and live in partnership with her fellow-Tassie mate Lockhart Brownlie in 2020 and 2021.
Now back in the US, Renee has been lucky enough to have new opportunities come her way despite COVID and is now actively seeking to gain her 'green card' to allow her to firmly cement her career in the USA as a creative artist. 
Always the consummate professional, Renee recently made time to speak with Chris Duncan while working in Nashville, Tennessee, about her upcoming plans now that the entertainment world is bursting back onto the stage.
***
Q: So you're working in Nashville, Tennessee, at the moment?
Yes, I'm currently in Nashville. I flew here from LA and I'm working on a tour called the 'Citizens of Heavens Tour' with Tauren Wells – a Christian pop rock and R&B artist and he's really awesome. And I'm working with my good friend, Marvin Brown, who's the creative director of the tour. I get to be the assistant/associate choreographer; I get to do some of the steps and work with them every day. I'm here for almost a whole month putting the show together and then when the tour goes onstage I go and do something else.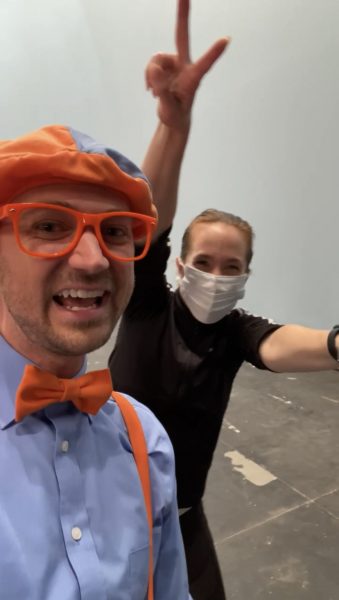 Q: What else is coming up for you?
Currently, I am waiting to hear, but I'm 98% sure it's happening… I will be travelling to Saudi Arabia, Dubai and London to put on a show with kids entertainer Blippi. A lot of little kids around the world know who Blippi is. So, it's like this show that we're putting on for a toy show in Saudi Arabia and then we're going to do some episodes for Blippi in London and Dubai. That's in November, so that'll be super fun, especially getting to go internationally, which is something that people haven't been able to do for a while with the pandemic. So that's really exciting.
Q: What have you been working on in the last 12 months?
The last 12 months, well, it's been a wild ride obviously with COVID. When COVID first hit I remember I lost close to $40,000 in work, and I'm sure everyone's got a similar story. We all kind of just lost everything. But I was lucky enough in the pandemic last year to be working on an LOL Surprise! show, which was kind of like a Bratz doll show. We did the very first 3D YouTube show ever for LOL. So that was cool. I also worked with Tina Landon (American choreographer) on a PlayStation game. It was like all very confidential, so I actually don't even know what the game is called, but I know that I was one of the characters in it. So that was exciting.
Then, with my business partner, Lockhart Brownlie, we created and birthed Tasmanian Dance Expo in 2020, which was a mission to do in the pandemic obviously. But we managed to get home to Tassie in the middle of the pandemic – which cost beyond an arm and a leg to get there – but we got home and actually managed to run our dance convention; which was a blessing.
We also managed to run an event in Perth too, which was lucky. I feel like we were so lucky as we caught Perth at the right time, and we got to have a regional event right before our Tassie main event in April, which was incredible.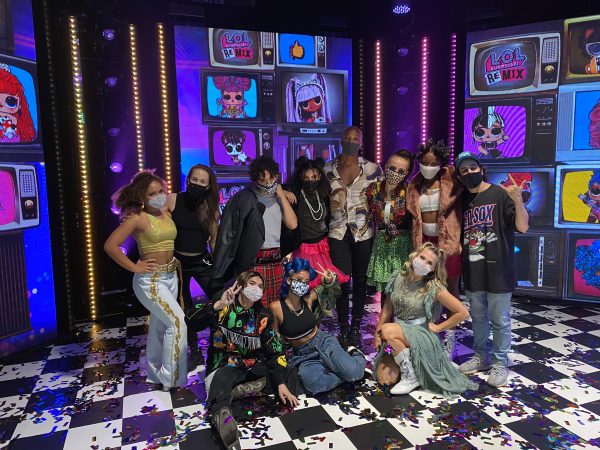 Q: Tell me about Tina Landon.
A lot of the younger kids probably might not know her, but Tina Landon has worked with so many big names like Janet Jackson, Paul Abdul and Michael Jackson. She also worked on White Chicks the 2004 movie, and with Rihanna on 'Umbrella' and Christina Aguilera on 'Genie in a Bottle'… so much of the big stuff when it was like at its peak. She is so incredible. And she's definitely someone I wanted to work with. She is iconic.
Q: So what is it that you want to do going forward?
Well, I'm actually in the middle of applying for a 'green card' to stay living and working in the USA, which is a huge step. It's definitely something that I've wanted to do for years. It's obviously it's an expensive process but if I just apply for another 01 visa I would still only be able to do just dance work in my field. With a green card I can do all of the types of work, whatever I want to do, which is so cool; and it lasts for 10 years.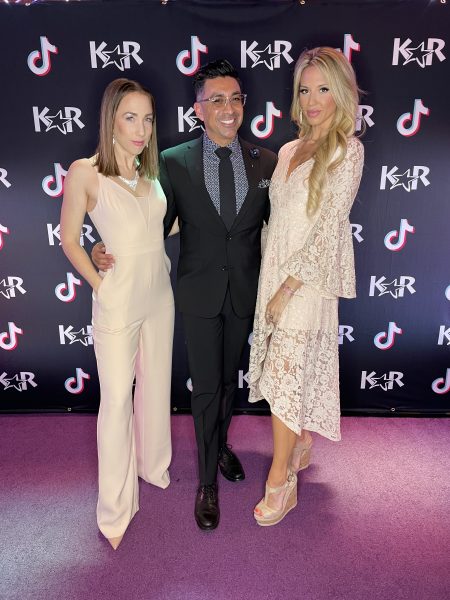 Q: What do you need to do to get your green card? What was the process?
I basically have to collect all the information on all the projects I've done over the years. It's a massive effort. Like, all my emails, paychecks, confirmations, and press, proving I have a manager… getting letters and deal memos together showing whom I'm working for. It's an extremely big process.
I need to highlight all the projects I've worked on. Even the adjudication work I've done for KAR in the US and also DanceLife Unite back in Australia and via video is really good for my application; because judging is a really big thing on the green card application for some reason.
***
Renee Ritchie's training began at Jenina's Dance Workshop in Tasmania, Australia, at age 5. After moving to Sydney to study full-time dance at Brent Street Studios, Renee continued to pursue her career all the way to Los Angeles in the USA. With hard work, persistence and continuing to put herself out there, Renee made it onto television show So You Think You Can Dance Australia Season 3 reaching the Top 12 which catapulted her very successful career as a dancer and choreographer.
Renee has worked with artists in Australia such as Kylie Minogue, Redfoo, Kelly Clarkson, Tina Arena, Jessica Mauboy, Ricki-Lee Coulter, Timomatic and more; and has performed on TV shows in Australia and America like Perry Mason (HBO), Latin Grammys, So You Think You Can Dance (Channel Ten), X-Factor, People's Choice Awards, Dance Academy, Australia's Got Talent, Mardi Gras, Australian Idol, Kids Choice Awards, Footy Show Australia and more….
Renee's dedication and perseverance, along with applying her skills and talents have successfully led her to work for international artists such as Jennifer Lopez, Paula Abdul, Chloe Flower, Stevie Mackey, Major Lazer, MO, J-Balvin, Farruko, Wisin, Nicky Jam, Omi, Fitz, the Tantrums and more. Renee has also been featured working on The Ellen Show and The Late Late Show with James Corden in the USA.
Renee's professional performance career also stems from being a renowned choreographer. Having choreographed on Season 4 of So You Think You Can Dance Australia, music videos for Dami Im's "Fighting For Love", Paula Abdul's 2018 "Straight Up" Tour and LA pride performance. Renee has also been an assistant choreographer on
Jennifer Lopez's
"All I Have" and Britney Spears' "Domination" Las Vegas shows.
During the pandemic Renee continued to work in Los Angeles in the toughest of times. She was associate choreographer with creative director Marvin Brown on MGA's billion dollar company, LOL Surprise Dolls. Renee was on the creative team of launching LOL Surprise Remix Dance Show in 3D on YouTube during the pandemic. Continuing her success during these times Renee has just recently choreographed on the Tauren Wells "Citizens of Heavens" Tour in Nashville with the show ready to take the stage touring 23 cities across America in 2021. Renee is also set to fly internationally to choreograph for YouTube star and Amazon sensation Blippi in Saudi Arabia at D23 (Disney fan club convention), Dubai and London.
Renee is an international professional that continues to up level her work skills, traveling and working with the world's biggest names in the entertainment industry.
Traveling around the USA Renee also teaches and judges dance competitions for multiple companies: TMilly, KAR regionals and Nationals Dance Competition, Rainbow Dance Competition, LUX, and many more. Renee continues to share her knowledge with the younger generation of today. She has a passion for teaching and mentoring anyone with the driving desire of becoming a professional dancer. Not only Australia-wide but also internationally. Renee has mentored and guided many dancers such as Michael Dameski, Tash Marconi, Bec Morris, Chris Tsattalios, Alex Miedzinski. Renee offers the tools and skills it takes to become a professional in this industry, holding her 3-month mentorship program in Los Angeles called "Dance International" at prestigious school AAFTA (American, Arts, Film and Television Academy). Renee is the Creative Director of this incredible Mentorship held at AAFTA and looks forward to guiding many more young performers on their international journeys.