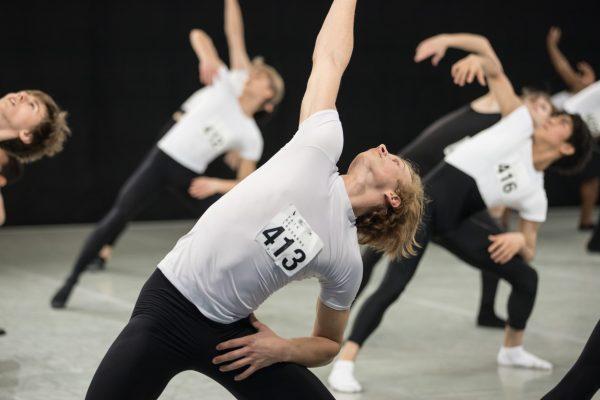 Prix de Lausanne
Summer Intensive – European Preselection
Prix de Lausanne is thrilled to announce its third Summer Intensive – European Preselection, which will be held from July 4th to 9th, 2022, at the Béjart Ballet Lausanne studios. This Summer programme, that is, for a lucky few, a preselection for the Prix de Lausanne 2023, will gather 49 young European dancers from 13 different nationalities.
In line with its mission to develop future dance talent, the Fondation en Faveur de l'Art Chorégraphique is organising its third Summer Intensive, which is a European Preselection for the Prix de Lausanne competition 2023.
The workshop will be held from July 4th to 9th, 2022 at the Béjart Ballet studios in Lausanne. Candidates will benefit from a week of classical and contemporary classes as well as coaching of their classical and contemporary variations with internationally renowned teachers.
Candidates from all over Europe
Thanks to video auditions that took place last May, a Prix de Lausanne jury selected 57 European candidates. Among these, 49 have confirmed their participation and will therefore come to Lausanne next July. These young dancers represent 13 different nationalities, the most represented being France and Switzerland, with 16 and 10 candidates respectively.
The participants have been divided into two categories, according to their level. 25 will compete in the European Preselection category, at the end of which four of them could be invited to participate in the Prix de Lausanne 2023, which will take place from January 29th to February 5th, 2023 at the Beaulieu Theatre in Lausanne. The other 24 young dancers will benefit from an intense Summer workshop, during which they will receive training and advice from professionals and have a chance at familiarising themselves with the technical level and requirements of the Prix de Lausanne.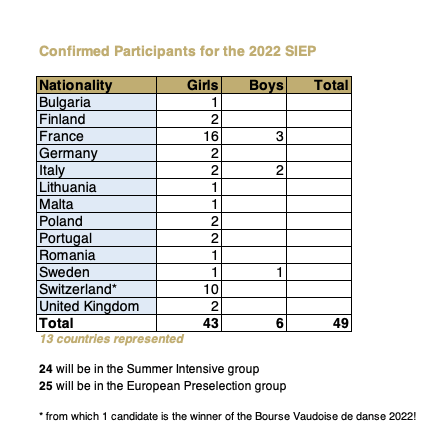 Internationally renowned teachers for the young participants
Classes and workshops will be taught by renowned teachers such as:
Nicolas Le Riche (Artistic Director of the Royal Swedish Ballet and Étoile at the Paris National Opera Ballet) will be teaching the ballet classes as well as coaching the classical variations for boys
Clairemarie Osta (Head of Ballet department at the Royal Swedish Ballet School and Étoile at the Paris National Opera Ballet) will be coaching the classical variations for girls
Isabelle Ciaravola (Ballet Teacher at the Conservatoire National de Musique et de Danse de Paris and Étoile at the Paris National Opera Ballet) will be teaching the ballet classes
Armando Braswell (Director of the Braswell Arts Center in Basel) will be teaching contemporary classes