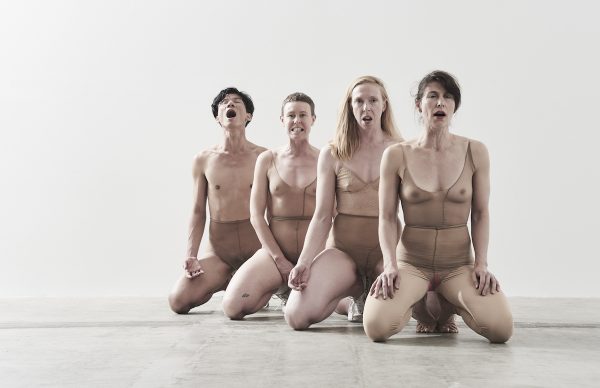 OVERTURE
New Work by Jo Lloyd at Melbourne Arts House
Jo Lloyd's next new dance work – OVERTURE – will premier at Melbourne's Arts House from 14 – 19 August 2018.
OVERTURE is a choreographic overture that gestures to the unrequited and unattainable, as four dancers invoke lost heroes through their shared fictions.
When choreographer Jo Lloyd was young she would pretend to interview her heroes – people that inspired her and whom she wanted to meet.
An extension of Lloyd's imaginary meetings with her idols, OVERTURE is a dance that attempts to connect with fascinating individuals, including those that people obsess over and idolise.
As dancers move through Lloyd's glorious choreography, they invoke lost heroes playing out impossible scenarios – sparking a conversation between past strangers and present.
Initially inspired by Felix Mendelssohn's famous overture, A Midsummer Night's Dream, and his relationship with his sister, the lesser-known composer Fanny Mendelssohn, OVERTURE investigates the unattainable, the unrequited and how history renders people immortal or invisible.
OVERTURE will captivate as it dances between the possible and impossible – reminding audiences that what is captured or documented is not always the full picture.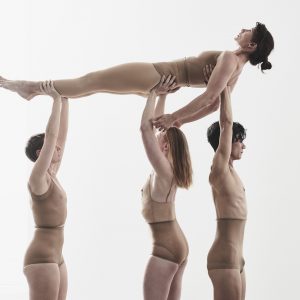 Creating shared fictions, OVERTURE's dancers reconstruct and invoke lost heroes in order to play out impossible scenarios. Fabrication is the engine for endless desire as they transcend barriers to be with one another.  As Lloyd's choreography moves gloriously on the precipices of the possible and unthinkable, OVERTURE reminds us that what is in the frame is not always what was in the picture.
Jo Lloyd is an influential Melbourne dance artist working with choreography as a social encounter, revealing behaviour over particular durations and circumstances. A dance graduate of the Victorian College of the Arts, she has presented work in New York, Japan, Hong Kong and locally in Dance Massive, Next Wave, the Biennale of Sydney, Liveworks and Dark MOFO. She has created and choreographed for Chunky Move, Dancehouse and Lucy Guerin Inc. Her acclaimed Confusion For Three was described by Planet Arts as  "Electrifying… Jo's choreography is a gift to watch." Her works transcend genres, drawing attention from theatre, visual arts and dance lovers alike.
This new work is directed and choreographed by Jo Lloyd and is performed by Deanne Butterworth, Rebecca Jensen, Shian Law & Jo Lloyd.
OVERTURE
14 – 19 August 2018
Arts House, 521 Queensberry Street, North Melbourne