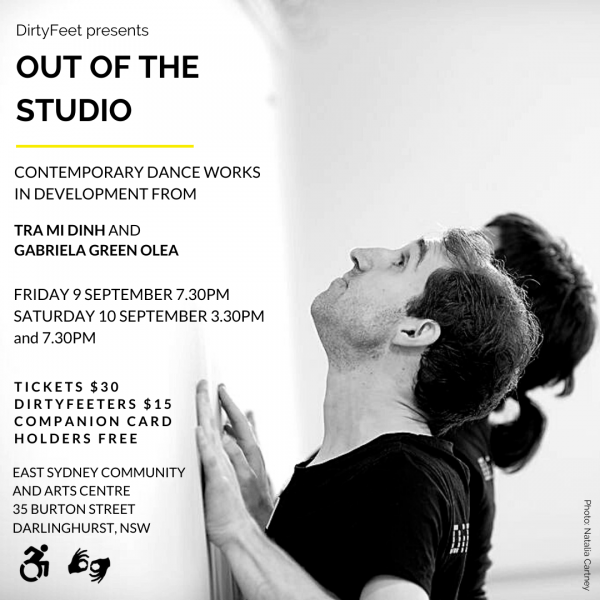 Out of the Studio
DirtyFeet
After a challenging couple of years for the Arts and Culture Industry, DirtyFeet is proud to support two local emerging choreographers to create brand new works in development as part of the eighth season of Out of the Studio.
Held at the East Sydney Community and Arts Centre, Out of the Studio will showcase new works in development by emerging choreographers Gabriela Green Olea and Tra Mi Dinh with a stellar cast of performers and collaborators including Mitchell Christie, Holly Craig Sarah Kahlue and Matthew Massaria.
Out of the Studio provides a rare opportunity for emerging choreographers to develop new work whilst receiving payment, rehearsal space and production support. It also offers emerging choreographers the opportunity to receive artistic mentorship from established Sydney artists to support their artistic vision.
Gabriela will develop and share 'Spaces of Belonging' for Out of the Studio 2022 which began in 2019 during her DirtyFeet Choreographic Lab residency.
DirtyFeet Director Anthea Doropoulos is excited to bring the program to the public during this time and says "I am so thrilled to have dancers and choreographers back in the studio working; I know these emerging artists are hungry to show their work and will absolutely make the most of this opportunity, so please come and enjoy watching live dance again".
About Gabriela Green Olea
Gabriela is an activist and dance artist who works across many mediums, with all people and within inclusive environments. In 2019 she choreographed WHO WE ARE with dancers in regional NSW, living with and without disability mentored by Vicky Malin (UK). Gabriela continues to work in the inclusive space running regular dance classes for all people with DirtyFeet, Studio Arts and Maccabi Dance.
Gabriela was a successful DirtyFeet Choreographic Lab recipient in 2019 and due to her interest in inclusive dance practice was trained and engaged to assist in the delivery of The Right Foot program in 2020. In 2021 and again this November Gabriela will co-facilitate The Right Foot workshops with Chris Bunton, a dancer she recently worked with on a music video clip 'I'm not broken' by Elaska Young.
"I am looking forward to getting back in the studio with the dancers of 'Spaces of Belonging' a work that is all about connection. We first developed this work in 2019 and despite being pre covid times we felt the importance of holding a sense of being with ourselves, each other and the world. I am excited to see how this work has shifted within the 3 years between us and I am looking forward to sharing it with a live audience."
About Tra Mi Dinh
Tra Mi is a dance artist based across Sydney and Melbourne. She's danced for artists including Lucy Guerin Inc, Chunky Move, Victoria Chiu, Lee Serle, Michelle Heaven, Isabelle Beauvard and Monica Bill Barnes & Company in works presented at festivals such as Rising (2021), Dance Massive (2019), AsiaTopa (2017), MEL&NYC (2018), and Melbourne International Arts Festival (2017).
Her choreographic practice has been supported through residencies with Tasdance's On the Island program, Sydney Fringe Festival's Art in Isolation, Critical Path, and Readymade Studios Constant Relay. Most Recently, Tra Mi was winner of the Keir Choreographic award 2022 and was commissioned to create a new work which premiered in June/July at Dancehouse in Melbourne and Carriageworks in Sydney.
"My upcoming development and sharing for OOTS offers me the immense privilege to play and create without limitation. I'm heading into this studio time with an eagerness to be led by intuition; leaning into the immediacy of reactive decision making as a choreographic tool, and to experiment with initiation/ignition."
About DirtyFeet
DirtyFeet is a not-for-profit contemporary dance organisation based in Sydney, supporting independent dance artists and promoting community engagement in the arts. DirtyFeet believes in supporting the growth of independent contemporary dance artists in Sydney. Our programs provide opportunities for the creation of new Australian dance works, with a distinct focus on nurturing emerging choreographic talent.