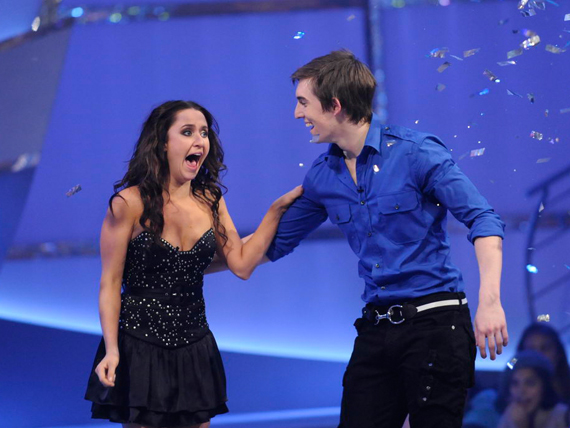 It was a big night last night at the SYTYCD Grand Finale. I'm sure you were all watching the show that saw Talia become the first female winner of SYTYCD Australia. The night kicked off with a great routine choreographed by SYTYCD favourite Kelley Abbey to the theme song of the series. It was electric and very fun, just what an opening should be. Natalie and the judges were all in their Sunday best looking fabulous and then the show started. I actually thought there would be way more ad breaks and packages shown throughout the show. Surprisingly the show didn't seem to drag on which is a usual thing for any television show finale.
I could feel the atmosphere in the room from my television (no surround sound or anything! ;)). The dancers were all having a ball on stage and everyone was so much more relaxed. There were a few great performances last night from the Top 10 and of course the cast of Chicago and what about the absolute control and strength of the dancers from Pilobolous… Woah! One performance that I was in two minds about was Kill Bill. Although I loved the choreographers dancing in this routine I thought that there would be a few parents who wouldn't have been too happy with some of the "action" choreography.
Channel Ten had a few issues with broadcasting on the night as the show was black in some parts but at least I could still hear the sound. This continued throughout Rove. There must have been quite a few people watching. Actually I can tell you exactly how many people… 1,432,000 saw Talia be titled Australia's Favourite Dancer while an average of 1,342,000 watched the whole program. Overall #4 and #7 for the nights top rating shows. Enough people that the show will be returning for a 3rd season. I know they struggled to get big numbers at the auditions this year but DanceLife encourages all of you fabulous dancers who maybe tried the first year and got cut and thought "why should I bother". If you have a huge amount of self belief and want a bit of profile AUDITION for this show!
Congratulations to the Top 4, actually the Top 20. You all did so well to get to where you are and good luck on your future endeavours! A big congrats goes to Talia for winning the competition. DanceLife looks forward to supporting you all and seeing where you end up. One thing that I was a little disappointed in was the fact that no one thanked their dance teachers! Yes, sure thank the production team and judges who have been doing their job for the last 3 months but what about your dance teachers that have probably work on you for up to 20 years making you the dancer you are today…
Season 2 down…. Bring on Season 3!