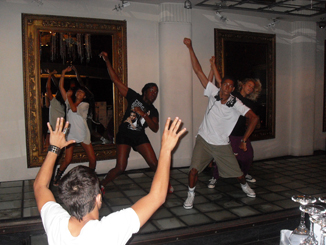 The day started at the lovely hour of 6am with Panjo 5 going straight into hair & make-up before proceeding into stylisation with 'The Squared Division' (Ashley Evans, Antony Ginandijar). The extra's were then scheduled to start arriving at 7am as well as the production crew (Pixel Frames), which they did, slowly but surely until the number of extras concluded at 41.
The only real obstacle of the day, as everything ran splendidly, was the lack of space. With the photographer having to be reset three times, hair, wardrobe and the extras waiting area were cramped into the one area and makeup were in the un-airconditioned bathrooms. Everyone though, proceeded with their task, with a smile on their face (most of the time).
The day was definitely going to be an exciting one with the two scenes planned as: a vibing, edgy nightclub scene. And a olden day, burlesque', 1920's type club.
First up, the nightclub scene which consisted of Panjo 5, the 41 extras provided by Bozanic Management, Grayboy Agency, DanceLife, Dance Phenomenon, Dancetrain, Dance Informa and The Talent Factory. As well as, two of Australia's best/well known breakers Khaly Ngeth and Chris Merriman (SYTYCD 08). The direction was simple; party out, and they did. Everyone was looking hot (thanks to The Squared Division – Panjo 5 looked amazing), dancing hot and having an awesome time.
The set had a break about 1pm, upon which time the extra's were really starting to feel the effects of dancing in heels for 4 hours straight. We then asked for roughly 10 people to stay behind for the next scene (burlesque scene), and ten lovely people volunteered but unfortunately their services were not needed and they werent used in that scene, forced only to wait in a corner until 2 hours had gone by, before the production crew was sure they would not be needed.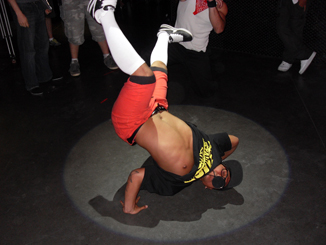 It all looked like it was too good to be true, with relatively no hiccups along the way until, the A-live Entertainment team (Sean Robinson, BJ Rorke and Stephen Tannos) decided they might spice up a shot by utilising a beautiful white piano that had been tucked away in a corner. How are we going to get it out we asked? With thoughtless, masculine brawn of course.
The three geniuses proceeded to drag the piano with all their might until one of them had noticed that the dragging wasnt making the healthiest of noises. We looked down only to find a 5 – 10m length of 4 metal wheels being pulled along a polished concrete floor. Apparently from dragging it to, the vibrations can un-tune the instrument as the owner explicity and violently explained to us upon discovering the piano and its path. (He was fine in the end – Sorry/Thanks Marc!)
After that, the only worry was to be the scheduling with our shoot scheduled to wrap at 6.00pm. The venue, Slide, had an event due to commence at 7.00pm giving each team an hour to pack-up and pack-in, whilst avoiding danger/traffic. But we nailed it, finishing a little early to allow for plently of time for the other event to set up.
Everyone was ecstatic at the end with everyone being ovely impressed with each team members execution of their particular job/s, let alone the way everyone worked with eachother, a work of art.
So after 6 long, panicky weeks, of planning, rehearsing etc etc A-live Entertainment, The Squared Division, Happybash, Panjo 5 and Pixel Frame, alongside the assistance/support of Slide Nightclub, Bozanic Management, Grayboy Agency, Dance Phenomenon, Dancelife, Dancetrain, Dance Informa and The Talent Factory together will be soon to bring to you the next pop film clip master piece – "Closer"
Thank you again to all these lovely people, i look forward to working with you again soon.
Peace, Love and Tap Dancing,
Sean Robinson
A-Live Entertainment
0410720938