New Zealand School of Dance presents STOA
An Enveloping Atmosphere to Explore Deeper Thoughts in their 2018 Choreographic Season
28 June – 7 July
The New Zealand School of Dance (NZSD) Choreographic Season is a highly anticipated event on the New Zealand arts calendar, running from 28 June – 7 July at Te Whaea: National Dance & Drama Centre in Wellington. Known for their innovative technical approach, this season the students present a compilation of eleven short works connected by a common thematic thread, a place to explore & discover 'self'.
STOA is a Greek architectural term referring to a portico, usually a detached portico of considerable length, that is used as a promenade or meeting place. This interpretation of 'STOA' is a compilation of 11 interconnected short works, choreographed by graduating NZSD contemporary dance students. They aim to discover how meaning is created in our way of being, in expressing how we connect ourselves with our habits and surroundings.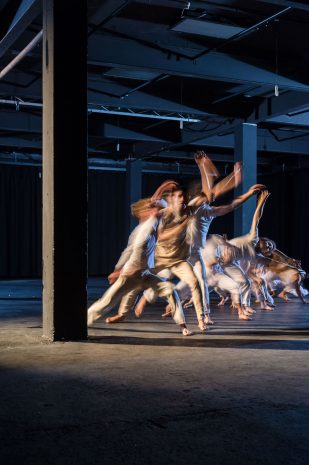 An important objective for the students creating STOA is creative collaboration. Although the students' creative process begins individually, this approach quickly evolves into an intensely collaborative endeavour, with each idea contributing to a greater whole. To this end choreography is by graduating NZSD contemporary dance students, and sound design is by award winning artist Te Aihe Butler, who in his fifth year, has become intrinsically linked to portraying the creative process of the students.
Exploring the boundaries of choreography is a challenging process, third year contemporary dance student Samuel Gilovitz talks of his approach, "Each rehearsal with my cast was a big learning curve generating movement with images, poetry, sensations and sound stimulus. I very quickly learnt how to communicate my ideas and concepts with clarity while creating a positive environment to achieve a productive and collaborative work space."
NZSD students are locating their performance outside the traditional theatre environment. This year the performances will be held in the spacious lower levels of Te Whaea, the home of NZSD. Here the spatial context becomes part of the performance with the dancers guiding the audience through the space to provoke insight and intrigue.
"It's rewarding to be working alongside and mentoring the next generation of young artists. This new production is set outside a traditional theatre realm, provoking our students to respond to unique architecture. In this collection of thoughts, audiences can expect to experience a reflection upon nature, the choreographers' cultural voice and societal values." – Victoria Colombus, Director of STOA and NZSD contemporary dance tutor.
STOA will challenge and inspire – an experience not to be missed.