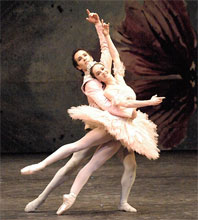 Back by popular demand, The Sydney City Youth Ballet's presentation of NUTCRACKER will return to Glen Street Theatre, Frenchs Forest, from Tuesday 8th December to Sunday 13th December 2009 with special guests LUCINDA DUNN and ROBERT CURRAN, Principal Artists of The Australian Ballet, who will perform at select performances.
With matinee and evening performances, this favourite, full-length Christmas Ballet returns to entertain audiences of all ages. With two acts of 45 minutes each, NUTCRACKER tells the tale of the beautiful Clara who is given a Nutcracker doll by her Uncle for Christmas. When she falls asleep on Christmas Eve she dreams her Nutcracker fights the Evil Rat King and his army of mice, before transforming into a handsome prince. As he comes to life he whisks her away on a magical journey to the land of the beautiful sweets. On their way, Clara encounters dancing chefs, cheeky clowns, Russian acrobats and the beautiful Sugar Plum Fairy, before waking up on Christmas morning wondering if it was all a dream.
Current Principal Artist of The Australian Ballet Lucinda Dunn says: "Whether this is an introduction to the ballet or part of your annual Christmas Celebrations, The Nutcracker is a truly wonderful, traditional and colourful ballet – the perfect fairytale! I have been lucky enough to dance in many productions of the Nutcracker for nearly 20 years, and Sydney is lucky to have the Sydney City Youth Ballet's production."
With Special Guest Performances by members of The Australian Ballet, come and be enchanted by this magical Christmas Tale.
GENERAL ADMISSION bookings are available now Call Glen Street Box Office on 9975 1455.
For GROUP BOOKINGS please contact Nicole Grech, Administrator, Sydney City Youth Ballet on 9439 4424.