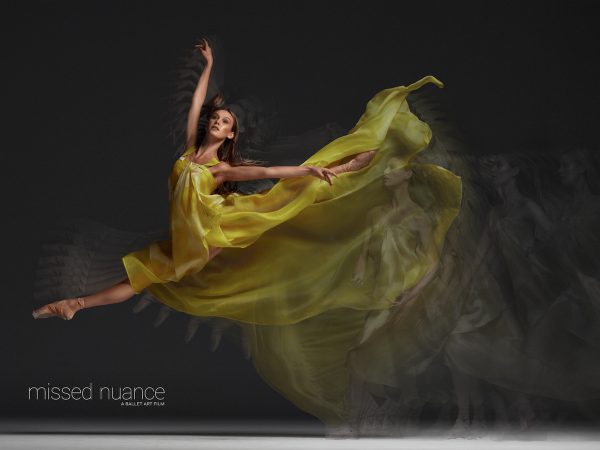 Art Film 'Missed Nuance' Captures the Beauty of Ballet, Fashion and Movement
Available from October 16
Photographer and innovative filmmaker Niv Novak has unveiled his latest ballet art film entitled missed nuance.  It is available worldwide from iTunes from Wednesday October 16 with new project clips released each day throughout the rest of the year.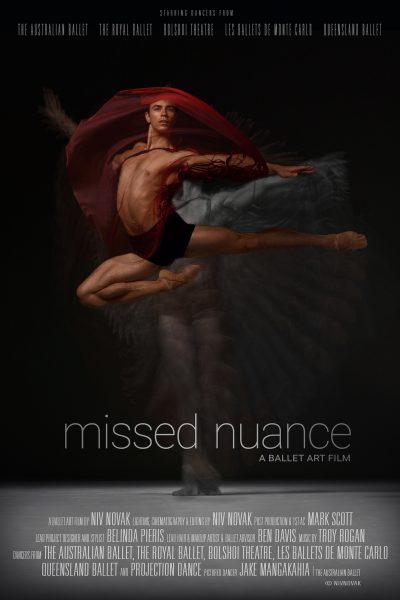 Two years in the making, missed nuance features dancers from prestigious ballet companies around the world, designer garments, exquisite lighting and state-of-the-art filmmaking technology that combine in a work-of-art that showcases the extreme athleticism and sublime beauty in dance as never before.
Featuring elite dancers from The Australian Ballet, Bolshoi Theatre, The Royal Ballet, Les Ballets de Monte-Carlo and Queensland Ballet, Novak uses ultra-slow motion photography to 'slow time', revealing a mesmerising spectacle of dance movement.
"Subtle gradations in movement, light skimming across a dancer's physique, muscles activating, ligaments stretching, fabrics flickering, bending and floating – countless moments of expression are missed – lost to speed. While photography reveals instants of such beauty, 'missed nuance' captures all," says Niv Novak.
"What a thrill it is to see these amazing dancers captured is such exquisite detail and at a speed that we can see the sheer grit and power that goes into making dance that inspires with its beauty. It is a glimpse at the sublime captured by one who is also an artist and a great supporter of our art," said David McAllister, Artistic Director, The Australian Ballet.
missed nuance is a breathtaking study of the relationship between movement and fabric and the role fashion plays in elevating and inspiring the artistry of dance.
Curated by costume designer Belinda Pieris, missed nuance showcases the talents of leading Australian fashion designers and couturiers including Akira Isogawa, Jason Gretch, Con Ilio, Belinda Pieris, Robyn Black, Gwendolynne and Georgia Chapman.
"The stunning ripples in fabric are spellbinding, brought to life by the dancer's artistry and captured on film like never before," said Belinda Pieris, Designer.
"I've been in the fashion industry for over two decades and I have never seen fabric move and come alive the way that Niv's work demonstrated, absolutely breathtaking!" Jason Grech, Designer
Missed Nuance's original score was created by Melbourne-based composer Troy Rogan who has conceived a sound world reflecting the grace and beauty of the stunning visuals. With a tranquil and delicate tone, the music invites listeners to fall trance to the breathtaking splendour of the slow motion medium.
The dancers featured in missed nuance are: Brett Chynoweth, Chengwu Guo, Ako Kondo, Callum Linnane, Jake Mangakahia, Rina Nemoto, Katherine Sonnekus, Jade Wood, Yuumi Yamada (The Australian Ballet);  Alena Kovaleva (Bolshoi Theatre); Claire Calvert, Alexander Campbell (Royal Ballet);Ksenia Abbazova, Victoria Ananyan, Cristian Assis, Daniele Delvecchio, Katrin Schrader, Alessandra Tognoloni (Les Ballet de Monte-Carlo); Victor Estevez, Mia Heathcote, Lina Kim-Wheatstone (Queensland Ballet); Zoe Cavedon, Kristy Lee Denovan (Projection Dance).
You can find and watch missed nuance at the following locations: