EXTENSION Celebrates the Powerful Beauty of Dance
Photographer captures the skill and anatomy of talented dancers with ultra-slow motion video
Dance aficionados know that dancers are true athletes that effortlessly translate physical strength and control into something of beauty and artistry.
Melbourne-based photographer Niv Novak understands this fact and has channelled his appreciation of dancers' abilities in the release of his new project called extension.


Social media has seen images of extreme dancers and amazing poses explode in recent years – catapulting the profiles of dancers and photographers alike. But nothing has demonstrated the true physical athleticism it takes to capture these poses quite like extension does.
Leading Australian dancers across ballet, contemporary and break dance have collaborated in this project inspired by one simple idea – to showcase moment-in-time dance like never before.
The result is extension – a visual feast of movement and light, which captures dance in ultra-slow motion, ultra-high-definition video.
Conceptualising and bringing extension to fruition was a labour of love for photographer, Niv Novak.  
"The decisive moment of a dance 'extension' is a wondrous sight but it's over in an instant," said  Novak, "what if this instant in time could be extended or elongated? extension was born of this idea."
The Australian Ballet's Principal Artist, Chengwu Guo, said he was inspired to volunteer his time. "High-speed dance motion can be missed with a blink of an eye," said Guo, "this is the beauty of extension – every detail of even the fastest jump is suspended to be observed, it's mesmerising."
The short ultra-'slomo' videos feature professional dancers Chengwu Guo, Ako Kondo, Marcus Morelli, Ciara Marasea, Aaron Vidot, Yichuan Wang, Carter Rickard, Robyn Begg, Yuiko Masukawa and William Brougham.
The initial video reels of extension are now available to watch, with new reels being released throughout September via the links below.
On a technical note, Novak broke multiple video conventions in creating extension.
"It was important to bring my medium format photography feel and studio lighting style to the extension reels," he said.
He explained that video is usually shot in landscape orientation with a 16:9 aspect ratio; whereas extension reels were shot with a 3:4 aspect ratio and nearly all are shot in portrait orientation.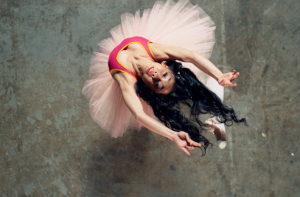 Mimicking Novak's studio strobe lighting was a significant technical challenge. Extremely bright, flicker free-lights are required when shooting at 1000 frames per second.  9000W HMI lights are large, hot and cannot be used with standard photography light modifiers, special modifiers were created for the project. extension reels were shot with a Phantom Flex 4k camera at a bit rate of 13GB per second. Over 50 terabytes were shot during the nine-day shoot.