China Arts and Entertainment Group (CAEG) will be coming down-under to present the Chinese National Award-winning dance drama The Red Dress at the State Theatre Sydney on Wednesday 4 March & Thursday 5 March. This week DanceLife had the opportunity to talk with Zou Jianhong (president of CAEG) about the production. Here's what they had to say:
Can you please tell our readers a little about China Ningbo Performance & Arts Group
China Ningbo Performance & Arts Group showcases the Chinese city of Ningbo to audiences worldwide. Our productions include the dance drama The Red Dress and several operas including The Tailors, Celadon Amidst Mist and Rain and The Pawned Wife. These shows have won many awards and have toured the United States, France, Germany, Austria, Hungary, Saudi Arabia, Japan, Singapore, Korea, Madagascar, Taiwan, Hong Kong and more, always receiving a warm welcome from audiences
What is "The Red Dress" about?
The Red Dress takes place in an ancient town south of the Yangtze River of China. It is a beautiful, touching love story between a boy and a girl from two rich families. The boy named A'Yong and the girl named Yue'er, were childhood sweethearts. The promise of A'Yong, "Wait for me, and be my bride", means a life-time of waiting and constant dreaming of the traditional Chinese red bridal dress for Yue'er.
What can Australian audiences expect from "The Red Dress"?
Australian audience can expect to see abundant folk customs from areas south of the Yangtze River of China. The Red Dress features traditional Chinese marriage customs, displaying the tendresse and persistence of oriental women. This production expresses a woman's pursuit for love and a beautiful life and demonstrates the beautiful and picturesque natural sceneries and folk customs in the south of Yangtze River of China to Australian audiences through this beautiful love story.
In order to display the grand wedding scene of the red dress, almost 200 prop pieces are used, including a red bridal sedan chair, red stomacher, red wedding bed, red box and more.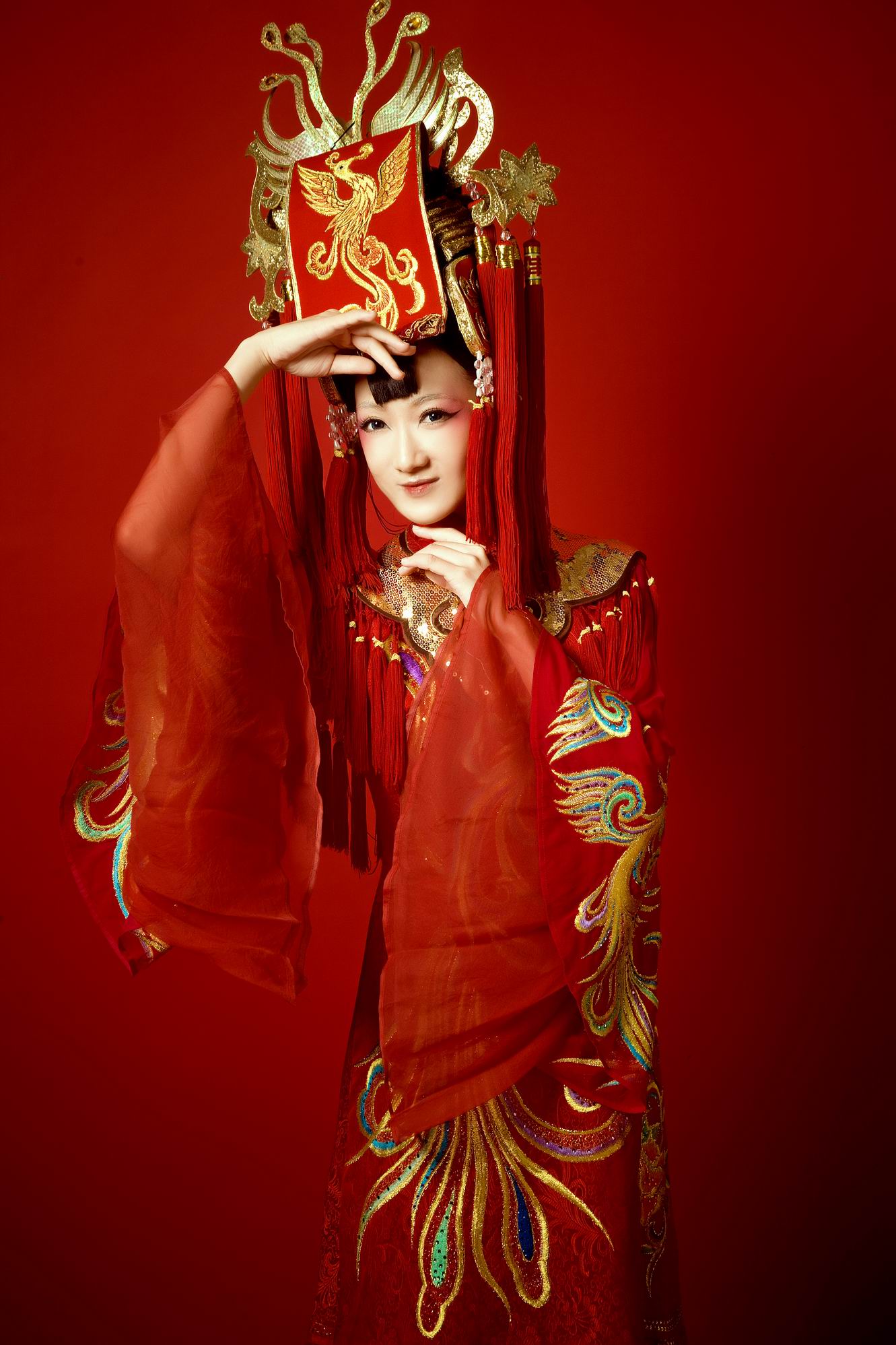 Can you tell us some history of "The Red Dress"?
The Red Dress is a marriage ceremony that happened when prestigious families in Ancient China were preparing their daughters for marriage. When a girl is born, her parents prepare a large dowry including beds, tables, utensils, cases, and quilts. When she gets married, the dowry is delivered to her husband's home. The dowry is carried by several labourers and they form a long line that could wind for miles, like a golden dragon with a red robe, brilliantly and lustrously, bringing auspiciousness and jubilant atmosphere, displaying the family affluence; therefore, the line is called ten-mile red dress.
As for the origin of the ten-mile red dress, it is said that in Song Dynasty (AD 960—AD1279), Prince Kang, Zhao Gou, was chased by invader's soldiers. When he came to the eastern part in Zhejiang Province, a young country girl saved him. After Zhao Gou took the throne, in order to thank the girl, he announced a law stating that when a girl marries they could take the red bridal sedan chair, wear phoenix coronet and robes of rank and bring a dowry of red items. The custom of the ten-mile red dress has been handed down for hundreds of years.
How many performers will be in "The Red Dress"? Are they all dancers?
There are 35 performers and they are all dancers.
What do you look for when casting dancers in anything China Ningbo Performance & Arts Group performs?
The heroine needs to be graceful, gentle and beautiful and the hero needs to be full of vigour. The dancer who plays the matchmaker needs to have abundant body language and perform lively and vividly. The group dancers need to be neat and uniform with harmonious breath.
What made you want to bring the show to Australia?
Marriage and love are universal values and emotional appeals shared by all mankind and we knew that Australian audiences would appreciate this grand love story.
Does China Ningbo Performance & Arts Group have plans to bring more shows to Australia in the future?
We would love to bring more productions to Australia, particularly the Yue Opera, Liang Shanbo and Zhu Yingtai, which is regarded as the Chinese Romeo and Juliet.
The Red Dress will be showing at The State Theatre in Sydney on the 4th & 5th March, to book go to www.ticketmaster.com today!

DanceLife also has 2 x double passes to give away to the 4th March performance of "The Red Dress". To enter, head to our Facebook page and follow the instructions!