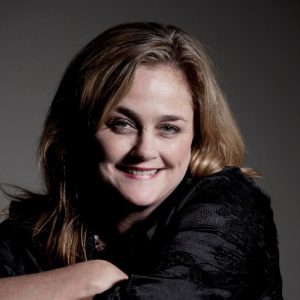 Expressions Dance Company's Artistic Director will Hand Over Reigns after Ten Years
Expressions Dance Company's (EDC) Artistic Director, Natalie Weir, has decided to step down from the role after a successful decade leading the Brisbane-based contemporary dance company.  Ms Weir will leave her role after a suitable transition period with a new Artistic Director.
Ms Weir said, "2018 is my 10th year leading this wonderful company and I am extremely proud of our many achievements during this period."
"I had the privilege of taking on the role of Artistic Director from the founders of the company, Maggie Seitsma and Abel Vallis, and I believe that now is the right time for me to hand over the reins to someone new, who can build on the company's successes and lead it into the future. It has been a joy to guide EDC and I have worked with many beautiful artists who have touched my heart with their commitment and grace."
Ms Weir's final signature work for EDC, Everyday Requiem, will premiere at QPAC in October. She will continue to plan the company's exciting 2019 season, which includes a collaboration in China and Australia with Beijing /LDTX, as part of the company's Chinese Australian Dance Exchange Project.
EDC's Chair, Marian Gibney, expressed the Board's appreciation for Ms Weir's enormous contribution to EDC. "Natalie has given her all to the company. Her artistic vision has been embraced by audiences, collaborators and partners alike and her values have created a culture that nurtures and respects artists."
"She will leave a brilliant and enduring legacy. While we will miss Natalie dearly, the Board is pleased that we have time to work with her to recruit and smoothly transition to a new Artistic Director, who can lead the company into a new era."
Ms Weir was appointed as EDC's Artistic Director in 2009. Some of the many highlights of her tenure include:
a commitment to employing an ensemble of dancers;
a long-term, pivotal partnership with QPAC, resulting in six, large-scale signature works which have attracted many national awards and nominations, including two Helpmann awards for Where the Heart Is;
establishing a partnership with QUT Dance, offering real world learning opportunities to QUT dance students.
further enhancement of the company's commitment to dance education through the Brisbane Contemporary Dance Intensive (BCDI), which attracts aspiring dancers from across Australia;
the launch of a pilot youth ensemble, expanding opportunities for the career development of young dancers.
a five year project (the Chinese Australian Dance Exchange Project) which involves a significant partnership with three Chinese contemporary dance companies led by Willy Tsao – City Contemporary Dance Company, Guangdong Modern Dance Company and Beijing/LDTX. Through co-productions and dancer, choreographer and educational exchanges, this project is providing artists and audiences with an innovative and deep cross cultural experience and producing thrilling dance theatre.
EDC has multi-year funding (2017-2020) secured from both the Federal Government through the Australia Council and the Queensland Government through Arts Queensland, as well as discreet funding through the Australia Council's 'Catalyst Fund' (2016 – 2020) to support the Chinese Australian Dance Exchange Project. This secure funding will provide the new Artistic Director with a sound basis on which to drive the development of the company's future vision.
"Change is a good thing, both for me and for EDC," said Ms Weir.  "The company is well positioned to soar, lifting to new heights in the future. I will miss EDC greatly, however this is an exciting time for the company and for me. I thank everyone who has worked so hard and with such passion to realise my vision. It has been a wonderful journey."
Everyday Requiem, Weir's last signature work for EDC, and a collaboration with the Australian Voices, will premiere at QPAC in October. Tickets can be booked by visiting qpac.com.au.
Ms Weir said, "Everyday Requiem will be a very special work, and I am very excited to bring it to the stage."
Everyday Requiem | Expressions Dance Company