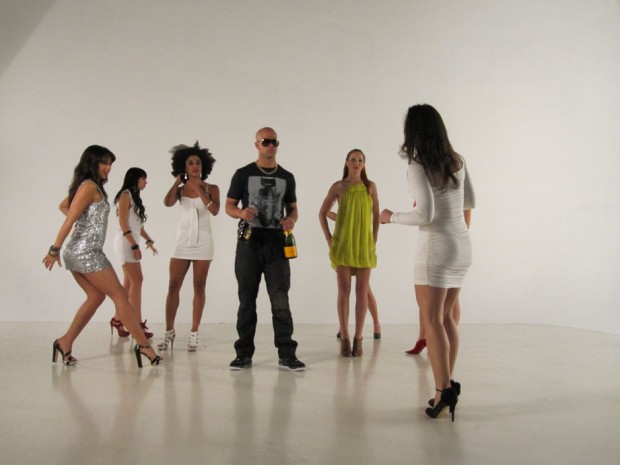 Considering the huge popularity of dance and the current global financial climate which has affected a lot of the budgets for the regular filming, tv advertisements, commercial and corporate work in town, it is very refreshing to see that there is always someone out there willing to make a difference and do the right thing by Australian professional dancers.
K-Lab who is a quality upcoming recording artist who is yet unsigned to a major release deal was in urgent need to shoot a music video for his main track "Get Drunk Get Love" and had to go at it alone in order to produce a good music video demo to show record companies.
His producer label Zhenya Records managed to team up with award winning director Chris Collins from Tim Rowlands productions and they embarked on the whole casting process set to do everything the right and professional way making sure that all dancers who worked on the video were to get paid.
It is important to note that in recent times many major recording artists, popular dance acts and even upcoming artist associated with a record company deal have taken advantage of the "promotional exposure value" and the "publicity within the industry angle" and "prospective future jobs perpective" lines in order to engage professional dancers to work for free and perform unpaid jobs and this is what made K-Lab music video stand proud by doing the right thing and in the process raise many eyebrows amongst the industry that often hires dancers.
The casting session took place at Dance Studio Latin Motion Dance Academy in Sydenham which is the residence rehearsal venue from "Dance Dance Dance" and also the home of "World Salsa Champions"
Since there were only 6 roles avaialable for this music video job, everybody really only expected to see perhaps somewhere between 20 to 30 dancers maximum at the casting.
However, there was a fantastic response that the production team felt truly overwhelmed as had to audition more than 150 dancers that had actually turned up to the audition.
Such was the interest that audition registration forms ran out twice, there were dancers from every major dance agency in Sydney, freelancers, celebrity dancers as well as some models from top modelling agencies in town.
There was a massive mix with dancers from all multicultural backgrounds and coming to audition from even far away places such as Gosford, Penrith, Newcastle, Wollongong and a couple even from interstate.
It was definitely a dream come true to see how many dancers were eager and focused to give their best shot in order to land a shot at securing one of the dance positions for this music video.
Congratulations to the final succesful professional dancers cast who got selected for this K-Lab msuic video job who are:
1. Kobi Collins from Bozanic Entertainment Agency.
2. Bianca Stapp from StarNow.
3. Kathleen Hoyos from Detour Agency.
4. Chima Olujie a freelancer.
5. Catherine Scro from Bozanic Entertainment Agency.
6. Vanessa Juliet Christ a freelancer.
7. Melissa Ellingsworth a freelancer.
The choreographer role for this job was assigned and granted to Manuela Oliveira who is represented by 7 Flavours.
The casting process was handled and taken care of by RRR Casting http://www.7flavours.com/serv_casting.php
The production and funding for this job was managed by K-Lab @ http://www.myspace.com/kristenbaychek
Music video will be out soon and we wish K-Lab all the best of success.