Dirty Dancing Choreographer Michele Lynch – Interview
Michele Lynch is the choreographer of the recent production of "Dirty Dancing" which will open in Sydney at the end of this month. Before coming to Australia, Michele had just completed choreography for the movie, "The Last Five Years" by Jason Robert Brown and directed by Richard LaGravanese and the movie "Joyful Noise" by Todd Graff starring Dolly Parton and Queen Latifah.  She also choreographed Dolly Parton's "Better Day" World Tour. Her choreography was also recently seen in "Little Miss Sunshine" at Second Stage Theater directed by James Lapine and starring Stephanie J Block and Will Swenson. On Broadway, Michele choreographed "Everyday Rapture" and "The Coast of Utopia".
For Opera she has choreographed three highly successful productions of "Showboat" at The Kennedy Center, Chicago Lyric Opera, and Houston Grand Opera. Michele also choreographed a benefit of CABARET at The Public Theatre, starring Anne Hathaway. Michele was Jerry Mitchell's associate choreographer for many years and worked with him on Broadway with the original companies of "The Full Monty" and "Hairspray".
DanceLife recently had the pleasure of chatting with Michele at the media launch for "Dirty Dancing" about her choreography, personal philosophies and her thoughts on Australian dancers. Check out the interview below:
[headshot??]

Can you please tell our readers a little bit about your dancing background?
I actually started late, I was inspired by seeing a show and I felt as soon as I saw the choreography I knew the language the choreographer was speaking. It was Bob Fosse's "Dancin'" and I thought to myself, I'm going to become a choreographer.  But saying that as a kid I knew there were different paths to take so I went into dance class and just immersed myself in dance. I went to a college where they had a great dance program and I started out in Los Angeles and took as many classes as I could, went to every audition I could and did all sorts of different things. Commercial stuff, like The Academy Awards, Commercials and Industrials, and then I eventually made it out to New York. When I got there I did Broadway and some tours and moved onto being an assistant choreographer. He is now very prolific, Jerry Mitchell, and I worked with him for a long time. 8 years I assisted him and learned a lot and after that I have been choreographing on my own.

So from there, what brought you to choreograph Dirty Dancing in Australia?
Somehow I made my way to it in the USA. We just did the 2nd version of the show during our most recent US touring version and I was brought on as a new choreographer because we were redoing so much of it – we had to make cuts to the music. I do a lot of new musicals so it seemed like an obvious fit for me. I haven't done a really big dance show in a really long time and so I was really excited. Also, I'm a huge fan of the movie so for me it was a no-brainer. I just love dance so much, and especially this sort of dance where you're so free. There's also a tonne of ballroom and so it's so fulfilling. So when the opportunity came up to come to Australia, I just had to say yes!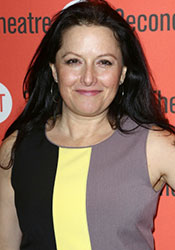 What makes you love choreographing Musical Theatre as opposed to being a choreographer of commercial dance?
Storytelling! I love reason behind a movement. Like even if an arm just goes out straight, I can create a reason for that and that just infuses it with so much more depth. I also love taking a story and finding a way to express it just physically – it just fulfils me to no end.
I think we've all seen shows that feels like choreography is just in there for the sake of having choreography, what's your personal philosophy of making movement work in a musical? I think our readers would like to know that, especially because you do a lot of new musicals with not necessarily anything to go off.
That is just my favourite thing, creating musicals from scratch! You don't have any boundaries then, so the movement is limitless. It's just story, story, story, story, story! Even in Dirty Dancing, when the movement is so free, it has to fit the story of the time period. For me it becomes instinctual, like if it doesn't feel like it's a part of the world or the characters wouldn't move like that, then it's false. And no matter how good the movement or dancer is, if it doesn't fit for me, it doesn't belong there. If there's a big kick, there has to be a reason behind it.
You've got some amazing Australian talent in this show, what is your opinion of Australian dancers?
I couldn't be happier! I've got goose-bumps right now just thinking about the cast.  Seriously, I feel like they are the cream of the crop and the level of America's top Broadway dancers in New York. I felt so fortunate after the first week I thought to myself "This is what I'm working with?! This is incredible!". I am able to create amazing stuff on them and I feel like they're making my work better because they're so good, quick at picking up choreography and so willing to do everything. They're hungry and so full of life, energy and passion; that's a choreographer's dream! You get in a room with them and you can create to your hearts desire and throw anything at them and they'll do it! My dance captain, Amy Campbell, she's just incredible! She can do ANYTHING! I told her that if she went to New York she'd be the top working dancer. She's just perfect and is so on it. In this show, there's hardly any number in which the dancers all do the same thing but she knows everyone's parts without even sweating. I'm just so supported here and that helps immensely.

Finally, what advice would you give to any budding musical theatre choreographers out there?
Firstly, I've seen people come straight out of school and jump straight into choreography and teaching and it not work. And I think that's because there is so much more that goes into it. I remember learning this lesson from Jerry because I was so hungry to choreograph when I was assisting him and he said that he had seen so many people who had just gone out there and choreographed who didn't have enough other experiences in their lives – more than just the choreography. There's the collaboration, the politics behind the scenes and when you're sitting in a theatre and you're going through tech runs of a show there's so much you can't learn in school, you just need to learn it on location. So I would suggest for people to find people they admire and emulate and try and assist them. Assisting to me was the biggest teaching and learning facility that you can get. It's like a paid education because you get paid to learn on the job! Continue to follow the choreographers that you admire and see what makes them tick and how they got there and just assist, assist, assist – I'm a big believer in that!
Dirty Dancing opens on November 28th at the Sydney Lyric.
Tickets are available through Ticketmaster