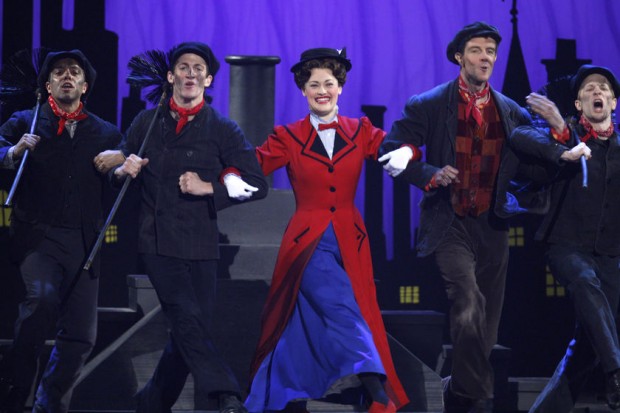 It was with great excitement that I attended a preview of the new Cameron Mackintosh presentation of 'Mary Poppins', the stage musical last night. Who doesn't love the 1964 film featuring Julie Andrews and Dick Van Dyke? The author apparently… The Disney movie has become a cult favourite inspiring the imaginations of young minds all over the world for nearly 50 years and sing-a-longs that rival 'The Sound of Music'. So I was surprised to learn the Australian born author, PL Travers, was not at all impressed with the popularised film version as mentioned by Mackintosh in an interview with The Australian on 21 July.
The Melbourne stage version featured Australian music theatre royalty: Debra Byrne, Marina Prior, Phillip Quast and Jack Webster in leading roles. But it was newcomer Verity Hunt-Ballard that truly stole the show. Her interpretation of Poppins was 'pratically perfect' as the lyrics suggest. The very fact that Mackintosh gambled by placing an unknown in this role is admirable. Particularly in the current climate of television personality filled music theatre roles, whose larger distribution base hopes to ensure audience attendance. This casting choice, made by one of the most legendary stage producers, knighted for his efforts, was inspired, elevating Hunt-Ballard into an echelon of performers that are not only triple threats, but whose true star quality is something that seems reserved for the grand dames of the black and white hollywood era.
A standout favourite was marathon 'Step in Time' ensemble number, armed with a brilliant extended orchestration and syncopated tapping to boot. It is imperative to deliver such a well loved piece so as not to disappoint. The choreography was tight, effective and en mass! Matt Lee's dance proficiency and proscenium tapping – if only there was more! All I could think of while watching was: if only the entire cast was strung up all over the stage on their various levelled roof tops. Something completely unattainable on stage, but an issue I see as an unfortunate restriction to music theatre in this current generation. The tantalising digital rides we get taken on in film can never be matched on stage and this is where sourcing a younger audience for theatre may prove more difficult in future years. However in this show there were plenty of flying persons and origami set transitions to keep the audience in awe. The linkage and pace of the show wreaked a lifetime of crafty creatives: musicians, lighting, set designers, technical directors, choreographers and producers working collaboratively to tell a story the best way they know how. The audience reaction – clapping along voluntarily numerous times throughout and standing ovation was testament to this show's appeal.
More info on Mary Poppins.
Review by Cara Dinley.