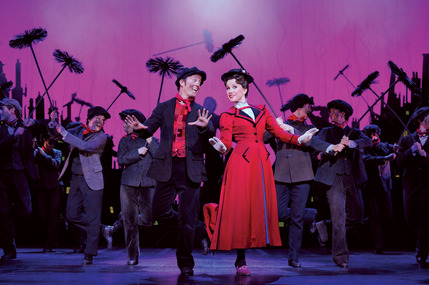 Anyone who was a die-hard fan of the Disney movie-musical Mary Poppins starring Julie Andrews and Dick Van Dyke, will remember the timeless songs including Chim Chim Cher-ee, A Spoonful of Sugar, Jolly Holiday, Feed the Birds and of course the famous Supercalifragilisticexpialidocious, well the stage version blew in to Sydney last week with a standing ovation from the opening night audience, however you better get in quick because it may only stay until the wind changes…
Verity Hunt-Ballard plays the prim and proper, ever so 'spit-spot' Mary Poppins, what an absolute knock out performance from Hunt-Ballard. So many people have grown up absolutely adoring the movie-musical led by Julie Andrews, the pressure to perform this part and rise to the expectations of the audience would be a weight on anyone's shoulders, Hunt-Ballard has it, she absolutely carries us with her on the journey as Mary Poppins.
I remember back in 2005 I saw this show on the West End, Mary Poppins was played by Laura Michelle Kelly and I recall being somewhat put out that she wasn't Julie Andrews and in my head I wanted someone to be just like Miss Andrews, however with Hunt-Ballard you don't even think of the movie, she just transports you into her world and really becomes Mary Poppins.
Jane and Michael, the child characters were performed superbly by Ashleigh Ross and Cameron Holmes respectively, these kids clearly had their characters and dance and singing numbers down pat.
Other famous musical faces include Matt Lee who plays Bert, Marina Prior who plays a very convincing Winifred Banks, The Birdwoman (who sings Feed the Birds) is played by Debra Byrne and Judi Connelli who plays a minor but powerful role as Miss Andrew.
Act I is definitely superior to Act II mainly because it includes the famous songs you're waiting to see. It moves quickly, the story is engaging and you're really carried on the journey. The stand out song for me in Act I was Supercalifragilisticexpialidocious, set in Mrs Corry's shop, Mrs Corry played by Leah Howard is an engaging, energetic all-in-orange, larger-than-life character which reminded me a bit of the character of 'Killer Queen' in the musical We Will Rock You'. An absolute stand out moment is as the song speeds up the sharp, staccato choreography speeds up and the whole number just accelerates, then it switches from being in the set of Mrs Corry's shop to having a curtain come down, footlights on and the word Supercalifragilisticexpialidocious projected onto the curtain, they continue the song and dance in real vaudeville style – I loved it!
Thinking back to the film, you may recall when Mary and the children meet Bert they jump into a painting and are transported into the world of the painting, of course being onstage this is difficult to do, so the park transforms into the painting, however there were some 'statues' which then proceed to magically 'come alive' and do ballet and I would've preferred it if they didn't. There were too many pas de chats and not enough stretched feet. I was not overly amused with these statues and rather surprised that the level of balletic ability was not higher.
The magical elements of this musical are captured in songs like A Spoonful of Sugar set in the kitchen after the cook has left and the children and the servant end up crashing and smashing things by accident, Mary Poppins comes in and magically puts everything back in it's place. The set is cleverly mastered so the elements of magic are possible.
The most magical part and the moment when all the children in the audience will be wide eyed and mouthed 'like a codfish' is right at the end. I wont spoil it, but it's very impressive and someone told me after 'that was my favourite part', you'll have to just get yourself a ticket to find out what all the fuss is about, before the wind changes.
Emma Bell is a writer, reviewer and interviewer and can be found at www.emmabell.com.au.