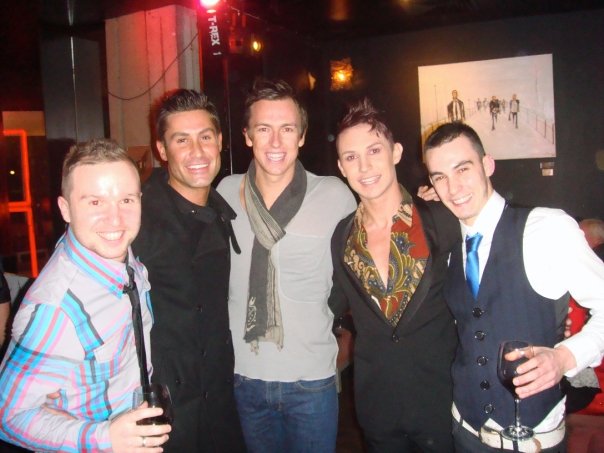 This was my first time attending the Australian Dance Awards. I was very excited to go to an awards night where it was all about the dancer which is so fantastic and so deserving to the amazing talented dancers we have in this country. Walking into the Arts Centre you realise what a great theatre and feel the place has. I love Melbourne, the arts scene is great.
The night kicked off with host Michael Veitch who was very entertaining and brought a nice fun feel to the night. Many times he forgot to enter the stage on cue but this made the night even more entertaining. The opening performance was from 'Billy Elliot The Musical' which was a great way to start the evening it brought a great buzz to the theatre. A few highlights for me were Hugh Jackmans recorded speech when he won 'Outstanding Performance in a Stage Musical' his speech was so inspiring and also he really understood the world of dance and the arts and he had a lot of respect for dancers which I loved. There was an amazing tribute to "Tanja Liedtke" which was so touching and also inspiring. Her partner Sol Ulbrich talked about her life and also read reviews of her work which were beautiful. They then presented a short video that included an interview with Tanja. It was so inspiring the way she talked and her movement was unbelievable.  Another touching moment was the Lifetime Achievement Award which was presented to Phillip Hammond OAM, Dame Margaret Scott presented the award.
Award Winners were:
Outstanding Performance in a Stage Musical went to Hugh Jackman
Outstanding Achievement in Dance Education went to Helen Cameron
Award for Dance On Film went to Sue Healy
Award for Services to Dance went to Dally Messenger & Karen Van Ulzen (Dance Magazine)
Outstanding Performance by a company went to Lucy Guerin Inc.
Outstanding Achievement in independent Dance went to Shaun Parker
Outstanding Performance by a female dancer went to Lucinda Dunn.
Outstanding Performance by a male dancer went to Paul White
Outstanding Achievement in Choreography went to Garry Stewart.
There were many performances throughout the night including Chunky Move, The Australian Ballet, Mabo Dance Company and Ros Warby "Monumental". My highlights of the night were Jack and Rhys from 'So You Think You Can Dance' and WICKIDFORCE. Jack and Rhys did an awesome job, extremely entertaining. WICKIDFORCE made everyone go crazy! They were a hip hop bboy crew and they closed the night with a definite BANG!!
But my favourite performance of the night has to go to DANCENORTH 'UNDERGROUND', it was unreal. I found it to be so creative and featured 6 strong and talented dancers. They definitely blew a lot of people away and definitely made me want to see more and more of their work!!!
Overall the night was very inspiring and showed that the dance world is getting stronger and stronger. It made me very proud to be part of the Australian dance scene and I look forward to dance in Australian getting bigger and bigger. The Australian Dance Awards is definitely giving dance what it deserves!
Marko Panzic
Marko is currently teaching classes at Brent Street & Sydney Dance Company. Check out www.brentstreet.com.au and www.sydneydancecompany.com for further details.