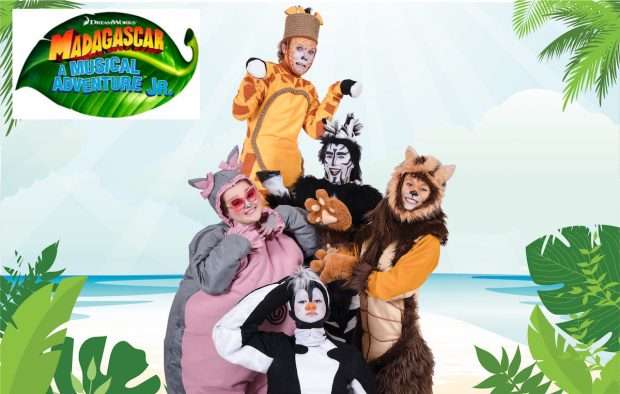 Madagascar – A Musical Adventure JR Live on Stage
presented by the Young Australian Broadway Chorus | July 11-14
WIN TIX!! … We have a double pass to giveaway to a show of your choice! To enter simply email your name and mobile phone number to win@dancelife.com.au with the subject title 'Madagascar Jr'. Entries close July 2nd. Winner chosen at random. NB: This show is in Melbourne, Vic.
Join Alex the Lion, Marty the Zebra, Melman the Giraffe, Gloria the hip-hip-Hippo and, of course, those hilarious, plotting penguins when Madagascar Jr bounds onto the stage at Union Theatre in Parkville, Victoria, this July during the school holidays.
An adventure for all ages, everyone will be ready to "move it, move it" when this stage musical adaptation by the Young Australian Broadway Chorus (YABC) is strictly in season from July 11-14.
This large cast of 70 young and talented performers will bring to life outlandish characters as they travel from New York City to Madagascar. Based on the blockbuster DreamWorks animation motion picture, Madagascar – A Musical Adventure Jr, this story follows a bunch of crack-a-lackin' friends who escape from their home in New York's Central Park Zoo and find themselves on an unexpected journey to the madcap world of King Julien's Madagascar.
Lead actor Jackson Hurwood who plays the famous Alex the Lion said, "I'm really looking forward to how much fun I can have with the role of Alex. The costume is sensational so I will be able to completely immerse myself into the character and become an all-singing, all-dancing, joke cracking Lion."
Artistic Director of the YABC Robert Coates says, "It's quite an undertaking to put on a show where all the characters are animals… singing and dancing animals! Putting on a production like Madagascar Jr is particularly special for us. Since it is adapted from the DreamWorks animated film, young children get to experience the magic and thrill of live theatre when the characters they've seen in a movie come to life on stage right before their eyes."
The YABC is a vibrant musical theatre course for young people aged 8-18, providing an exciting mix of tuition and on-stage performance. The chorus is full of talented singers, actors and dancers, including some entertainment industry professionals who have appeared in feature films and television shows. Book by Kevin Del Aguila. Original Music and Lyrics by George Noriega & Joel Someillan.
Madagascar – A Musical Adventure Jr.
Sessions: Wednesday 11 July – Saturday 14 July
Union Theatre, University of Melbourne, Parkville, VIC
Bookings: www.madagascar-jr.com / Phone: (03) 8199 8344
Cost: $22.50 – $27.50