Cult Musical Comedy Opens in Sydney Feb 2016
The cult musical comedy Little Shop of Horrors will premiere at Hayes Theatre Co in Sydney in February and then tour to Adelaide, Melbourne, Canberra, Brisbane and Perth.
Starring Brent Hill and Esther Hannaford, this gleefully gruesome musical will combine the upbeat, 'doo wop' Motown score, puppet wizardry and a wickedly talented Australian cast. Award-winning creative duo Director Dean Bryant and Choreographer Andrew Hallsworth will once again combine their ingenious minds to bring Howard Ashman and Alan Menken's book and score to life, creating a deviously delicious out-of-this-world musical experience. They will join forces with master puppet-makers Erth to create a brand new Audrey II for the 21st century.
"We are thrilled to reassemble our dynamic creative team … for a brand new collaborative theatrical adventure. Audiences are going to be bowled over by the unique vision, our sensational cast, and our very own, never-before-seen 'Audrey II.' We're very excited about taking this new production all around Australia," said the Producers.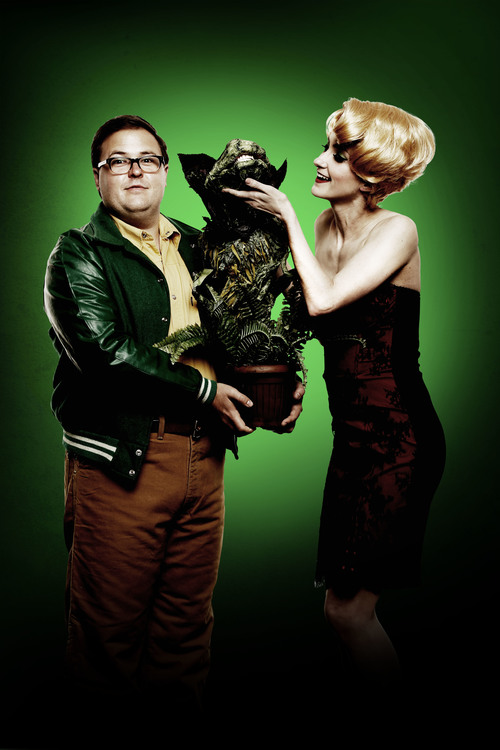 Brent Hill stars as the unassuming, hapless flower shop worker Seymour Krelborn. His credits include Once, Jerry's Girls, A Funny Thing Happened on the Way to the Forum and Rock of Ages. Playing the object of Seymour's affections, Audrey, is multiple-award winner Esther Hannaford, one of Australia's most in-demand leading ladies. Esther starred as Ann Darrow in King Kong, Bonnie Mae in Miracle City and received a Helpmann Award for her role as Penny in Hairspray.
The opportunistic shop owner Mr Mushnik, will be played by Tyler Coppin (Strictly Ballroom, Chitty Chitty Bang Bang) while the role of the demon dentist and Audrey's sadistic boyfriend is acclaimed actor Scott Johnson (Tommy in Jersey Boys). Angelique Cassimatis (The Rocky Horror Show), Josie Lane (Miracle City, Fame) and Chloe Zuel (Legally Blonde) play the three Supreme-esque streetwise urchins while Dash Kruck (Violet) and Kuki Tipoki (Sweet Charity) complete the cast playing in the ensemble.
Laced with dark humour and irresistible music, Little Shop of Horrors is one of the longest-running off Broadway shows of all time. Inspired by the 1960 Roger Corman film of the same name, this rock musical version of Little Shop of Horrors premiered off Broadway in 1982 before enjoying a successful run on Broadway and in London's West End, eventually inspiring the 1986 film version by veteran puppeteer Frank Oz that starred Rick Moranis.
When meek, down-and-out floral assistant Seymour Krelborn stumbles across a new plant species that he names 'Audrey II' after his co-worker crush, it seems like a serendipitous ticket to fame and fortune. But as Audrey II grows and grows – into a foul-mouthed, smooth-talking, R&B-singing carnivore – Seymour discovers that feeding his ambition starts to require juicier and less justifiable ingredients. Before he knows it, our accidental hero Seymour and the gutsy but guileless Audrey must battle the perilous and persuasive plant – not just for their lives, but also for the very future of planet earth!
www.littleshoptour.com.au
LITTLE SHOP OF HORRORS  |  AUSTRALIAN TOUR 2016

SYDNEY
– Hayes Theatre Co from February 18th 2016

hayestheatre.com.au or ticketmaster.com.au

ADELAIDE
– Her Majesty's Theatre from April 20th 2016

bass.net.au
MELBOURNE
– Comedy Theatre from May 4th 2016

ticketmaster.com.au
CANBERRA
– Canberra Theatre from May 25th 2016

canberratheatrecentre.com.au or ticketmaster.com.au

BRISBANE
– Playhouse Theatre QPAC from June 1st 2016

qpac.com.au
PERTH
– His Majesty's Theatre from August 4th 2016

ticketek.com.au