Li Cunxin will stay on as Artistic Director of Queensland Ballet
Plus … the 2017 Season Announced




Artistic Director Li Cunxin. Photo Harold David



Li Cunxin has confirmed he will stay at the helm of Queensland Ballet as Artistic Director for another four years until 2020. Mr Li is an acclaimed former ballet dancer and renowned for his life story told in 'Mao's Last Dancer'.
Chair of the Queensland Ballet Board Brett Clark said he was delighted Mr Li is staying on and with the progression of Queensland Ballet over the last four years under his guidance and that the Company had a bold vision for continued growth in all areas including the art form, audience, artists and community.
"Li's leadership, his international reputation and his vision for Queensland Ballet has played such an instrumental role in the Company's success," Mr Clark said.
"In Li's role as Artistic Director he has built on Queensland Ballet's rich history both artistically and professionally. He's never one to rest on his laurels though and I know he'll continue to push boundaries, seek new opportunities and ensure the ongoing success of our Company and our art form."
Mr Li said Queensland Ballet has experienced an extraordinary period of growth in recent years and has established itself as a very well respected arts company in Australia and internationally.
"It's great that we're connecting with more people and communities which means more people having an appreciation of, and love for, this beautiful art form.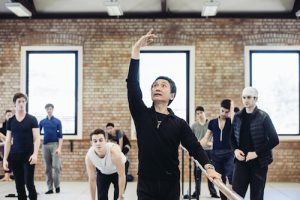 "Another extremely important part of our progress is the development of our artists. It's so rewarding to see the artistic growth of our dancers, they really are world-class performers."
"Our ongoing success has meant we've attracted international dancers to work with us, both as permanent Company dancers and also guest stars, it's also gratifying to see the high standard of students graduating from our Queensland Ballet Academy with many joining the Company.
"Our international reputation has allowed us opportunities to work with some of the world's most sought-after choreographers and to deliver world-class productions. Recent highlights for us have been working with the acclaimed Liam Scarlett, performing Derek Deane's smash hit Strictly Gershwin and the successful season of the late Sir Kenneth MacMillan's Romeo & Juliet."
2017 Season
Queensland Ballet's Season 2017 program has been announced and Li Cunxin invites you to "fall in love" with ballet next year! 2017 will see a mix of ballet favourites as well as some innovative new contemporary works and new development programs that Queensland Ballet hopes will have wide audiences appeal.
BESPOKE  | February 10 – 12
An exciting new program which sees collaboration between contemporary dance and other art forms, technology, design fashion and ideas. (Choreographed by Amy Hollingsworth, Creative Consultant Katie Noonan)
RAW  | March 17 – 25
Three transcendent dance pieces with raw, powerful movement evoking stories of human experience: GHOST DANCERS (Choreographed by Christopher Bruce), NO MAN'S LAND (Liam Scarlett), GLASS CONCERTO (Greg Horsman)
SWAN LAKE  | May 5 – 13
This classic story of good versus evil is considered one of the greatest ballets of all time. (Choreographed by Ben Stevenson)
DANCE DIALOGUES  | June 7 – 17
The popular series returns to provide an exclusive opportunity for season ticket holders to experience Queensland Ballet in the studio as they showcase new works from emerging choreographers. Company dancers and Jette Parker Young Artists will present a collection of short ballets choreographed by our dancers and other emerging talent.
LA FILLE MAL GARDÉE  |  August 4 – 19
Set in the French countryside in the 1950s, this more modern ballet delights and entertains audiences as a love triangle creates comic chaos. (Choreographed by Marc Ribaud)
LA DANSE DE L'AMOUR  |  September 2
Join Li Cunxin, the stars of Queensland Ballet and celebrities for an elegant evening at the Queensland Ballet Gala Ball.
PETER PAN  |  October 25 – November 4
Back by popular demand is this magical family ballet. (Choreographed by Trey McIntyre)
THE NUTCRACKER |  December 8 – 16
A classic festive family favourite. (Choreographed by Ben Stevenson)
For more information on the 2017 season of Queensland Ballet visit www.queenslandballet.com.au
Watch Li Cunxin introduce the season line up here: