Dance is for everyone – let's get moving!
International Dance Day | April 29
WATCH. LEARN. PRACTICE. TEACH!
Big Dance is the largest dance celebration in the world and it's hitting Australia on International Dance Day (29 April 2018) where thousands of people will dance together in some of the most iconic places in the world.
Encouraging people to be active through dance, Big Dance is a free large-scale participatory celebration open to everyone of all ages, all abilities and all experiences.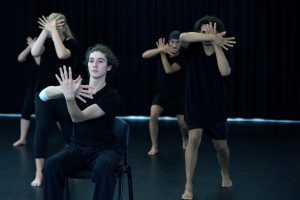 Founded in 2006 and led by the Mayor of London in partnership with People Dancing and a network of leading dance organisations, the Big Dance legacy has now been passed to Australia – in 2016 over 42,000 dancers from 44 countries across the globe participated in Big Dance (previous choreographers include Akram Khan and Wayne McGregor CBE).
In the months leading up to Big Dance, Ausdance Victoria and Ausdance NSW will motivate aspiring dancers and community groups to learn the Big Dance 2018 routine in a series of fun free dance workshops.
The Big Dance 2018 routine includes versions to suit a variety of capabilities and circumstances, including standing, seated and suggestions on adapting the choreography for different abilities.
Big Dance 2018 aims to:
Raise participation in and appreciation of dance.
Deliver a dance program that contributes to social interaction and cohesion, allowing people to feel a sense of community.
Share Indigenous and non-Indigenous dance and cultures.
To create a short dance work that embodies and shares Australian culture using contemporary practice.


Craig Bary

To increase opportunities for physical activity through the use of arts to engage and activate a broad spectrum of community members.
Online tutorials will be available where the Big Dance 2018 routines are guided and taught by developing dance college artists from National Aboriginal Islander Skills Development Association (NAISDA) and the dance cues will also be provided in an easy-to-follow learning guide.
Created by acclaimed Indigenous choreographer Frances Rings and New Zealand born Craig Bary, and with an original score by Huey Benjamin, the Big Dance 2018 choreography is a five-minute contemporary Indigenous routine that anyone can learn!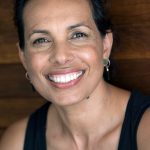 Frances Rings explains that all Australians have a shared connection to this land, "We are lucky to live in an incredible country that still emits ancient energy and incredible living culture. This year's Big Dance choreography represents our bloodlines, our culture and everyone coming together as we acknowledge the red earth as our spiritual centre. Big Dance will connect everyone through movement and bring people together to share their stories and experiences with pride and from any dance form."
As people dance across the world on International Dance Day and with performances by local dance companies, the key Big Dance 2018 events will be hosted in Sydney, Federation Square in Melbourne, Castlemaine as part of the Regional Centre for Culture program and Lilydale, as well as other locations throughout Australia.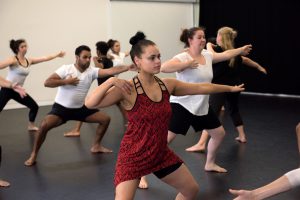 Michelle Silby, Executive Director Ausdance Victoria and NSW said  "I believe dance is for everyone and everyone can dance! Big Dance provides fantastic opportunities for people of all ages, cultures and abilities to come together to enjoy and celebrate dance through free workshops and events." 
bigdance.org.au
____________________________________________________________
Big Dance 2018 routine
The Big Dance 2018 routine is only five-minutes and can be learnt by anyone.
There are versions to suit different capabilities and circumstances, including standing and seated.
Ausdance Victoria and New South Wales will host a series of fun free workshops to teach the Big Dance 2018 routine.
Easy-to-follow online tutorials of the Big Dance 2018 routine are available as well as a learning guide with dance cues.
The Big Dance 2018 routine is divided into three different sequences that represent a different colour.
The three colours (sequences) symbolise the:

Indigenous people;
Non-Indigenous people; and
Spiritual heart of Australia (bloodline and linage) – the connection between Indigenous and non-Indigenous people.

Participants will be allocated a colour (sequence) at workshops or can choose which sequence to learn from the online tutorial.
A guide to adapting the choreography for different abilities is being developed in partnership with Deakin University's AllPlay Dance program and will be released in March 2018.
____________________________________________________________
Current workshop locations – hosted by Ausdance Victoria 
Bendigo – Seven Turns Dance Collective
Braybrook – Braybrook Community Hub
Melbourne – ArtPlay & JETsport
Ringwood – Maroondah Federation Estate
Southbank – National Institute of Dramatic Art (NIDA)
South Morang – Terrace Lawns Civic Centre
South Melbourne – Temperance Hall
Upwey – Burrinja Cultural Centre
Big Dance Victorian teachers include Luke Alleva, Ngioka Bunda-Heath, Lydia Connolly-Hiatt, Chloe Dobson, Dani-Ela Kayler, Gülsen Özer, Gretal Taylor, Josh Twee and Gerard Van Dyck.
Current workshop locations – hosted by Ausdance New South Wales
Bankstown – Bankstown Art Centre
Broadway – Shaun Parker & Company
Darlinghurst – The Royal Academy of Dance (RAD)
Lilyfield – Legs On The Wall
Newtown – DUTI (Dancing Under The Influence)
Olympic Park – Australian College of Physical Education
Parramatta – Riverside Parramatta
Surrey Hills – Dance Central Sydney
Sydney – Sydney Dance Company
Ultimo – Ready Made Works Inc
Big Dance New South Wales teachers include Sasha Lian, Shar Mitchell, Beatriz Occhiuzzi, Lexy Panetta, Feras Shaheen, Josh Thomson, Sarah-Vyne Vassallo (dance coordinator) and Kassidy Waters.
Additional workshop locations
 will be announced and updated at
bigdance.org.au
____________________________________________________________
Big Dance 2018
Feb – Apr 2018

Fun free dance workshops and online dance tutorial available
Sunday, 29 Apr 2018

Big Dance on International Dance Day
All details and Online tutorials at bigdance.org.au