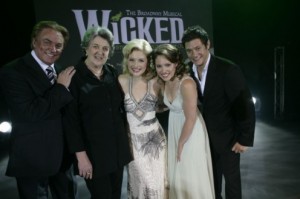 WOW! WOW! And WOW!
In short, one of the finest musicals to hit our shores in a very long time!
So off I went to the green and black-tie event, I were the green everyone else wore the black tie!
As the green carpet was laid out for all stars big and small to follow into the Regent Theatre the air was thick with excitement and wonderment as we sipped on our "Ozmopolitan's", all I wanted to do was get in and get this show under way, the suspense was killing me.
Once seated the set was already impressive and the layout made the theatre look bigger than Ben Hur, I was even more excited I thought I was going to pee my pants!!!
House Lights fade and into it we were, now I don't want to go into much detail at all in this review because I REALLY REALLY want you to buy a cheap airfare and head to Melbourne to see it, for it is truly magnificent and I don't think you can wait for it to get to you.

Lucy Durack plays the self -indulgent, self obsessed cutie pie Glinda the good witch and what a talent! This role was made for her and her comic timing is impeccable.
My favourite scene is "Popular" when you see it you will understand. Durack has this knack of transporting us into a familiar pop culture bimbo territory but brings it back time and time again into a theatre world, very clever.
Amanda Harrison in the role of Elphaba is a beautiful green creature whom you fall in love with for her sincerity and strength as an individual but also her shyness and traits of vulnerability. "As long as you're mine" duet with Fiyero (Rob Mills) moved me to tears, so strong and so capable of moving mountains, they match so well in voice and in physicality it really is a great moment in the show and really got me in the heart.
One thing I will comment on though is how different the female leads voices are and how I found they really do not have a great blend when singing together, however that doesn't mean to say that it was painful to listen to but I do think that it was a minute flaw in the production.
The role of Fiyero is played by the increasingly popular Rob Mills. I must say I was very impressed by his newfound theatrical voice and acting skills. His character portrayal to me was like a cross between Gaston from Beauty and The Beast and Jessie McCartney, very youthful, conceited, beautiful and attractive to all. Rob has really put the work in to this project and it shows I believe he can only get better.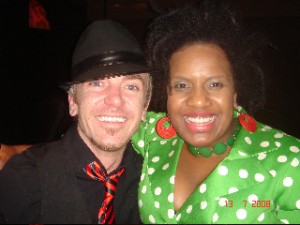 You do want to see more of her role, Maggie Kirkpatrick was a fabulous Madame Morrible and it was just a plain honour to watch her walk out on stage every time.
Rob Guest as the Wonderful Wizard of Oz was well received and his little jig that he does in "Wonderful" did put a little smile on my face.
Doctor Dilliamond is a poor old soul of animal played so well by the wonderful Rodney Dobson.
Big Ups go to Penny McNamee, Anthony Callea and the rest of the principal cast who really help to put this show into one of the greats for Aussie musical theatre.
I must tell you though that not only is it the onstage cast that makes this show it is Kenneth Posner's ridiculously amazing lighting design, Gavan Swift who designed the lighting for Tapdogs is our Aussie representative and a true artist and lighting genius, this show is transformed time and time again into worlds of fantasy simply by the lighting and it is a true detriment to Swifts avid eye and artistry.
Speaking of artistry costume designer and Olivier award winner for it Susan Hilferty is a designer of pure fabulosity!!! The ensemble costumes are truly amazing and mysteriously funky in their own wicked way. Our Aussie wardrobe is co-ordinated by the man himself Billy Roache and what a wonderful job he has done.
The set design and production as a whole is something of a monstrosity of top-notch creativity and really allows you to be transported to Oz for the experience of a lifetime.
In saying that I believe the ensemble are having an experience of a lifetime executing choreography that you only dream to dance. Wayne Cilento who credits himself as a Musical Stager is a multi award choreographer who's staging is a dream to watch and so relevant and current choreographically yet lyrical and classic and all round enjoyable to watch, I was on the edge of my seat wanting so bad to learn the chorey it was fantastic. Ellen Simpson is a stand out in the ensemble with her flaming red hair and striking legs and style she is really one dancer we all need to watch as she climbs the ladder.
Shout outs go to Ryan Sheppard, Todd Hampton, Lockhart Brownlie, Romina Villafranca, Todd Hampton, Deanna O'Leary and Ross Hannaford who all make a wonderful show that touch more wonderful, their stage presence and commitment is very humbling.
The book of inspiration Wicked: The Life and Times of the Wicked Witch of the West by Gregory Maguire is cleverly written and visiting social obligations and personal struggles and courage throughout the new generation.
With a genius and experienced award winning creative team inclusive of:
Book- Winnie Holzman (thirtysomething, My So-Called Life MTV)
Composer – Stephen Schwartz (Pippin, Disney's Pocahontas, DreamWorks The Prince of Egypt)
Direction – Joe Mantello (Take me out, Love, Valour Compassion- film)
Ass.Dir. – Lisa Leguillou – Chicago, Vagina Monologues, The Odd Couple)
Whispers at the after party were that this production is better than Broadway…..Hey I am just gossiping on what I heard!
Wicked Australia in my opinion has re-ignited theatre in Australia, with this phenomenal cast and crew I really do thank you all for giving a great performance and allowing me to do what's required of me in the theatre….
LAUGH.CRY, CLAP, HOLLA, RELATE, ENJOY, DREAM!!!
Big Love!
Rose
xxx