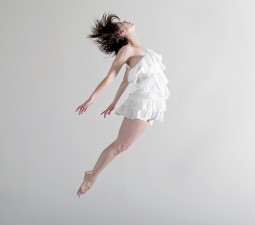 Four of Australia's most exciting new choreographers will converge in Fortitude Valley from the 1-5 March, to bravely road-test brand new and developing work in front of live Brisbane audiences.
The four choreographers will team with the professional dancers of EDC (Expressions Dance Company) to present Launch Pad, an in-studio collection of evolving, work-in-progress duos, duets and pas de deux.
Artistic Director of EDC, Natalie Weir, said the concept for Launch Pad came from her own experience as a young emerging choreographer, struggling to find a way to further develop her choreographic skills and experiment with her choreographic voice.
"When I was only 18, Maggi Sietsma (founding director of EDC) invited me to choreograph with her professional ensemble. This launched my career as a choreographer and propelled me on to much greater things." Ms Weir said, "The opportunity, for me, was invaluable and I want to provide that same kind of opportunity for emerging choreographer waiting in the wings. It's my way of giving back to the artform that has done so much for me."
"Audiences will be treated, not to just some great performances, but they'll also be witnessing the evolution of new dance, fresh from the creative source. It's a once-a-year opportunity to really get up close and personal with the creative process." Launch Pad performances will be held in the intimacy of EDC's own rehearsal studios at the Judith Wright Centre of Contemporary Arts.
"Launch Pad will give audiences a peak behind the scenes, and hopefully, a greater understanding of how a new work evolves." Ms Weir said.
The four Launch Pad choreographers include:
Timothy Farrar: Timothy's previous work has been performed by The Australian Ballet and he is the recipient of a national choreographic fellowship that allowed him to embark on a study tour of London and The Netherlands. Timothy's work has featured in the Australian Ballet's Body Torque program and he was recently awarded Best New Choreography at the Short and Sweet Dance Festival in Sydney.
Lucas Jervies: Lucas has danced for The Australian Ballet, Opera Australia, Dance Works Rotterdam and Scapino Ballet Rotterdam in the Netherlands. Over the last 5 years he has worked with innovative choreographers Georg Reischl and Marco Goecke. Lucas was invited to create for the Australian Ballet's 2005 Body Torque program and has also created and presented work for several high-profile festivals in Asia and Europe.
Miranda Zeller: Last year, Miranda won the Critic's Choice Award for her work in Sydney's Short and Sweet Festival and appeared in Claire Marshall's Hey Scenster. She has danced in the Brisbane Fringe Festival, Guongdong Festival of Modern Dance (China) and has appeared in film clips for Sleepy Jackson, Little Birdy and Powderfinger
Nerida Matthaei: Nerida is the co-founder of the award winning Phluxus Dance Collective which received invitations to the American Dance Guild Festival in New York City and a residency in Ireland. Nerida has recently been awarded a Blank Canvas Residency with renowned musician Nicole Canham to develop a new work in Ireland 2011.
Performances
Tues 1 March 2011 Wed 2 March 2011 Thur 3 March 2011 Thur 3 March 2011 Fri 4 March 2011 Sat 5 March 2011 Sat 5 March 2011
Tickets
5.00pm 7.00pm
11.30am 7.00pm 7.00pm 5.00pm 7.00pm
Pre-purchased tickets $20. At the door $25 Phone 07 3257 4222 (credit cards accepted) Limited places available so book early!
Venue
EDC's studio Level 4, Judith Wright Centre of Contemporary Arts 420 Brunswick Street Fortitude Valley, Brisbane
For further information please visit EDC online: www.expressions.org.au or call 07 3257 4222.