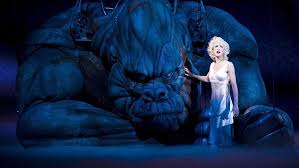 King Kong The Musical is nothing short of SPECTACULAR! It's sheer scale of production is awe-inspiring with phenomenal hydraulic sets, full orchestra, hi-tech effects, exceptional dancers, singers and actors and of course the star of the show, Global Creatures' amazing hybrid of 'animatronics' and grand-scale puppetry, KING KONG.
With audiences flocking to see this electrifying performance at Melbourne's iconic Regent Theatre, barely a seat in the house has been vacant since Preview and Opening in June of this year. Kong is certainly on the grandest of scales in terms of a world-worthy production. Only Vegas and Broadway have produced such a level of sophistication and synergy between the pools of creative, production and talent teams to date. This is certainly a 'first' for Australian productions on many levels.
The ground-breaking production has all the elements of a smash-hit to conquer the course of time and break beyond its Australian birthplace to become a sensational Broadway hit. Since it's debut, the Musical has undergone a number of transitions to adjust and tweak the storyline and plot delivery. Some of these transitions have been more successful than others. Many audience members felt at half-time last Sunday (August 18th) that if the story of Kong was not already known to them, they would be lost by the end of the first act; unsure of what was actually transpiring on stage. Some important scenes assisting character development have been cut from the original script leaving the audience pondering the significance of certain characters such as 'Cassandra'.
Esther Hannaford is exceptional in the role of 'Ann Darrow' as her first major musical lead. Queenie Van De Zandt as 'Cassandra' and the 'High Priestess' is spell-binding with soaring vocals and brilliant acting despite some gaps in the narrative to assist the characters' development.
'Cassandra' appears to be largely written into script as an oracle figure and storyteller; an integral theatrical tool to the success of transforming such a time-honored story of this scale successfully to the theatre. In this theatre-lover's mind, Cassandra's character could be developed a little more to provide some of the missing links in the narrative and round-out the phenomenal elements of this breathtaking showcase of technical wizardry and collection of highly-skilled talent, with equally stunning storytelling.
Adam Lyon is large as life in the bombastic role of Carl Denham and Chris Ryan is convincing as Jack Driscoll. Seasoned performer Richard Piper fills the shoes of several characters – Weston, Captain Engelhorn and the Police Chief with charm and vigour.
The dance cast is second-to-none led by captain Tracie Morley and including top cast members such as Amy Campbell and Charlie Bartley from So You Think You Can Dance (Season 3) fame. Choreographed by John 'Cha Cha' O'Connell, the dance component of Kong is tight, showy and exquisitely executed by highly trained and experienced dancers who are worthy of the best Broadway production. 'Cha Cha' is best known for his work on Moulin Rouge, Strictly Ballroom, The Great Gatsby and many more international box office hits. Dancers have been drawn from across the country with the audition process having been a long and arduous one prior to rehearsals starting earlier this year. Input from cast members was encouraged across this period – Charlie Bartley comments, 'It's an amazing experience being part of a world first musical theatre production. It's cool to think that your choices and involvement in the rehearsal period may resonate into future productions around the world'. Amy Campbell says, 'Being a part of a world premiere cast, it's pretty exciting and doesn't happen very often … Visually the show is stunning and unlike anything I've done before'.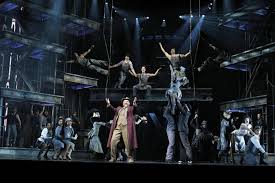 Musically, King Kong is stunningly contemporary yet effectively transports us through each scene from the streets of New York's Depression era to the terror of Skull Island and back again. Classic tunes I Wanna Be Loved By You and Get Happy contrast with brilliantly composed original works by Marius de Vries, Massive Attack, Sarah McLachlan, Justice, The Avalanches and Guy Garvey. A great emphasis is placed lyrically on the music to convey storyline which is effective in the most part but, at certain points throughout, loses its clarity.
After years of development, the 'puppet' of Kong certainly steals the show! His sheer size is as impressive as the puppeteers' ability and aerial skill in moving and animating this gargantuan beast. Exceptional animatronic advancements by Global Creatures ensure that Kong's emotion and 'story' are told through effective mechanical manipulation of 'facial' expression and believable movement. Kudos certainly goes to the 'King's Men' – the puppeteers that co-ordinate, control and create the presence of Kong on stage. The 'character' of Kong is certainly delivered and understood well. Some of Kong's roar-time could easily be replaced with script that develops supporting cast characters a little more, but nonetheless the puppet certainly emanates a persona as large as his physical size.
Director Daniel Kramer said he was '… electrified by the theatrical possibilities …' after reading Merian C Cooper's King Kong novella. The production of his vision certainly does not disappoint. Producer Carmen Pavlovic felt that the time was right to take one of the most retold stories of our time and put it on the stage. She says, "There is much to celebrate about this Global  Premiere season in Melbourne. It's a journey of ambition and courage and belief. Not just on behalf of the KING KONG creative team and company but on behalf of … the industry, the venue, … and ultimately on behalf of you, the audience."
We thoroughly recommend you take the leap and book to see King Kong The Musical in its Melbourne home before it leaves our shores. The production will not tour Australia as its set design has been tailored specifically for the Regent Theatre. New York is on Kong's future agenda, so get in now!
Book tickets now at the Regent Theatre, Melbourne! HERE