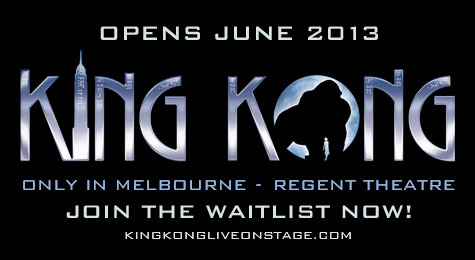 King Kong is set to be a smash hit! Today's media launch at Regent Theatre, Melbourne, unveiled not only a superb Australian cast but one of the most comprehensive international production collaborations Australian Musical Theatre has ever seen!
This musical is brand new! There is no precedent in the Musical Theatre world to draw comparison to for this production.  As such the production team have been exceptionally careful with selecting cast, crew and collaboratives.  Five years in the making with three years spent casting, King Kong will premiere in Melbourne on 15 June 2013 for its exclusive Australian season with a never-before-seen production on the grandest of scales with exceptional performance skills from cast and creatives combined with state of the art animatronics engineered by Global Creatures.
The exceptional principal cast consists of:
Esther Hannafor – Ann Darrow
Adam Lyon – Carl Denham
Chris Ryan – Jack Driscoll
Richard Piper – Captain Engelhorn
Queenie Van De Zandt – Cassandra
*Stay tuned to DANCELIFE for further interviews with Principal Cast members this coming week on our Blog!
Produced by Global Creatures, makers of the global phenomena Walking With Dinosaurs – The Arena Spectacular (WWD) and How To Train Your Dragon Arena Spectacular (HTTYD, in association with DreamWorks Theatricals), KING KONG will be one of the most ambitious productions ever to be seen on the Australian stage.
Based on one of the great modern myths, this world-first adaptation as a large-scale musical has been created by an award-winning international team comprising: director Daniel Kramer, a Southbank Award-winner and rising star of the European opera and theatre stages; Tony-nominated writer Craig Lucas; BAFTA winner and Grammy-nominated composer and arranger Marius de Vries; young New York-based lyricist Michael Mitnick; American Choreography Award-winner John O'Connell; the multiple Helpmann Award-winning production designer Peter England; creature designer Sonny Tilders, the mastermind behind the amazing animatronics in WWD and HTTYD; Tony Award-winning costume designer Roger Kirk; the Olivier Award-winning UK lighting designer Peter Mumford; Grammy, Tony and Olivier Award-nominated US sound designer Peter Hylenski; Berlin- based, Green Room Award-winning projection designer Frieder Weiss; international aerial and circus director Gavin Robins and puppetry director Peter Wilson, a Sidney Myer Performing Artist of the Year.
Some of the world's best contemporary artists, including Robert Del Naja from Massive Attack, Sarah McLachlan, Justice, Guy Garvey from Elbow and The Avalanches will be contributing new and existing songs to the musical landscape of the show, with Stephen Pavlovic from Modular People, the Sydney-based music label and promoter, a key collaborator.
Featuring a cast of 49 actors, singers, dancers, circus performers and puppeteers; a crew of 76; and arguably the most technologically advanced puppet in the world – a one-tonne, six-metre tall giant silverback – KING KONG will be an epic and dazzlingly original theatrical experience.
KING KONG tells of a Hollywood director, Carl Denham, who takes his crew on a perilous journey to the last uncharted place on earth, Skull Island, to capture a huge prehistoric creature, the last of his kind – Kong. The love affair between Denham's star, Ann Darrow, and his first mate, Jack Driscoll, unfolds against the burgeoning horror of Kong's ultimate escape and threatened destruction of Manhattan.
KING KONG is one of the few modern tales to stand beside the ancient myths for its power to inspire wonder, fear and romance in equal measure.
THE LEGEND
At the time of KING KONG's original release in 1933, America was in the grip of the Depression. Yet in New York City, a place so deeply associated with the character of Kong, it was a period of incredible construction. Broadway became Broadway and those iconic landmarks – The Rockefeller Center, the Chrysler Building and the Empire State – all went up, making an indelible mark on the Manhattan skyline that continues to impress today.
Conceived by its director Merian C. Cooper simply as a great entertainment, mixing horror, adventure, romance and fable, KING KONG became an instant hit on its release. Made on a comparatively big budget for the time, it was considered state-of-the-art for its technical innovations, including the combination of stop-motion animation with live action. To put it in perspective, the film was as cutting edge as Star Wars was in 1977 and Avatar in 2009.
The story, which continues to fascinate almost eighty years later, grew out of the real-life adventures of Cooper himself, a larger-than-life entrepreneur with boundless energy and eclectic interests. With filmmaking partner, the cameraman Ernest B. Shoedsack, he made two landmark drama-documentaries set in the wilds of Iran and Thailand. Prior to this Cooper had been a crack pilot in the U.S. air force during World War I and later again during WWII when he was almost fifty years old. In a break from the film industry he had a stint as a New York City businessman where he became involved in the formation of Pan American Airways. He joined film studio RKO in 1931 during which time he put Fred Astaire together with Ginger Rogers, introduced Katherine Hepburn to Hollywood and collaborated with the legendary director John Ford. At this time he also met Willis O'Brien, the technical whiz who was to play such a large part in the success of KING KONG through his incredible special effects and animation work. And along the way Cooper contributed to the development of Technicolor and the widescreen format, Cinerama. It has been said that Cooper and the character of go-getter Carl Denham, the film director in KING KONG, are one and the same.
Soon after KING KONG was released the franchise began its global spread, mostly at the B-grade end of the scale. The character has appeared directly or indirectly in film, from low budget sequels Son of Kong and King Kong Lives to the cheesy, but now cultish, Japanese knock-offs in the sixties, to the mainstream remakes by De Laurentiis in 1976 and Peter Jackson in 2005. Kong has spawned magazine serialisation, comic books, novelisations, animated television series, video games, theme park rides and numerous pop culture references. It has never, until now, been adapted as a musical for the stage.
KING KONG is simply one of the great modern myths. Its appeal is universal and its story resilient enough to have different meanings to different ages at different times in our history.
FIRST STEPS TOWARD STAGE
The idea to adapt KING KONG for the stage began five years ago when newly appointed CEO of Global Creatures, Carmen Pavlovic, considered how to next use the extraordinary capability of the company's animatronics technology. Global Creatures was already having huge international touring success with the landmark Walking With Dinosaurs – The Arena Spectacular (WWD), which featured hyper-real animatronic creatures, so it made sense to look for another project that utilised this technology.
With partner, KONG's production designer Peter England (whose work on WWD won a number of international awards), they trawled through existing creature stories. When they came to KING KONG they knew it was the one. Says Pavlovic, "As I really got to think about it I became more and more captivated by the fact that it was a love story, and I could see musical possibilities in that very strongly." For England, a long time KONG fan ("I knew them shamelessly!"), it stood apart, not only for its enormous fame. "I think the reason the story was attractive from the start was that it had a humanity to it."
Meanwhile Sonny Tilders, who has over 20 years' experience at designing and building "critters and contraptions" for the film and theatrical industries, and the man behind Global Creatures' incredible animatronic dinosaurs and dragons in WWD and How To Train Your Dragon Arena Spectacular (HTTYD), also had KING KONG in the back of his mind. The challenge to tackle this iconic creature was irresistible yet daunting. It was decided to go down a six-month development path "because there must be good reasons why no-one had done this before and we just wanted to make sure it was possible," Tilders recalls. After a series of engineering and control tests, and with Tilders and England looking at ballparks on what size KONG could be and what venues they could put him into, they were satisfied it could be done. "So it was a bit back to front," says Pavlovic. "I suppose in terms of the normal journey of a musical, which would start with a book or the music, we really had to start with 'is it physically possible to do this?'"
The music, however, was never far from Pavlovic's mind knowing that it would be a crucial element in the creation of what was to be a new musical. She approached her brother Stephen Pavlovic (Pav), owner of Sydney-based music company Modular People, for his thoughts. His suggestion of the work of Massive Attack hit an immediate chord and became a reference for a way of thinking about the music. Says Pavlovic, "The conversation really did give birth to an approach that combined the elements of something contemporary colliding with something old or iconic, and combining existing music with a range of different potential composers that were music industry based."
While England and Tilders remained focussed on design issues, Pavlovic then embarked on her search for a director. It ended in 2009 when she met Daniel Kramer, the American born and trained opera and theatre director who worked mainly in the UK and Europe. Because of the epic nature of KING KONG, Pavlovic was interested in the variety of Kramer's experience and the fact that he also had a background in opera, dance, circus and music theatre. She knew within five minutes of meeting him that he was the one: "I was taken with him and his ideas; it was just that moment when you find yourself finishing each other's sentences and you know you've found that person."
For Kramer too there was a meeting of the minds. "Carmen was concerned that the intimate story of Ann Darrow and her relationship to Kong would be lost in an arena space – might it be better in a traditional proscenium arch? I was very excited to hear this question. We then shared our wildest ideas for what the score might sound like – and they were identical."
Kramer, who had watched the original film as a very young child with his grandfather (and fallen asleep before KONG arrived on screen), had a similar easy connection when he met Tilders and England. "It stemmed from one key statement," recalls Kramer. "SCALE. We felt there could be no tiny King Kong climbing on the Empire State, no giant hand for one scene, no paper cut-outs. The challenge was to create a three-dimensional character whom we followed from beginning to end – a being who both Ann and we the audience could fall in love with."
For Pavlovic, having Kramer on board further strengthened her view on producing: "I really believe you don't revive something without a reason. There's got to be something to say in putting a film on to the stage or reviving something that already exists. I think the challenge is for us to have something new to say. Daniel represented the next generation of 'something to say.'"
The novel of the original screenplay, which was published as a promotional tool in 1932, a year before KING KONG's release, became the principal source and Global Creatures secured the authorisation of the Merian C. Cooper Estate. It was agreed that the story was too iconic to mess with and so it required a writer who was comfortable with that, and would also be able to work collaboratively in a team and understand the physical constraints of the leading character. They approached Craig Lucas, the distinguished New York playwright and screenwriter whose credits include Prelude to a Kiss and The Light in the Piazza (both of which were nominated for Tony® Awards, with Prelude also winning the Obie Award for Best Play).
Lucas, who coincidentally had been looking around for a myth that he could adapt, was initially rather doubtful about the proposition. After doing a little due diligence he realised that it "was a really world-class team, they're not fooling around. They want to do this properly." He then "got Kramer on the phone and suddenly thought, ha! – he's really singing my song." For Pavlovic, that Lucas lived and worked in New York was a bonus. "For me," she says, "New York is obviously the setting of the story, but it's the spiritual home of the story as well and I wanted that voice to be able to come through."
Sights were then turned to the music with ideas around using some standards from the period together with new compositions and bringing them all together with a sound of their own. Much of this early work was done in association with Pav and Modular People who provided ideas, researched songs of the thirties and made introductions to possible collaborators. (Carmen) Pavlovic and Kramer then approached Marius de Vries, the influential composer and arranger whose credits include Baz Luhrmann's Romeo + Juliet and Moulin Rouge, both of which won him BAFTAs. Says Pavlovic, "We knew it was the style of Marius' work – the pastiche, the smashing together. Preserving a kind of period sound but letting us hear it through today."
De Vries and Kramer have both worked with Rufus Wainwright so were on each other's radar. When de Vries heard about the project on the grapevine, "I made a note in the back of my mind that it sounded strange and interesting." Then Kramer called him and began filling him in on his early thoughts. He was further intrigued: "I thought it was interesting to see that a story with that much resonance had been taken out of its native context and taken for a ride in a different language, with a different set of challenges – both technical, musical and storytelling. The whole thing added up to something that I became very curious about and actually very excited to be working on."
For Kramer it is about continuing the evolution of the Broadway musical as many have done before. "For years now, Broadway has incorporated music from various genres, in addition to what might be called the more traditional Broadway orchestral sound. Shows like Hair, Jesus Christ Superstar, RENT all dipped their toes into very contemporary sound-worlds."
Over the months that followed, the creative team was completed: the talented young New York-based lyricist Michael Mitnick; multi award-winning choreographic luminary John O'Connell, who was named Best Choreographer at the American Choreography Awards for his work on Moulin Rouge; the Tony® Award-winning costume designer Roger Kirk who has credits on Broadway and the West End as well as Australia; master puppeteer and puppetry director Peter Wilson and aerial/circus director Gavin Robins who have both contributed to several large-scale events including the Sydney 2000 Olympics and will collaborate to bring Kong himself to life; the Berlin-based projection designer Frieder Weiss, an expert in real-time computing and interactive systems; Peter Mumford, the UK lighting veteran who has worked across all the art forms over a forty-year career; and the brilliant U.S. sound designer Peter Hylenski who previously worked with Global Creatures on WWD and HTTYD and has been nominated for a Grammy, a Tony and an Olivier Award for Broadway musicals such as Shrek the Musical and Rock of Ages.
KING KONG will have a cast of 49 actors, singers, dancers, puppeteers and circus performers, and a crew of 76, including a whole entourage for Kong himself. Global Creatures selected Melbourne for the show's premiere, and only, Australian season. This was partly due to the fact that KONG is being made in Melbourne at their workshop, but also because Melbourne is a city that embraces an event. Says Pavlovic, "I love the Regent Theatre, I love Collins Street. I think it's in keeping with the whole idea and aesthetic of the production."
The son of Merian C. Cooper believes his father viewed KING KONG as a story about Beauty and the Beast and nothing more. Despite all the theories, readings and meanings attributed to it over the decades since, it still can be as simple as that. For Pavlovic the appeal of KING KONG is that there are layers there if you want to find them. "My real desire for the story is that people can come along and enjoy it. It's going to be a great night's entertainment – it's fun, it's showbiz, there's dancing, there's story, there's heart, there's amazing puppeteering and, if you want to go a level deeper, you can."
Kramer says, "I think a lot of people who come to musicals like adventure; they like to be tickled, they like to be dazzled, they like to cry, they like to laugh. I want to give the audience a roller coaster ride they'll never fo
BOOKING DETAILS
Regent Theatre, Melbourne. Opening 15 June 2013
PERFORMANCE TIMES:
Tuesdays 7pm
Wednesdays Thursdays 8pm Fridays 8pm
1pm & 8pm
Saturdays Sundays 3pm
PRICING:
Tuesday, Wednesday & Thursday Evenings: A-Reserve $109, B-Reserve $85, C-Reserve $75 Wednesday Matinees: A-Reserve $99, B-Reserve $75, C-Reserve $60 Friday, Saturday, Sunday: A-Reserve $129, B-Reserve $105, C-Reserve $75 (no discounts)
GROUP DISCOUNTS:
Groups of 20 or more: A-Reserve $95 per ticket Tuesday to Thursday evenings inclusive; and A-Reserve $80 per ticket Wednesday matinees.
School Groups of 20 or more, with children aged 18 or below, can attend a Wednesday matinee for $55 per ticket (max 2 supervising adults at discounted price).
Group and School Group allocation is subject to availability and conditions of sale apply.
CONDITIONS:
A handling fee applies to all purchases. Delivery fees apply to non-outlet purchases. Processing fees apply to non-cash purchases. Performance schedule is subject to change. Please check times around public holiday and school holiday periods. Prices, policies and cast are subject to change without notice.
BOOKINGS:
General – 1300 111 011 or www.ticketmaster.com.au and all Ticketmaster outlets Groups – 1300 889 278 or groups@ticketmaster.com.au