Kelley Abbey's Surreal Version of Cabaret
Classic & naughty musical CABARET is now playing at The Hayes Theatre in Sydney, where it is sold out and has a waitlist for its return season after playing in Melbourne from April.
CABARET stars Paul Capsis, Kate Fitzpatrick, Chelsea Gibb, Debora Krizak and Marcus Graham in the small cast of eleven.
Kelley Abbey is the Choreographer on this new production, directed by Nicholas Christo, and she is thrilled to be working on one of her favourite musicals and tick if off her career bucket list! 
DanceLife's Chris Duncan spoke to Kelley Abbey about creating the movement and moods in the dramatic story of CABARET during the recent rehearsals.
Q: Walk me through the process of the auditions for Cabaret.
I was there for much of the audition … for the ensemble, which is a very small ensemble. We don't actually have the ensemble playing instruments in this show, which I think is the normal thing that happens in the production of Cabaret. We've got the real musicians being musicians and the cast comes separate to that which is much easier for casting than trying to find someone who can sing, dance, act and play – a quadruple threat!!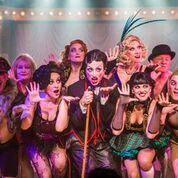 Q: What can you tell me about working with the cast in the rehearsal process; what were their strengths; and how did they work cohesively together and with you?
It was quite an amazing process because there's a cast of 11 and only about 4 or 5 of them danced … so we had a lot of actors who have never done choreography before! So that's quite a challenge in itself. I actually love the challenge of working with actors and getting them to move because of the different process they go through … I get them to focus their intention of the movement rather than the technicality of execution. In dance we do it in the other way around.
So it's quite interesting to work with the group in that perspective and it's Paul Capsis is an absolute legend!! He's just been great to work with and he's never really done choreography before and I know that he was petrified. I've loved working with these guys and inventing with them how their character moves.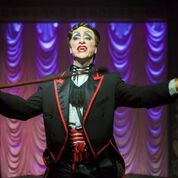 Q: Tell me more about working with Capsis.
Well Cabaret is a 'bucket list' show for many of us in musical theatre! It's that show that we've always wanted to do and I know Paul felt the same. So for him to have this part at this stage of his life and career was a great, pleasant surprise for him and he's really just wanted to nail it.
He's such an audience beast! … to watch him with the audience is incredible. He is a special talent and I hope people really enjoy what he's going to do out there. He's a mixture of so many things … I think in the makeup he looks like Prince-meets-Liza Minnelli in the face. He's got the nod to the Bob Fosse-inspired Emcee of Joel Grey but he's very different to the original interpretation of The Emcee … he tapped into many different places and he's just alive, he has such great energy on stage he's so dynamic.
Q: Would you say that he carries the show or are the rest of the cast equally as dynamic?
There's lots of talent up! Chelsea Gibb is going to be absolutely fantastic as Sally Bowles. You know it's a different version of Cabaret than people have probably seen before because our show conceptually sees Cabaret through the writer's eyes (Christopher Isherwood) who was a novelist. So Chris's legacy is a lot bigger in this show as we are seeing Berlin and the Cabaret through his eyes and as he's writing the novel.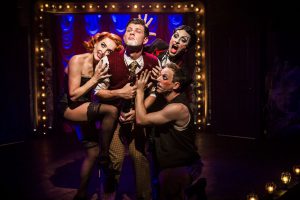 Q: So it's more from Christopher Isherwood's perspective in writing The Berlin Stories is that right?
Yeah, he was in Berlin when he wrote the stories… and our characters and the Cabaret are taken from Christopher Isherwood's stories. The Director of this production, Nicholas Christo, decided that it would be great to have him start to write this before because he's a novelist in the story and that basically it was what he imagined it was what we see.
Q: In what other ways is this production novel and new in comparison to previous versions of Cabaret?
Well I think this script goes back to a very, very early original script which actually has a lot more material in it than I've ever seen in the versions of Cabaret that I've seen in Australia, New York and Paris. There's another form of the 'Telephone Song' which has always been cut from the piece which is a dance number and that's where I actually came into it thinking "Oh my god there's more numbers than I ever remembered in the show!!"
There's not everything from the film … there's no 'Mein Herr' which was created specifically for the film. There's an original song called 'Don't Tell Momma' which was replaced by 'Mein Herr' in the film. I've still tried to pay homage to the nods of the iconic images of what we saw in the film and put them in the musical because I feel like that's what people want to see. So I've put nods into those scenes … and I'm such a Fosse fan but I really didn't want to approach Cabaret by just replicating him.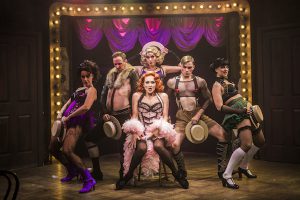 There are some Fosse-nods obviously, but I've really stretched it out to what was the social dancing at the time with the lag of the Charleston and what was going on in the Burlesque clubs which was a lot of the European sound, the Orient, Africa and the exotic… Josephine Baker was a big artist at that time in Paris and Berlin so I've tried to include what was actually going on in that impressionistic art world of the time … like the Dali impressionism and surrealism. I've tried to make the shapes all very surrealistic and there's nothing pretty in the show at all… it's dirty, sexy and dangerous.
Q: In terms of making that palatable to a modern day audience how do you feel that it's going to translate from the stage to the audience?
What I love about the Hayes Theatre is that you really have a cinematic response to a musical theatre piece because you're in a close-up. I keep telling the cast you can't do musical theatre acting in this space you actually have to do heightened film acting in this space. I actually think a younger audience will really appreciate this version of Cabaret. In 'Two Ladies' I've been really risqué within the routine. I've tried to make it entertaining and engaging for a broad audience and I think that's what we kind of haven't seen in Cabaret for a while. With the sets, lighting and costume … it looks filmic.
Q: In terms of the big choreography numbers which ones were your favourite to work on and tell us a little bit about those.
I love doing 'Willkommen' – the opening number – because it's the only number which has the whole cast. I think the opening and the finale routines are my favourites… it was great to be able to work with them all at once and find these characters because everybody, including Marcus Graham, who plays the character of 'Ernst' … everybody plays multiple roles… everybody is a 'Kit-Kat Girl' at the very opening, even the men. So that was challenging and fun and there's a part in there called 'I Don't Care Much' that Paul Capsis sings with the most beautiful lighting and it's just got a little bit of staging to it, it's very simple but it looks beautiful. 'Don't Tell Momma' is an up-beat routine where I do a very crass Charleston!
The choreography is very much driven by character movement – not dancing – which is my attempt to try to be clever. The art history of the 1930s has influenced me choreographically for sure … the way that I see pictures on the stage is very much how I see pictures when I paint so it all correlates. It's not just about the movement but the spatial connection.
*****